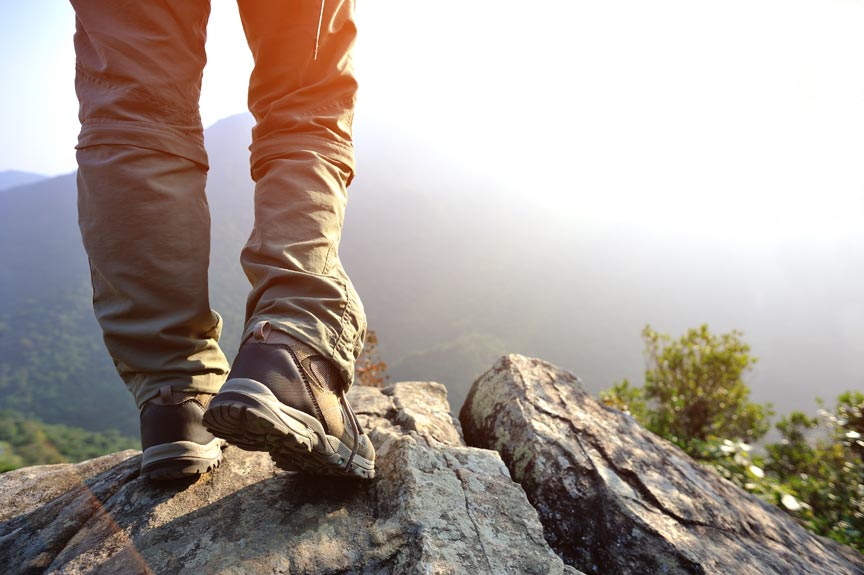 Spring is here … at least in date, if not in spirit. Soon (we promise) we'll be past all this cold weather and can get to biking and hiking Mad River Valley!
Here at West Hill House B&B, in Warren, VT, we love the great outdoors. Call us biased but we think Vermont's Green Mountains offer some of the best trails around. We're not ashamed to admit that helping you to get out onto them gives us a vicarious thrill.
Our Mad River Valley B&B is conveniently close to a number of trails. In fact, one of the most popular trails around, Long Trail, runs along the ridge above us.
Vermont's Long Trail, built between 1910 and 1930, is the country's oldest long-distance trail. Its runs some 273 miles, from Massachusetts to Canada across Vermont's highest peaks. As you can imagine, a trail as expansive as Long Trail offers not just one but a variety of hiking experiences. Read more about hiking on the Long Trail.
Looking for a short, pleasant jaunt?
A short hike south on the Long Trail, from Lincoln Gap to Sunset Rock, rewards those who make it with some incredible views. A round trip on the Sunset Rock Trail only takes around an hour to complete, and that includes time to soak up the eye-popping view.
Wanting a hike that's a touch more strenuous?
One of the area's most popular hikes is also on the Long Trail. It's a 5.7 mile trek from Lincoln Gap to the 4000+ foot summit of Mt Abraham. This 4 to 5 hour hike treats those who complete it with 360 degree views of the Adirondacks, Lake Champlain, and both the White and Green Mountains. If that doesn't knock your socks off, I don't know what will.
Two Feet – or Two Wheels?
Vermont's Mad River Valley offers plenty in the way of mountain biking and cycling, too. Miles and miles of trails and blacktop provide a wealth of options, no matter your pleasure.
Vermont is a bike-friendly state, which makes exploring trails or traveling from village to village safe and fun. Lightly-trafficked, small highways and roads provide endless opportunities. Vermont's pastoral beauty, complete with rolling green hills, covered bridges, and cow-covered fields, make for especially wonderful cycling tours.
Looking for some sweaty, off-road action?
Old logging roads, back-country roads, and a growing network of mountain biking trails await your efforts. The Mad River Riders provide a wealth of trail information to guide you. Our neighbor, Sugarbush Resort, has a number of trails for mountain biking that open in summer. The park offers everything from leisurely loops to high-speed downhill runs. You can even take your bike on the ski lift for nearly 1,600 feet of downhill fun!
Not able to bring your bike on your Vermont vacation? No problem! Infinite Sports, in nearby Waitsfield, rents road bikes – and Sugarbush Resort rents downhill bikes for use at their resort. If you are a mountain biking enthusiast it's best if you do bring your own machine – note that your stay at West Hill House B&B includes safe, dry indoor storage for bikes, too, including room to make adjustments!
Mountain Biking and Hiking Mad River Valley
When you stay at West Hill House B&B, you're surrounded by beautiful Vermont scenery that's urging you to get out and explore it. If your vacation plans include mountain biking or hiking Mad River Valley, just let us know! We're very familiar with area trails and can help pick out some to suit you. Book your stay at West Hill House B&B today!