Stirring it up:
Yes cheesecake is a decadent dessert but this recipe let's you enjoy that decadent dessert without too much guilt!
Makes 24 cupcake size
Oven 350°F  (175°C)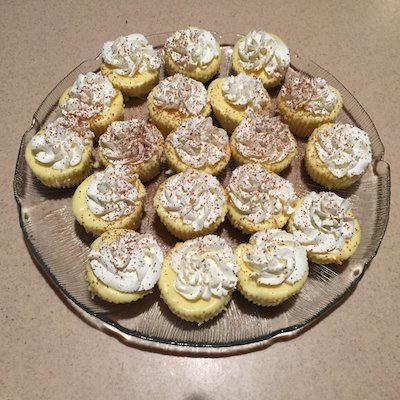 Bake 20 min.
Abbreviations:
c. = cup. USA cup measure has the capacity of 8 fl. ounces.
t. = teaspoon
T. = tablespoon
Ingredients:
4   8oz. (250g) packages of cream cheese, softened
1 c. white sugar
4 eggs
24 frosting filled chocolate cookies, regular size or thin (Oreos for example)
1/2 c. heavy cream, whipped, for decorating (optional)
Method:
Heat oven to 350°F  (175°C)
Line two regular size cupcake pans with cupcake papers.
Beat sugar and cream cheese together in a large bowl with a stand mixer or if you are strong, an electric hand mixer.
Add eggs one at a time beating at a slow speed after each egg. Beat until just mixed together.
Put one cookie in each cupcake paper. You may want to try another kind of firm cookie for the base.
Fill with batter almost to the top.

A sweet treat!

Bake for 20 minutes or until the centers of the cheesecakes are almost set.
Cool then refrigerate for 3 hours.
Serve in the papers or unwrapped.
Decorate if you wish perhaps with flavored whipped cream (maybe Vermont Ice Maple Créme for cold month or with a touch of Lavender syrup for warmer months), chocolate sauce, toasted coconut, or fruit coulis… use your imagination.
Can be frozen and thawed slowly in the fridge.
If you like the idea of a decadent sweet treat but aren't into cheesecake, give these Chocolate Mint Sandwich Cookies.
Dishing it out: My first real cheesecake experience was with my friend Julie at The Cheesecake Factory in Dallas. I have no recollection of what we ordered for our main course I only remember that we each indulged in large slice of absolutely creamy cheesecake. I was hooked.
Since that outing, I look for interesting cheesecake desserts. Many years later in Kennebunkport, Maine I thoroughly enjoyed a tiny cheesecake dessert after a scrumptious evening meal at Alison's Restaurant and Pub. Of course I had to try to recreate this small-scale bit of decadence. Never having made a cheesecake before, true, I asked several friends for their recipes and from those, this one was created.  If you make these, remember, because they are small they may be consumed quite quickly and there may not be one left for the cook- my advice, test one before you serve them!
Oh, I should also mention that sometimes we serve these for breakfast dessert at West Hill House B&B – how decadent is that?
---
Guests often ask for recipes so from time-to-time I will post some of our guest favorites on the blog. I don't claim any of the recipes as my originals as they are from my stash of over 60 years of collecting recipes from family, friends, magazines, cookbooks, and various internet sites. Bon Appetite!