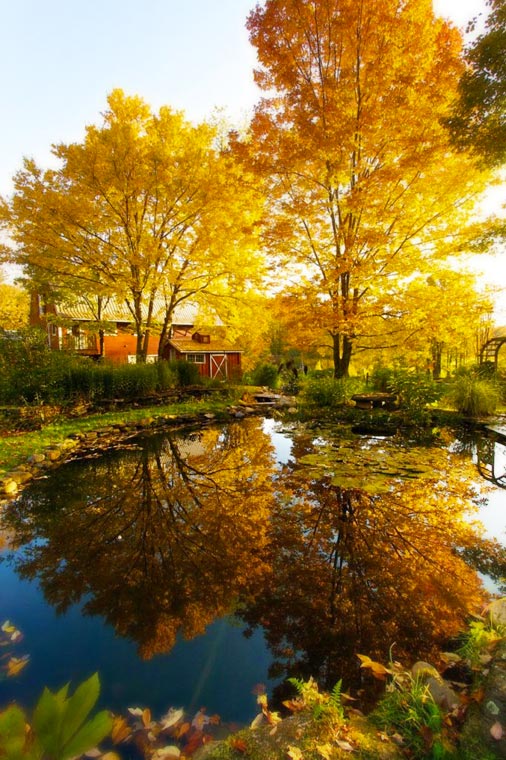 Vermont fall foliage captures imaginations every season as romantic comedies depict couples strolling down streets, hand in hand. Quaint little towns dotted with carved pumpkins, serving fresh apple cider, and hosting harvest festivals are the epitome of fall romance and seasonal fun. Vermont fall has a special sort of magic, one that is connected to the small-town nature of the entire state. Let's take a journey through some of the best things Vermont has to offer this fall to turn your trip into one for the movies.
Fall Corn Mazes
Corn mazes are one of those things that might seem odd to "city folk" but in rural parts of New England, they're a staple. All season long people can spend time wandering through the corn stalks, weaving their way to the center. From corn mazes that take hours to solve, to haunted mazes that are a favorite in October, there are options for every interest and activity level. Some places even have a twist on the classic and use sunflowers instead of corn stalks! Can't you imagine the perfect movie moment?
Best Leaf Peeping in Vermont
The leaves are likely the most famous feature of fall in Vermont, and for good reason. Starting in September and moving through the first few weeks of October, the state turns into a blur of reds, yellows, and oranges. What makes our foliage stand out? Well, part of it is the temperatures, the elevation, and the science behind the transition. Another part, however, is the overwhelming dedication to maintain our natural landscape. We do not have billboards or tall buildings or city skylines here, we just have rolling green mountains ready to change color each fall. Taking a scenic hike or drive to explore the fall foliage, or as it's known here, leaf peeping, is the best way to capture fall in Vermont.
Fall Treats and Eats
Every season is better when there are drinks and baked goods to be had! Vermont has a phenomenal selection of delicious apple cider. You can enjoy cider as a drink, a donut, a frozen pop, an alcoholic beverage, cooked into a tart, or any other way you can find it! Apple cider is a great Vermont tradition, and fall brings it out to full light.
Our Vermont Bed and Breakfast
No perfect fall love story would be complete without a cozy Bed and Breakfast, a handsome red barn set against the golden maple leaves. Luckily, we have all of the above. Our sweet Bed and Breakfast is located in the Mad River Valley, one of the most active and enchanting areas of Vermont. With gardens, ponds, gazebos, and walking trails around the property, this is the perfect place to experience the magic of Vermont this fall. Book Now!