The time to celebrate the winter holiday season is here and no matter what you celebrate, there is light and joy waiting for you in Vermont's Mad River Valley. At the heart of every winter holiday is the sense of joy, the desire to relax in a peaceful setting and be surrounded by old friends and new. We hope this will be the place for you to find all of this, this winter season.
Hanukkah in Vermont
Hanukkah, the celebration of light, coincides with the celebration of Christmas, both being special occasions in December. We would love to welcome you to this winter wonderland to add an extra measure of celebration. With snowshoe trails, charming shops, great restaurants and West Hill House B&B with its luxurious rooms and suites, a visit to the Mad River Valley may be the start of a new tradition. Vermont is known for being full of adventure and opportunity each season and this is no exception. Get in on the fun of winter holidays!
Christmas in Vermont
As kids leave home and life begins to shift, a new chapter may be starting for you. Why not make your Christmas winter holiday a time for relaxing? Vermont is a perfect setting, straight from a Hallmark movie, and we hope to welcome you to this place of beauty and calm. Begin making new Christmas memories full of homemade cookies, the beauty of nature, and the rekindling of your spirit.  You can even choose to enjoy Christmas Dinner with us here at the B&B!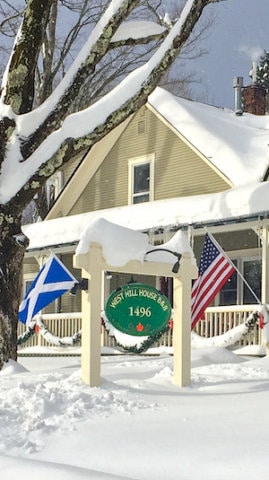 Kwanzaa in Vermont
Celebrate your heritage on this final week of the year at West Hill House B&B. With space for you to relax, explore the state, and appreciate the beauty of this country; we are excited to welcome you. As Kwanzaa highlights unity, determination, responsibility, cooperation, purpose, and faith; we hope this might be the site for you explore and discover what may come next in the new year.
New Year's Eve in Vermont
Speaking of the new year, we are closing a decade and entering into new territory. The world has seen many changes over the last ten years. What will the new decade bring? This winter holiday, celebrate the close of 2019, and welcome the birth of the new decade. Consider a magical moment in Vermont to raise your glass and cheer for new things to come.
Festivus for the Rest of Us!
There are endless reasons to celebrate the winter holiday season and just as many reasons to visit Vermont. We hope we can welcome you to our winter wonderland and share a piece of this endless beauty. We are already enjoying a stunning season of snow and it shows no signs of stopping. Happy Holidays to all!