Stirring It Up: Swedish Visiting Cake, quick and simple to make and very 'moreish' tasting! Here is my variation. This cake is crispy outside and chewy inside which I find similar to the consistency of a coconut macaroon.
Makes: One round 9″ (23cm) cake.
Oven: 350°F (175°C)
Bake: 25-30 min.
Swedish Visiting Cake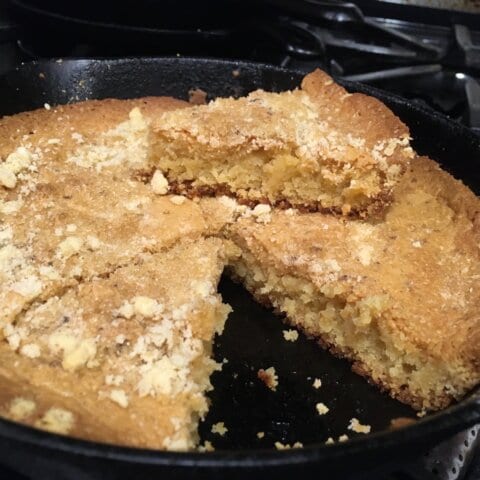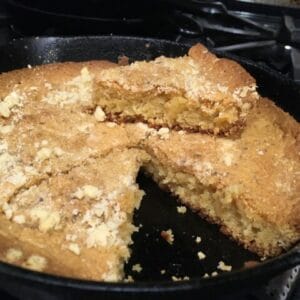 Ingredients:
8 T (4oz) salted butter
1 c. granulated sugar
Grated zest of 1 orange
2 large eggs
1/4 t. salt
2 t. (10ml) boiled cider (or vanilla or maple syrup)
1c. all purpose flour
1/3 c.  sliced almonds (or almond flour)
light sprinkle of cardamom
light sprinkle of raw sugar
Method:
Preheat oven to 350°F ((175°C)
Grease 9″ cast iron pan (a glass pie pan can work if you don't have cast iron)
Melt butter over medium heat until it is brown. Stir frequently and carefully. Watch it so it doesn't burn.
Pour browned butter into a small bowl to cool. It will continue to cook if left in the pan.
In a large mixing bowl, mix granulated sugar and orange zest until fragrant.
Add  eggs one at a time, mix well after each addition.
Stir in salt and boiled cider.
Gently stir in flour.
Fold in melted butter. There will be lots of  liquid so stir carefully. It will all come together to make a somewhat thick batter.
Pour into prepared pan and carefully level batter.
Sprinkle raw sugar, almonds and cardamom on top.
Bake 25 – 30 minutes. Cake should be golden brown and crispy around the edge.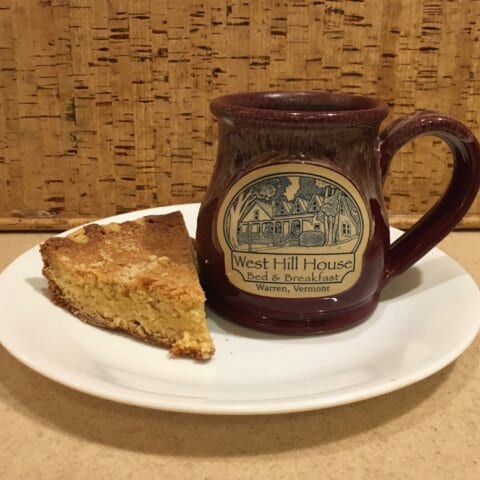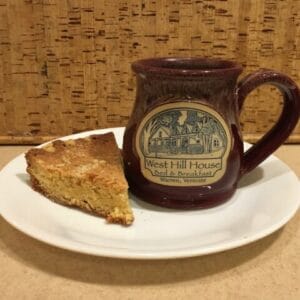 Cool for 5-10 minutes.
Run knife around the edge to loosen.
Cut and serve warm or at room temperature.
Dishing It Out:
Watching Mikaela Shiffrin race and break Ingemar Stenmark's record set me to thinking about Swedish food and how many calories a World Cup ski racer would consume each day in order to have the strength to ski as they do!  I have no idea the answer to this other than it's lots! The first winter we owned West Hill House B&B, the then marketing director of Mad River Glen, Eric Friedman, offered to take us on a ski tour of the mountain. Peter, being the much better skier of the two of us, took up the offer right away and headed to the slopes shortly after opening day. He had a great afternoon with Eric. I, on the other hand was a (pale) green run skier, and not a very confidently at that so I didn't accept the invitation right away especially having learned the MRG motto Ski It If You Can.  Knowing that Eric would persist with the invitation, I chose a powder day in late February. I reasoned that skiing in powder would slow me down and cushions a fall much better! Needless to say I had a blast. Did several runs and rode the Single Chair to the top. The view was absolutely stunning! Of course now I had to get down. I made is safely all the way to the baseboard where I executed a perfect "estate sale" and not on soft snow! At the end of my afternoon, having concentrated on my skiing and working hard to get down all those runs I felt as if I had burned about 3,000 calories – it was hard work! Although I have not skied since (through no fault of Eric's) I can proudly say, "I Can! I have skied MRG!".
I will always marvel at the abilities of the ski racers  be they from Sweden, where I'm sure they have consumed their fair share of Swedish Visiting Cake, Canada, The United States, France or elsewhere.