April 17, 2011 by Peter MacLaren
The Thomsons from Ottawa, Canada were recent guests at West Hill House. At breakfast we asked if they had found their room comfortable. Their reply?
"Our room was an oasis of tranquility within an oasis of tranquility."
April 15, 2011 by Peter MacLaren
Over the past few weeks I have attended two conferences, each providing various meals followed by coffee and tea,  but only if you asked for it.
My latest tea challenge came just the other day. I was brought a cup filled with very warm water (not hot enough to have been boiling) and a wooden case from which I could choose from about a dozen types of teas and tisanes. The tea bags were tucked into little cardboard boxes  1.75″ x 1.25″ x .75″ and wrapped with plastic wrap with a pull tab much like the wrapping on a cigarette package. By the time I had chosen my tea, finally removed the plastic from the box, got the box opened and the tea bag into the cup, the water had gone from very warm to warm. While the quality of tea was good, full-leaf tea in a triangular tea bag, I could only imagine what this would have tasted like had it been properly made.
It's time tea was made and served correctly!
When you visit West Hill House, if you request tea, we will make you a proper cup of tea.Tea as it should be!
October 8, 2010 by Peter MacLaren
We are delighted to announce that once again for 2010-11 West Hill House B&B has been selected as one of the top 10 B&Bs in New England by BedandBreakfast.com. We are one of only four B&Bs in Vermont to be recognized in their 2010-11 awards in various categories, and we have won this award in 3 out of the last 4 years.
The selection criteria for the Best of BedandBreakfast.com Awards include both quantitative and qualitative analysis of the independently posted reviews on BedandBreakfast.com. So to you, our guests, we thank you for sharing on-line the great experience you had when visiting West Hill House.
We look forward to providing the same exceptional experience to return and future guests during all seasons of the year – come and visit us (again) soon!
July 3, 2010 by Peter MacLaren
Today is stunningly beautiful. Blue sky, a few wispy clouds, a nice gentle breeze and about 79'F.  This morning before I started breakfast for our guests I took a few minutes to sit on the front porch with a cup of tea. I  gazed over the beautiful orange lilies and enjoyed the song birds,  the sound of the busy woodpecker,  the wind through the leaves and the antics of a couple of chipmunks chasing each other up and down one of the huge sugar maples in the front yard.
What a great way to start the day and what better place to relax and spend summer days than right here. The hammock is waiting for you…
May 12, 2010 by Peter MacLaren
Ever wonder what happens to that little bar of "guest"  soap once you check out of your B&B or hotel? Well, unless you take the soap with you, it goes strait into the trash then into an over flowing landfill – until now!
<img class="alignright size-full wp-image-965" src="/wp-content/uploads/2010/05/Clean-the-world-logo-.png" alt="Clean the World" title="Clean the World" width="218" height="120" /
Clean the World has developed a process to sterilize soap, killing transmittable pathogens, and making soap ready to be used again.
What's the point? And why is West Hill House involved?
The point is that impoverished people around the world die every day from acute respiratory infection and diarrheal disease because they have no soap. The death toll is staggering. Each year more than five million lives are lost to these diseases with the majority of deaths being among children less than five years old. Studies have shown that simple hand washing substantially reduces the spread of these diseases. Unfortunately, the essential items for proper hand washing are unobtainable for millions of people worldwide.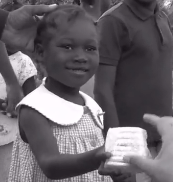 In an effort to prevent these needless deaths from occurring, Clean the World distributes recycled soap products, along with appropriate educational materials, to impoverished countries worldwide, and to domestic homeless shelters.
West Hill House B&B recently became a Clean the World Hospitality Recycling Partner B&B. For us, contributing gently used bars of guest soap combines our  philosophies of being "green" and being able to provide people around the world  the chance for a healthier life.
Almost 200 Hotels and B&Bs nation wide and over a dozen charitable organizations participate in this program because they believe in the mission of Clean the World and they know that through the work of this organization the world can become better for both people and the environment.
Click on Clean the World to find out more about their work.
March 23, 2010 by Peter MacLaren
No meals to cook, no dishes to wash, no beds to make, no housework to do!! Our Girlfriends' Getaway means you do the relaxing and we do the work.
Come browse our artisans' shops, be pampered with an "in house" massage, check out the local sites, catch up on your current craft project, or relax in a comfortable chair with your latest book and in the evenings enjoy meals out at any number of great local restaurants. Our rooms are well appointed and very comfortable.
There are lots of Things to do nearby. Whether you come in the winter and take part in the local outdoor activities or enjoy looking at winter from our three large common areas, or you are here in the summer, hiking, kayaking, biking or relaxing in our gorgeous perennial flower garden, you are sure to have a wonderful time.
Come before May 13th and get 33% off a stay of 3 nights or more AND we will cook you a table d'hôte dinner one evening at no extra charge!
March 20, 2010 by Peter MacLaren
West Hill House has joined the BedandBreakfast.com Diamond Collection, a distinction reserved for premier inns offering extensive amenities and top-rated guest reviews. Launched in October, 2009, the Diamond Collection was introduced to help travelers streamline their search for the country's best inns.
To qualify and maintain membership in the Diamond Collection, B&Bs and inns must pass a comprehensive professional inspection measuring the property's quality, service, hospitality, accommodations, food, amenities, and more. To qualify for membership, Diamond Collection properties all maintain top guest ratings and reviews on BedandBreakfast.com and offer a professional reservation experience, including extensive property photos and online reservations. Additionally, Diamond Collection members provide the amenities that today's travelers require, including private baths, free Internet service, luxury appointments and amenities, professional staffing, and flexible check-in/out times.
We appreciate this recognition of the quality experience we provide for our guests. If you haven't already stayed with us, please come and check it out for yourself!
February 24, 2010 by Peter MacLaren
January 13, 2010 by Peter MacLaren
We have two great ski deals this season.
Ski it if you can! New for 2010 – when you stay during the week for 2 or more nights you can enjoy a Mad River Glen ski pass for $30 per day. (2 tickets per room max.) Plus, if Mad River Glen is closed for any reason we will give you $20 per day per room towards lift tickets at Sugarbush.
Then we have the amazingly flexible Ski-the-Valley package, which offers a great way to try all the skiing that the Mad River Valley offers. When you stay two or more weekday nights (Sunday through Thursday) we can add a multi-day weekday (Monday through Friday) Ski the Valley ski pass for up to the same number of days at a very attractive daily rate. The pass lets you go straight to the lifts at Mad River Glen and Sugarbush, and ski at Olé's Cross Country ski resort – all on the same day if you wish!
Click on the photo for even more information. Note that these offers are not available during holidays.
January 10, 2010 by Peter MacLaren
In addition to telling almost everything we can think about regarding West Hill House and the surrounding area, our website also has some useful links to other travel information.
Check these out for information on other B&Bs around the US and Canada that we can personally recommend, and for information about Scotland.
Almost every guest at West Hill House asks Peter about planning a visit to Scotland, or reminisces about visits already made. If you are interested in Scotland the links provide a good intro to helpful information and photos, but come and stay with us to talk some more…
The photo is of the famous Loch Ness. Click on it to be transported to Scotland!
May 11, 2009 by Peter MacLaren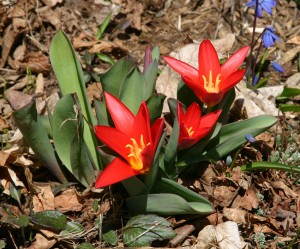 The gardens at West Hill House are starting to show the colors of spring! We are always amazed at this time of year when our beautiful gardens start to emerge from their winter sleep.  The buds are on the old apple trees, the leaves unfurl on the maples,  the flowers are blooming,  and the chipmunks which scurry over and around the boulders in the garden are driving our adorable indoor cats, Smoky and Snowball, absolutely nuts! The crocuses were the first to brave the early spring poking their blooms through the snowy blanket which still lay on the ground. These  gorgeous miniature tulips were the next flowers, spied by a guest one bright sunny morning, and flashes of yellow daffodils can be seen scattered throughout the gardens.
Our landscape artist, Patty,  and her crew keep our extensive B&B  gardens in tip top form for our guests to enjoy. Whether you are an avid gardener, like Patty, or just love the look of beautiful flowers, as I do,  our  peaceful gardens are decked out nature's palette and await your arrival. Spring has sprung in the Green Mountains of Vermont!
May 11, 2009 by Peter MacLaren
Hello world! Bonjour tout le monde! We're the new kids on the blog! We're West Hill House Bed and Breakfast in the Mad River Valley of Vermont.
Surrounded by the beautiful Green Mountains, the Mad River Valley is home to Sugarbush and Mad River Glen ski resorts and, most importantly we think, home to our classic Vermont Bed and Breakfast, West Hill House.
Through our blog we'll share with you what's happening in our small corner of the world. All our B&B news as well as information on what's going on in the area summer, winter, spring and fall, will be right here at your fingertips. So welcome to our living room. Come on in and  make yourself comfortable. You're always welcome!