January 30, 2013 by Susan
Stirring it up! Cornbread is often thought of as a southern US food and seldom served in the northern states which is a pity. This cornbread recipe has become a favorite of our guests especially when served warm with honey-butter and along side an eggy breakfast casserole. Can't say where I found this recipe as it's been in my collection for ages.
Ingredients:
1/4 c. butter, melted
1 c. yellow cornmeal  (I use coarse cornmeal)
3/4 c. flour
2-3 T. Sugar
4 t. baking powder
1/2 t. salt
1 can creamed corn (8oz)
1 c. milk
1 large egg lightly beaten
Turn the oven temp to 450°F. Pour 2T. of melted butter into an 8×8 pan and bake for 5 minutes until the cake pan is very hot. While the pan is heating, whisk together the cornmeal, flour, sugar, baking powder and salt. Make a well in the center of the mixture and pour in the creamed corn, milk, egg and the remaining 2 T. of melted butter. Stir until smooth then pour into the hot cake pan. Bake for 30 – 35 minutes or until golden brown and tests done in the center. Let stand for about 10 minutes before serving. Makes 9 pieces.
Dishing it out!  When I was about 10 years old, a friend and I decided to start a cooking club with only ourselves as members and our moms as consultants. We took turns week about in each other's kitchens and choose recipes from our mom's recipe collections. With their  blessings we'd cook up a storm and of course have to clean up after, this part was not nearly as fun as the making part!  I cannot remember what we made or how long we did this but I do remember we enjoyed the time in the kitchen.  I wonder if Brenda still loves to bake?
November 29, 2012 by Susan
With early season snowflakes whirling about them, and the temperature sitting at about 28°F, Ryan and Jeff were married in the meadow at West Hill House B&B. Our favorite Justice of the Peace, Greg Trulson officiated at the wedding making it a very meaningful occasion, as he always does. Following the ceremony,  the newly married couple asked Peter to continue taking photos as they enjoyed a short stroll around our wintery gardens.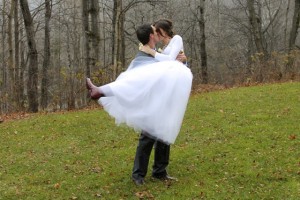 Warming up by the fireplace a few minutes later Ryan and Jeff enjoyed an intimate wedding reception complete with wedding cake, made here at West Hill House, and a bottle of  Champagne. They were kind enough to invite Greg and Peter and Susan to join them.
Ryan loves experimenting with recipes. Check out her food blog called Skinny Supper. It's a fun site with lots of photos to help you along.
November 2, 2012 by Susan
Hi everyone, I'm the Red Chair that has been traveling throughout New England for the past several months.
I arrived at West Hill House B&B in the aftermath of Hurricane Sandy and rain was the order of the day. Fortunately my hosts offered rain boots and an umbrella so I stayed pretty dry. Inside I was given a place by the fire to warm up a bit even had a pussy cat come curl up with me for a bit.
Once the weather cleared my first stop was at the top of the Lincoln Gap Road, the highest road pass in Vermont, where I set foot, or should that be feet, on the Long Trail. The air was so fresh I'm felt I could have walked the full 273 miles of the trail but I had places to go and things to see.
With winter just around the corner I wanted to be introduced to the Mad River Glen ski area. I checked out the ski school meeting place then of course had to have my photo taken with the single chair.
From there we went to Sugarbush where I had my photo taken with a local cow before going  to sit beside the year 'round skier. He didn't say much, we just enjoyed the solitude of the moment.
I visited the Hartshorn Farm and hey, for fresh food, maple syrup from their own trees and hay, head to their farm stand. And speaking of stand – look at me standing atop a huge bale of hay!
With my feet firmly back on the ground I posed with some squash then climbed up on the wall to sit with the boxes of pumpkins for a while.
My legs were getting a bit cramped so I hopped down and headed over to visit with the alpacas, The Finkles,  who didn't seem to mind my company.  I certainly did not expect to see alpacas in Vermont!
A stop to pose in front of the Warren Covered Bridge that spans the Mad River then back to my temporary home at the West Hill House B&B and ready for a warm cup of hot chocolate and a little cake.
Wow, have I had fun! I can't wait for my next adventure! Tomorrow I am off across the Green Mountains to visit Middlebury, Vermont – I wonder what adventures await me there.
Our Sap-bucket list has just the thing for you runners, the Mad Marathon!
Billed as the World's Most Beautiful Marathon, July 8, 2012  is the date for the 2nd annual run and it's not too late to register to take part in either the full or half marathon. Walkers are also welcome.
Joining runners from around the world, the run will take you through the beautiful Mad River Valley on back and dirt roads offering breathtaking views of  the Green Mountains, covered bridges,  barns and of course, Vermont cows!
Professionally organized, this marathon course is certified and sanctioned by the US Track and Field. Check out the Mad Marathon website for full details.
West Hill House B&B, like many B&Bs in the area, requires a two night booking on the Marathon weekend so plan to stay for a few days to enjoy the many less strenuous activities such as visiting Ben & Jerry's, photographing the covered bridges, standing in awe at the foot of beautiful waterfalls, enjoying the many great restaurants or just relaxing in a hammock.
The countdown is on to the World's Most Beautiful Marathon – come be part of this amazing event.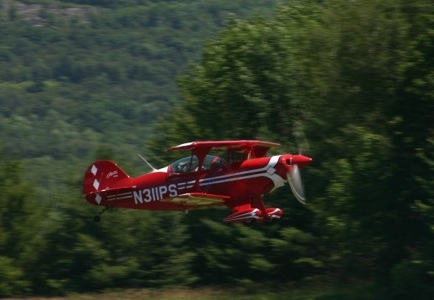 Our Sap-bucket list is overflowing with activities for one super week of 4th of July celebrations for all tastes and interests!
The 3rd annual Stars and Stripes Air Show on June 30 will bring excitement to the Sugarbush Airport in Warren with vintage planes, stunt flying by both planes and gliders, glider rides, classic motorcycles, food and fun for children and adults alike. Tickets may be purchased on line or at the gate. Check out the air show website for more information and some video of last year's show. Sorry but dogs and coolers must be left at home.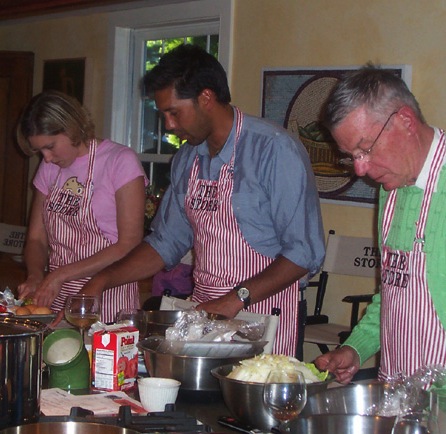 If cooking is your delight, you can learn to impress your family and friends at the cooking classes at The Kitchen at The Store in Waitsfield.  Chef John shares his wisdom and makes learning in the kitchen most enjoyable.
On Saturday, Chef's Table-Aound the World offers participants not only the opportunity to create food from 4 different countries but to eat it too!
July 2 and 3 will have you creating scrumptious pies at the Butter, Sugar & Sin-Pies class and the Easy Entertaining-Soups and Paninis classes. The best thing is you don't have to be an expert cook to take these classes, they are fun for all skill levels.
Of course on the 4th of July is the world famous, wild and wacky, 4th of July Parade which makes its way down the main street of Warren to the delight of thousands, yes thousands, of spectators. Family fun, kids games, music, food an more follow the parade in the town as well as up at Sugarbush.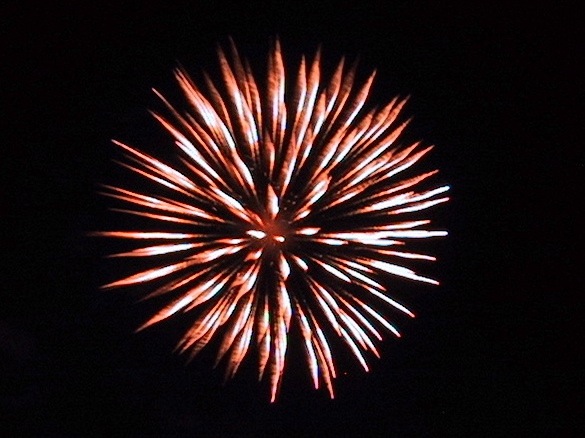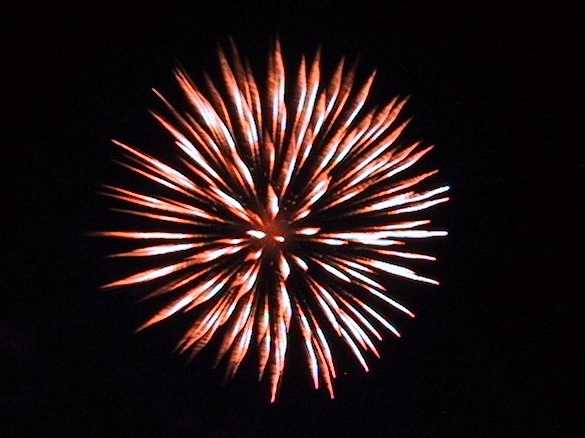 The parade starts at 10AM but be there early, no cars are allowed in town but buses will be making the circuit from various parking places to town. The day closes with a bang a fireworks will light the sky over Sugarbush starting shortly after 9PM.
As well as all these activities, don't forget there are mountain walks, energetic hikes, river and lake kayaking, refreshing swimming holes, eclectic shopping, golf and plenty of relaxing to be had here in the valley.
Join the residents of the Mad River Valley and celebrate the 4th of July Vermont style. With the many lodging opportunities here in the Valley, from welcoming B&Bs to condos and rental houses, there will surely be something perfect for you.
See you soon!
A must on our Sap-bucket list is our local Farmers' Market which is held every Saturday morning from now until October 20th–rain or shine–on the Mad River Green in Waitsfield.
Local farmers bring a vast array of items including seedling plants, freshly harvested vegetables and fruits, cheeses, local meats, maple syrup, honey, eggs, jams and fresh baking–ummm I can almost smell the fresh pies! When you are at the market, be sure to visit the artisans' booths where you'll see beautiful intricate blown glass, colorful woven goods, hand crafted wooden items, finely turned pottery pieces and much more. Everything's super and everything's for sale.
If you are visiting the valley and had to leave your canine baby at home you'll especially love the Waitsfield Farmers' Market as dogs are invited to attend as long as they promise to stay on their leash and  be polite and friendly to everyone they meet.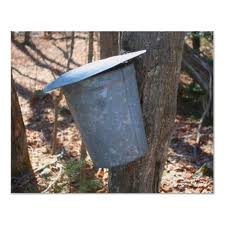 What's on your bucket list?
There are so many wonderful places to visit and things to do in Vermont that we have created none other than our own Vermont Sap-Bucket list!
In the 6 years we have been in Vermont we have taken the opportunity explore this wonderful Green Mountain state. We're excited when our guests ask "What's there to do in Vermont?" because we are more than happy to fill them in on what's what.
As our guests at West Hill House B&B, we will help you to plan your itinerary and activities by providing you with ideas based on your interests and driving routes that will show off the beautiful scenery.
So we invite you watch this space for our Sap-bucket list.
February 5, 2012 by Peter MacLaren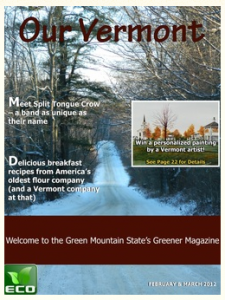 Our Vermont,  is the new Green Mountain State's Greener Magazine, and features articles about people, places, events, food, and local flavor offered in the great state of Vermont. Not only is this a paperless magazine, and you can subscribe for free on line, but they chose a 100% wind powered company to do their hosting.
Lucky us, West Hill House B&B has a featured ad in the magazine's inaugural edition. Check us out on page 2-3, the full-screen option, and accept our invitation to come to Vermont to sample the wonders of our amazing state. West Hill House is a 'Green Hotel in the Green Mountain State'. We offer Ski & Stay Packages. If you and your sweetie need a little pampering check out our Valentine's Day special. Perhaps a proposal is in your future …let us help you make that a memorable event.
West Hill House B&B is where you'll want to B&B.
October 18, 2011 by Peter MacLaren
As a special 'Thank You' to US and Canadian, retired and active military, West Hill House joins with many other B&Bs across Canada and the US in offering one free night of accommodation for military personnel on November 10, 2011 in either the Garden Room or the Highland Room (occupancy 2 people per room). We are also offering additional nights at a 50% discount.  Of course our wonderful breakfast is included.
Come relax and enjoy Vermont hospitality in the peaceful surroundings of the the Mad River Valley in the heart of the Green Mountains. Our regular cancellation policies apply and a cc is required to hold the reservation. Proof of status may be requested upon check in.
This 'Thank You' Special is valid for the nights of Nov 9 – 13, 2011. Call to reserve. See you soon.
August 6, 2011 by Peter MacLaren
Prince William and Katherine did it in London. Prince Albert and Charlene did it in Monaco. And you too can do it …it's not too late to have a summer 2011 wedding at West Hill House!
Whether an elopement with just the two of you or  a small wedding with yourselves and an intimate group of friends, we are here to help you have a stress free wedding and one which won't break the bank.
A beautiful garden to be married in, a handsome barn in which to dine and dance, an inviting bed and breakfast in which to relax, and  a magnificent Vermont setting – what more could you ask for?
Make your dreams come true with a Vermont wedding this summer.  We only need a couple of days to help you get everything organized.
April 23, 2011 by Peter MacLaren
When we moved to Texas from Canada, two new friends, knowing of our Canadian & Scottish backgrounds, offered us tea – cups with water heated (not to boiling) in the microwave and presented with a tea bag on the side. YIKES! My mission from then on was to teach them to make a good cup of tea, properly made! Both new friends, who have since become near and dear, were excellent students and can now make a great cuppa'.
Here are a few basic terms that are useful to know when reading about and making tea.
Tea pot -The vessel from which hot tea is poured. Buy a tea pot if you haven't one. Whether from a simple Brown Betty tea pot or an ornate fine china tea pot, pouring tea from a tea pot makes the experience of having a cuppa' all the more enjoyable. (don't use aluminum though it reacts badly with tea).
This small 2-cup tea pot along with its wee cream and sugar was used for many years by Peter's Granny who lived to be one week short of 100 years old. In the latter years of her life Granny was confined to bed and Peter's mum brought her tea in this little set each morning. Looking as good as new, sadly its tea cup is missing.
Tea kettle – the vessel in which you bring fresh water to a boil. Can be electric or stove top.
Tea cup – A china tea cup or mug are my favourites – but then, I've also drunk tea from a birch bark cup so I'll take tea no matter!
Infuse or Steep – the process of extracting the flavour of the tea from the leaves to the water.
Loose  leaf or Tea bag – Use good quality loose, leaf is best. Most commonly used are tea bags which contain tea dust which is known for it quick extraction. With a myriad kinds of tea, make a visit your local tea shop for advice on what to purchase. (If you are in the Mad River Valley checkout the tea shop and restaurant called MINT- they have about 50 different teas and tisanes.)
Tisane–Though prepared in the same manner as tea, tisane is a combination of dried flowers, herbs and fruit and does not contain tea leaves.
One-for-the-pot – This refers to how much loose leaf or how many teabags to use. My guideline is 1 bag or one slightly rounded teaspoon of loose leaf per 10 oz of water. You preferences may vary for weaker or stronger tea.
Tea Ball or Tea Infuser  or Tea Egg – A tea ball is not a fancy dress dance, it 's a device into which loose tea leave are put for steeping. Once in the tea pot, the hot water poured over it  can seep through the mesh of a tea ball to the leaves.
Ready to make some tea? Stay tuned!
April 20, 2011 by Peter MacLaren
Your wedding should be a very special day which expresses your style and personality, even if you are working with a small wedding budget. Small weddings are the trend these days as couples are opting for a more personal occasion with just family and close friends. Small and intimate weddings provide an opportunity for the couple to visit with each guest, to relax and enjoy the occasion, to really put their personal touches on the celebration, and for the families to get to know each other in a comfortable setting. To say nothing of saving money to put towards a wonderful honeymoon, a house down-payment or even towards paying off student loans.
If you have an intimate wedding in mind why not consider a B&B venue? Such a location can provide a dramatic backdrop for your own special touches. Whether an elegant country estate, an urban city-scape, or like ours, a mountain setting with meadows, gazebo, handsome red barn, ponds and gardens, there is a B&B sure to suit your taste.
You can have the memorable, intimate wedding of your dreams with memories to last a life time, without breaking the bank. Small is beautiful!
At West Hill House B&B we work with highly qualified, local wedding professionals to help you plan a stress free occasion. We have facilities for weddings from 2 to 80 people and we still have a few June and July 2011 dates available for wedding bookings. We pride ourselves in providing you and your guests with personal attention and excellent service, all in a restful country setting near Sugarbush in the beautiful Green Mountains of Vermont.