Mud season is upon us here in rural Vermont. A time when the snow melts, the ground thaws and the rains come. Although the ski season has come to an end many B&B owners like ourselves remain open and welcome guests while we catch up on the B&B 'honey-do' list.
Mud season is a perfect time to get away from your day-to-day routines and enjoy relaxing at a B&B with your special someone. It is a quiet time in this part of the country, and although the skiers have left, the roads still lead to the beautiful Green Mountains of Vermont —if you follow the driving directions.  Of course on our website we do provide you with a 98% mud-free route to our B&B.
Yankee Magazine had a lovely oh-so-true story this month entitled 'Hard Drive' which described perfectly the challenges of not only mud season but, mud season in combination with GPS.
Vermont has 8,600 miles of unpaved roads (that's twice the length of the continental US) and only 6,000 miles of paved roads. Those who live here appreciate the gravel roads and the beauty found along these roads less taken.
One of the challenges of mud season is that many of the gravel roads turn to a wonderful chocolaty brown layer of mud. While looking innocent enough, in some places the mud is ready to challenge you: will you make it through or will you be caught.
During mud season Vermont's B&Bs want to help you journey smoothly so we all recommend the same thing, "We live here and know the roads well — please read through our recommended directions and don't let your GPS or mapping website lead you astray!"
The subtitle of Yankee Magazine's 'Hard Drive' story is "The GPS crowd learns that when it comes to country roads, some are less taken for a reason."
Absolutely true! While GPS may give you the shortest route, that route might actually turn out to be a farm road or a gravel-road mountain pass deep in mud. In winter you may be led to a road actually closed in winter one which has been closed in winter since the beginning of time!
The key words are "we live here and know the roads well". While the route we suggest may be a bit longer, the timing is usually within minutes of the same and in the long run may require lots less time than waiting for a tow truck to pull you out of the mud!
We want you to arrive happy and relaxed, not stressed out!
So what's to do in Mud Season you ask? Plenty. Here are a few suggestions:
Sign up for a Brews and Snooze tour
Visit the Valley Arts gallery or take part in one of their special classes
Shop at the 'Almost World Famous Warren Store' they have a great deli too!
See the vast array of Vermont artisan talent at the Artisan Gallery Shop
Get a jump on Christmas decorations at All Things Bright and Beautiful
Check out the paintings and photographs by local artist at the Parade Gallery in Warren
Enjoy dinner at one of the local restaurants. While some are closed in mud season, there is still good dining to be had. Perhaps even dinner at the B&B.
Visit the waterfalls or one of the other self-driving tours we have created for you
The Three Mountain Café is a good stopping spot for a bite to eat and to check out local antiques
Visit The Store for all things kitchen related and they have classes as well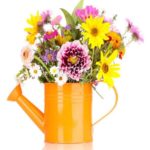 Whether you venture out and about or cozy up at the B&B; breath deeply, enjoy the mountain air and above all, r e l a x !
We are ready help you get started on your Vermont get-away. Check out out our Spring Showers bring May Flowers special or just give us a call at 802-496-7162 to make your relaxation reservation.
How many words can you think of that contain the word moon? 10? 25? 50? More? Well done! An internet search finds over 190 words containing the word moon. Here are but a few…
Moon: The Moon is an astronomical body that orbits planet Earth, being Earth's only permanent natural satellite.
Man-in-the-moon: Although there is said to be a man in the moon whose face is always looking at us, Neil Armstrong was actually the the first man to set foot on the Moon.
Moonstone: n. A variety of feldspar valued as a gem for its pearly translucence.
Moonlight: n. The light reflected from the surface of the moon.
Moonshine: n.Illegally distilled liquor, especially whiskey. Also called regionally white lightning.
Blue Moon: a song written by Rodgers and Hart in 1934 which has become a classic and recorded by many.
Moonwalk: n. A dance step in which the dancer creates the illusion of walking forward while actually sliding back one foot at a time.
Honeymoon: n. The traditional holiday taken by newlyweds to celebrate their marriage in intimacy and seclusion.
Did you include Babymoon in your list? Yes, babymoon. It's not a tiny moon however it is a popular "moon" to be enjoyed by parents-to-be.
Babymoon: n. A relaxing and romantic vacation taken by parents-to-be before their baby is born.
Whereas a honeymoon is a celebration of your new life ahead, a babymoon is a celebration of the old life you're about to leave behind, well hopefully not leaving behind but celebrating the life you are about to bring into to your world.
General wisdom says you and your significant other are entitled to a babymoon during each pregnancy. After all, you're about to embark on seemingly months of straight up nighttime feedings (where you may even get a chance to see the moon!), dirty diapers, and crying so you might as well try to get in a little relaxation while you can.
No matter the season, a babymoon should not be the sightseeing adventure of a lifetime rather a chance for the two of you to relax and rekindle your relationship before your baby comes and life changes in ever so many ways. Some babymoon couples head to sea and sand, some to countryside gardens,  and some to the peace of the mountains.
So if it is the fresh air and peaceful mountains you are looking for, Vermont is the place to be. Outstanding bed and breakfasts invite relaxation, additionally many offer Babymoon Specials which may include such treats as a romantic dinner for two, couples' massages with a special prenatal massage for mom, chocolates of course and a small keepsake for baby. Nearby pathways and mountain trails invite walking and our friendly locally owned shops offer everything from hand crafted children's toys and snuggly quilts for the new little one to that something special to remember your trip by.  Especially noteworthy are the excellent restaurants with healthy, locally grown food which is a treat to body and soul.
Therefore, if you are parents-to-be, we invite you to book yourselves a babymoon and relax in beautiful surroundings of West Hill House B&B nestled in the beautiful, peaceful Green Mountains of Vermont.
It's summer vacation time and no matter where your  travels may take you, it is nice to be given a warm welcome upon arrival at your destination.
Fredericksburg Texas, now there's a town that knows how to welcome folks!
Some years ago, I went on a girls-weekend to A Place In Time B&B in Fredericksburg, TX. We chose the Ruby Bell Suite on the second floor as it was perfect for the three of us. We received a warm greeting from Jon (innkeeper/owner) as well as from the local shopkeepers and restaurant staff we met as we explored the area. In the intervening years I have continued to receive their newsletter, which highlights events going on at the B&B as well as festivals and activities in the town. The newsletter makes me feel welcomed all over again. While visiting this delightful town may not be in your immediate plans, I highly recommend a visit to Fredericksburg, TX because it's a friendly and welcoming.
And why is this such a friendly and welcoming place? Because as the town points out…
Isn't this a wonderfully creative idea? Now we can't all rename the streets in our towns but we can all give a warm welcome to visitors. Hospitality always gives visitors and guests feel a warm feeling. Whether you are greeted in your own language; Welcome! !Hola! Aloha! Bienvenue! Willkommen! Ciao! Välkomnde! or perhaps Witja!, or you meet with helpful folks when you need directions, receive excellent service in a shop, are greeted with a cheery smile from a local or are welcomed by the names of the streets, it's a good feeling.
In the 10 years we have owned West Hill House B&B we have welcomed guests from every continent (we counted the scientist who had been stationed for a number of months in Antarctica). Whether you come for romance, relaxation or recreation, we will  be delighted to say "Welcome!" and extend the hospitality of West Hill House B&B to you. Come visit us and teach us to say "welcome" in your mother tongue!
Serving it up 
Lorne Sausage, also known as Square Sausage, Flat Sausage or Slice Sausage, is a traditional Scottish  food made with beef and pork. It is said to have originated in Lorne, Argyll in Scotland. If you are in Scotland and ask for a full Scottish Breakfast you will see Lorne Sausage on your plate.
The following recipe is my version using turkey. It has received "thumbs up" from our guests who prefer not to eat beef or pork.
Ingredients:
2 lb. ground turkey
1 1/2 c. Fine Bread Crumbs   (seasoned or not as you prefer)
1 tsp. Pepper
1 tsp. Nutmeg
1 1/2 tsp. Coriander
1 tsp. Salt
3/4 c. of Water
1 egg lightly beaten
3 T. Maple syrup (optional)
Method:
Mix really well by hand then place in a wax paper or saran lined oblong pan about 10″ x 4″ x 3″.
Fold the wrap over top of the meat and place in the freezer until it's just starting to set.
Remove it from the pan and peel the paper away, it might be a bit sticky.
Cut into slices to the thickness you like.
Separate the slices with wax paper, wrap the whole sliced loaf in waxed paper and put it into a freezer bag and put it back in the freezer.
When required, pop off a slice, defrost and fry it in a little fat or oil until crispy brown and cooked through.
If you make this using the traditional recipe, instead of using ground turkey, use 1 lb. of ground beef and 1 lb. of ground pork – neither being too lean or the sausage will be dry. You may wish to leave out the egg as these meats will have more moisture than turkey. Recipe can be doubled however use a very large bowl.
I serve this on half a lightly toasted English muffin or Kaiser roll or on toast and topped with mornay sauce. Next time I think I will make it with chicken instead of turkey and see how that turns out.
Dishing it out
When we travel in Scotland, if we aren't staying with family, we usually stay at B&Bs as it is a real treat to have someone else make breakfast for us!
If you have never had a typical Scottish Breakfast, aka 'Fry Up', at a B&B or hotel (if you must!) here is a sample of what you will find on your plate and traditionally it is the same breakfast which is served every day. Ready? Going clockwise: baked beans, parsley (just for show), fried mushrooms, tomatoes -again the basil is just so you can say you had something really healthy, pork sausages, bacon, Lorne sausage or haggis, and tattie (potato) scone. OK, push back from the table now and you'll want to loosen your belt about now – or maybe reach for something to settle your tummy.
If you keep eating these breakfasts belt loosening won't help, you'll need new clothing. I certainly don't recommend eating like this every day of your Scottish holiday but you need to do this a few times just for the experience! We get smart after a couple of days and ask for the full breakfast minus whatever we have had enough of previously and often end up with egg (not fried), scone and Lorne sausage or haggis.   Now the average family is not subjected to this high fat diet so oatmeal, breakfast roll with butter and marmalade, some fruit and tea are the main stays and greatly enjoyed.
Stirring it up: Last week was the first week for our Community Supported Agriculture share for this year and it got me thinking about carrot greens.  Carrot greens are most often thrown away during meal prep but I thought there had to be a use for them. I searched the internet, got some inspiration from a number of websites then opened the fridge and built a salad. I used various quantities of veggies untill it looked and tasted good.  Quantities are to the best of my memory!
Carrot Greens Salad
1 1/2 – 2 c. cleaned & chopped carrot greens
1 c. black beans, pre cooked or canned
1 – 1 1/2 c. garbanzo beans (aka chick peas), pre cooked or canned
3 med carrots, diced
4-5 stems parsley, fresh & chopped
1 scallion thinly sliced
5-6 mint leaves, fresh & chopped
1 1/2 c. quinoa, cooked & cooled
4-5 green peas in the pod, fresh and thinly sliced
Dressing
1/2 c. olive oil
3T. red wine vinegar
1 small clove garlic, crushed or 1/4 t. dry garlic bits (not powder)
2-3 T. lemon juice, fresh
2 t. sugar
Prepare all the vegetables and place them in a large bowl along with the cooled quinoa. Prepare the dressing by putting all the ingredients in a small jar and, with the lid on,  shaking it well. Pour the dressing over the veggies about 10 minutes prior to serving and lightly toss the salad. Be sure to adjust the quantities and veggies to your liking! It tastes great the following day too and the carrot greens are still fresh looking. Bon appétit!
Next time I might add about 1/2 c. corn kernels and 1 med tomato, diced. I served this with a side of a couple of slices of Cabot Seriously Sharp Cheddar cheese. This salad was a great meal in itself.
Dishing it out: As a child I was sometimes called "carrot top" by those out to tease me but seriously, I had red hair and a carrot top is green.  Obviously those folks had no idea what they were talking about and, thus far in my life, I've never seen anyone with naturally green hair!
That being said, we love the carrot greens we get from Muddy Boots CSA and we love being part of the Muddy Boots CSA (Community Supported Agriculture) which is a collaborative venture of  Kingsbury Market Garden, Wood's Market Garden and Burnt Rock Farm.  It also includes dairy products from several of the local farms including Von Trapp Farmstead and Ploughgate Creamery at Bragg Hill Farm. Our week one share was a marvelous selection of absolutely fresh produce including brie cheese, luscious tomatoes, tasty shallots, crisp carrots and cucumber, crunchy kale, dried black beans, beautiful lettuce, pungent basil, deep red beets, and more. How could you not like any of it, or waste any of it which is why I wondered about the carrot greens. Carrot Greens Salad, what a perfect way to celebrate the wonderful farms and hard working farmers this 4th of July or on Canada Day if you are north of the border!
I'm Snowball, CPO, that's Chief Purr Officer, I'm in charge of Purrs and Snuggles here at West Hill House B&B. You'll meet my brother, Smoky, another day, but today is my day to shine. First a little history about us. My brother and I were born on the Turner's farm, Simplicity Farm, just a bit north of where we live today.
Our mom was beautiful, she was pure white with one blue eye and one green eye. I look a lot like her except for my eyes, they are both a lovely shade of green, the color of  an old copper roof. Our mom looked after us when we were very tiny and when we got a bit older she was soon off on her own adventures around the farm and we were moved into the farm house where we learned about litter boxes and eating from a bowl. We mastered both of these new challenges with flying colors by the way.
I knew we were off on adventures of our own when Susan and Peter came to pick us up and take us home with them. We were so little that we fit into the palm of their hands. We felt warm and happy there and we let them know with our purrs. The ride home was a bit strange as we were put into a carrier and strapped into the back seat of the car. We were safe though because the carrier didn't move a bit and the nice clean towel we sat on was quite snuggly.
When I started to explore on my new home, I was a bit wobbly on my feet, maybe because I have so many extra toes, somehow I kept tripping over my feet and sometimes I just needed to go  into my basket and do some kitty yoga to relax.
I like to do a lot of things like chasing light around the room, climbing on chairs, and of course rolling around on the red rugs and leaving as much white fur on them as possible!
You see, because I'm deaf it does not bother me that the vacuum is not far behind me making a big noise as it is clearing up my mess! One of my most favorite activities, well, perhaps not exactly an activity, anyway, I love to take cat naps. I have experimented with several different beds,  here are some recommended and some not so much.
I look forward to having visitors at West Hill House B&B because when I'm up and around I'm always ready for pats and snuggles (on my terms of course) from guests. Please remember that because I can't hear you coming, if you pat me when I'm napping, I'm going to be startled.
Smoky and I are waiting for you, meantime… yawn… I think perhaps a little nap.
Oh, and you know the most wonderful thing about having cat naps?
Whether sleeping alone or with my brother, our humans just let sleeping cats lie!
December 20, 2014 by Peter MacLaren
Have you been reading "Top 10" lists over the last few weeks? If so you will have you see lists of almost everything under the sun, Top 10 Ugliest Cars, Top 10 Best Places to Live, Top 10 Best Companies to Work For, Top 10 Best Universities, and who knows, maybe even a list for the Top 10 Best Top 10 Lists!
Well…  here's our "Top 4" list – Four Great Reasons to come Ski in the Mad River Valley this Winter.
1.  Mad River Glen – Mad River Glen – Ski It If You Can. Seriously, don't miss out on skiing this legendary co-op owned ski area. Ranked by Ski Magazine as one of the most challenging on the east coast of the US, Mad River Glen provides an opportunity for skiers of all levels to ski a variety of trails on natural snow though narrow trails which follow the terrain. Riding the Single Chair, chairlift is an absolute must! Lessons, ski shop and General Stark Pub are hillside amenities. Down hill, telemark, and cross country skiers will love MRG but be warned snowboarders… you will  have to look elsewhere for your downhill excitement as no snowboards are allowed.
2. Sugarbush Ski Resort – As one of the largest ski areas in the northeastern US, and with two mountains to choose from, Lincoln Peak and Mount Ellen, snowboarders and skiers alike will enjoy the range of it's 111 trails from beginner slopes to the more challenging black diamond runs. Sugarbush is locally owned and offers lessons, a variety of places for foodies, ski shop and accommodations.
3. Blueberry Lake Cross-Country Center– Is a cross country skiers' delight. Designed for the average skiers,  outdoor enthusiast can enjoy the classic or skating style of skiing or can snowshoe on the 11 trails which includes 30km of groomed trails. Ski and snowshoe rentals are available as are lessons. Pre-skiing age children can also enjoy the outdoors in the comfort of a pulk which can also be rented. And for dog lovers, your well behaved dog is welcome and please, remember to clean up after your pooch.
4. Olé's Cross-Country Center – Offering about 40km of groomed trails, lessons, rentals of both skis and snowshoes, a deli and friendly staff, Olé's beckons to cross-country skiers of all ages to come and enjoy winter. With relatively flat terrain skiers can explore the trails while getting great mountain views and if quiet woodland trails are your choice you'll find them here too. There are about 15km reserved for snowshoeing only and today's modern snowshoes are a lot easier to walk in that the old, oversized 'tennis rackets' and you don't need special boots, your regular winter boots fit these snowshoes nicely.
The Mad River Valley offers skiing of all sorts, comfortable B&Bs and slope-side accommodations, friendly folks, great food, beautiful shops, gorgeous mountains, stately trees, as well as wonderful snow, more mountains, more trees, more snow and lots of fresh, crisp mountain air.
Get your mittens and scarf ready and consider this your invitation to visit Vermont, winter in its natural state. Come experience skiing at its best. We're ready and waiting for you…what are you waiting for?
December 15, 2014 by Susan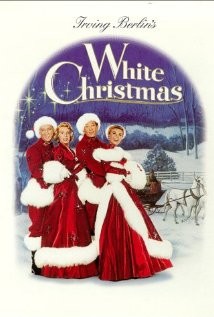 Dreaming of a White Christmas but live where there isn't any snow? Stop dreaming and come live your dream. Come to Vermont!
The movie White Christmas is indeed a classic and a must see Christmas movie in our family and perhaps yours too. The holidays are not complete without a visit, via DVD, to the the Columbia Inn in Pine Tree, Vermont.
Starring Bing Crosby and Danny Kaye as successful broadway producers, and Rosemary Clooney and Vera-Ellen as a sister, singing act, a twist of fate brings the foursome to The Columbia Inn in Pine Tree, in late December. Dreaming of a white Christmas and that "Vermont should be beautiful this time of year, all that snow" the four arrive and find, to their great disappointment, that there is no snow at all. The sisters find, with few registered guests, their singing contract is to be cancelled. Meanwhile, the two men discover that the innkeeper is their former commanding general.
Despite the lack of guests and the challenge of the weather, the four decide to stay and the story develops as a light-hearted romance suitable for family viewing. With songs sung by Crosby and Clooney and beautiful dancing by Vera-Ellen and Kaye, the movie is a good way to spend a winter evening.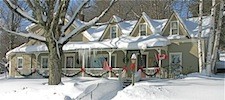 While there is no Columbia Inn, there is West Hill House B&B in Warren, Vermont, a place to enjoy a white Christmas and winter in all its glory.
We can predict with some degree of certainty that we will have a white Christmas and we most certainly have a copy of the movie for you to watch!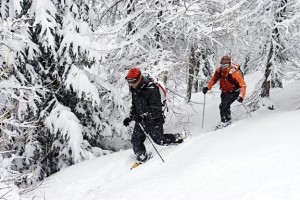 Skiing at  Mad River Glen  and Sugarbush will be in full swing with people from around the world enjoying the opportunity to ski some of New England's best slopes. On the Sugarbush golf course just behind our Handsome Red Barn, is a perfect hill for sledding on one of the Mad River Rocket Sleds created here in Warren. If your pace is slower, there are miles of cross-country skiing at Olé's and  Blueberry Lake only 10 minutes from West Hill House B&B. If skiing isn't for you, our snowshoes are perfect for exploring around our property or farther afield.
If you're not an outdoors type or your skiing days are past, there are numerous artisan shops, small stores and coffee shops to visit but that will have to wait for another blog.
If  a white Christmas to you means looking at snow through a window,  how about curling up in a big chair by the fireplace and losing yourself in a good book, or playing a board game with your special someone.
If you are dreaming of a white Christmas look no further than Vermont in winter. Winter in its natural state!
November 24, 2014 by Susan
Stirring it up:
These peanut butter cookies could be called by any number of names: I Can't Believe It! Magic!, Too Simple To Be True!, the list could go on and you are welcome to make up your own name for these delicious, miraculously quick cookies. Amazing Peanut Butter Cookies will have to do for now. Perfect to whip up if unexpected guests drop in and, like Old Mother Hubbard, your cookie cupboard is bare. Amazing Peanut Butter Cookies can be created in 5 minutes and cooked in 15 minutes fresh cookies can be ready by the time the coffee is perked or the tea kettle is boiled.
Ingredients:
1 c. peanut butter, smooth or crunchy
1 c. white sugar
1 large egg
2 measures of tender loving care!
Measure the peanut butter, sugar and egg into a bowl.
Mix together until smooth. The batter will be slightly thick.
Using a scoop or teaspoons, scoop out dough about the size of a walnut.
Place on parchment paper lined cookie sheet.
If desired, pattern the dough by pressing with a fork or by dressing it up with a chocolate chip. If you are making larger cookies use a Hershey's Kiss- unwrapped of course! I leave the cookies in their rounded state prior to cooking so they flatten out while they cook becoming crackled on top and slightly chewy in the center.
Bake for 15 minutes at 350°F. Keep an eye on them.
Cool on the pan for a few minutes then remove to racks to continue cooling.
Serve with tea, coffee, milk or just a plate!
Makes about 24 amazing peanut butter cookies. They freeze well so you can stock up for the holidays.
Dishing it out:
My Dad would have loved these cookies – peanut butter was a favorite; on toast, with carrots or celery, with a spoon!, with just about anything. I remember as a child we always had peanut butter in the pantry and in two or three pound jars. We even had peanut butter in large bear shaped glass jars and I still have a couple of these jars, empty of course!
Peanut butter is a staple many North American kitchens but not so in the United Kingdom or Europe. When growing up in Scotland, Peter seldom had peanut butter and when living in France we only found peanut butter in pricy, small containers.
This recipe is from amazing peanut butter lovers like Carol and Colin who were guests here at West Hill House B&B while attending the 50th year reunion of Vermont College and Norwich Military Academy respectively. Carol mentioned that Colin liked peanut butter cookies and she proceeded to give me this recipe. I'm not prone to disbelieving recipes which are shared with me, and I'm usually ready to experiment, so I made these cookies then and there and about 20 minutes later presented Colin with a plate of his favourite amazing peanut butter cookies. Give the recipe a try, I'll bet you say, "I can't believe it, these are amazing peanut butter cookies!"
Learn more about things that include peanuts – check out the information on George Washington Carver.

Only one special package is being offered for a wedding with just the two of you on the special date of 12-13-14 (for the numerically challenged that's December 13, 2014). 
It has now been booked! However our normal wedding and elopement packages are available for other dates.
All of the following are included: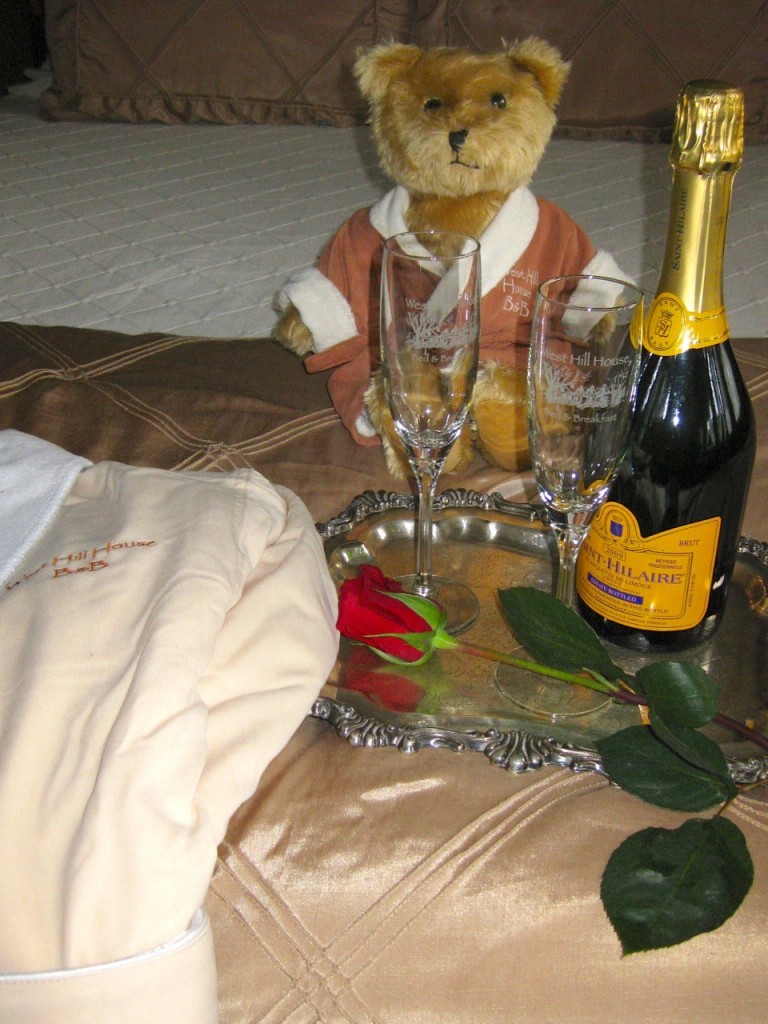 An excellent Justice of the Peace who will officiate at your wedding ceremony and contact you ahead of time to work with you to personalize your ceremony

Digital photographs of your ceremony and a CD of your photos

A wedding cake

A bottle of sparkling wine or sparkling pear or apple juice

Seasonal flowers as bouquets or boutonnieres

Two signature West Hill House B&B coffee mugs

Two West Hill House B&B keepsake Champagne flutes

Two nights of accommodation in the Paris Suite

Two luxurious West Hill House B&B "Doe Skin" robes

One Ted E. Bear complete with matching robe

Dinner for two on Saturday at either excellent restaurant: The Common Man or 275 Main at the Pitcher Inn
This great package is offered for $1516.17 plus 9% tax. Call us at (802) 496-7162 to book.
The Small Print: This offer is only good for a wedding to be held at 1:00PM on December 13, 2014. No change of time or date will be considered. A $500 non-refundable, non-transferable deposit for this special wedding package is required at the time of booking. Note that the deposit does not entitle the couple to any of the offerings should the wedding be cancelled. 
If you live in or near a farming community you have doubtless heard of CSA, Community Supported Agriculture, which enables consumers to purchase local, seasonal produce direct from the farmer.

Farmers and consumers both benefit from the CSA scenario. Farmers have time to market their food before the start of their long days in the fields, they receive payment for their produce early in the season which helps with their cash flow, and they have the opportunity to meet the people who purchase the results of their labors.
Consumers benefit as well with absolutely fresh food full of vitamins and flavor, they learn about new foods and new recipes, they know where their food is coming from, and they develop a relationship with "their farmer(s)".
Here in the Mad River Valley there are several CSA programs underway and we recently bought a "share" in Muddy Boots, a CSA collaborative effort between three organic farms, Kingsbury Market Garden, Wood's Market Garden and Burnt Rock Farm. Other smaller producers will also be involved  so we will have the option of also receiving fresh bread, butter, sunflower oil, dry beans and a variety of other wonderful items.
Muddy Boots recently had an open house where we met one of "our farmers", Aaron of Kingsbury Market Garden, who was getting his tractor ready for onion planting, and Marisa of Bragg Farm in Fayston, one of the smaller producers, who will be providing butter and cheese products.
Not only did we meet these two, we met a new-to-us food, Claytonia, which is quite delicate in appearance, tastes somewhat sweet, is full of vitamin C and will make a lovely addition to a salad of fresh greens.
This year at West Hill House B&B we will be incorporating items from our CSA share into our breakfasts so you, our guests, will be able to taste fresh, farm-to-tummy produce from our neighbors.
Stirring it up:
Who doesn't like chocolate? And what about chocolate and mint? A yummy combination to be sure. These absolutely delicious chocolate cookies have just a hint of peppermint and pack a mouthful of chocolaty goodness.
Makes 36 cookies
Oven 350F
Bake 5 – 6 minutes
Ingredients:
1 c. white sugar
6 T. canola oil
2 eggs
2 c. all-purpose flour
1/2 c. baking cocoa
1 T. baking soda
1/4 t. salt
1/4 t. peppermint extract
4 T. milk (whole, 2% or fat free)
In a bowl, beat sugar and oil until crumbly. Add eggs and beat for 1 minute. Combine flour, cocoa, baking soda and salt and gradually beat into the sugar mixture. Add the milk and mix well
With lightly floured hands roll dough into 36 balls and place 2″ apart on a parchment lined or non-stick sprayed baking sheet. Flatten slightly with your fingers.
Bake at 425° F for 5 – 6 minutes just until the edges are set and the tops crack. Cool a couple of minutes before removing to cooling racks. Enjoy as excellent plain chocolate cookies or make cookie sandwiches with some fluffy vanilla butter icing or you could make larger cookies and make ice cream sandwiches with them – now that would be great for a 4th of July party!
Dishing it out:
Outside our Garden Room we have an herb garden which at this point is growing like crazy because of all the rain we have been having. The first crop of chives has been snipped and dried in the oven for use in the winter and the remaining sprigs have flowered. The flowers make a lovely garnish and are good in soup and cream sauces as well. You'll see in the photograph that I have put some mint along with the cookies. This isn't just ordinary mint but chocolate mint. It looks like "regular" mint but it has a chocolate brown stem and it actually smells and tastes like chocolate mint—like the cookies! While I considered chopping the mint and mixing it into the cookies I wasn't sure how guests would react to bits of green stuff in their cookies. Maybe I'll try that another time. In the meantime, this mint is really nice floating in black tea or just in hot water. A real treat is mint with strawberries and some whipped cream. There is a tasty summer watermelon salad that has mint, feta cheese, english cucumber among other ingredients—you'll find that in the June 13, 2010 blog. Happy munching.