January 31, 2012 by Peter MacLaren
A picture postcard Valentine's Day package awaits you…
A snow covered landscape, a beautiful room with a double Jacuzzi tub in its ensuite bathroom, a sleigh ride to whisk you through the snow, and a delicious dinner at The Common Man restaurant.
We have two all inclusive packages:
The Logan Suite for any 3 nights including the 14th of February  – just $999 inclusive
The Mountain Room for any 2 nights including the 14th of February – just $649 inclusive
Extra nights can be added at our regular rates less 10%.
Your package includes:
Your beautiful room and a delicious breakfast each morning
A wondrous sleigh ride with views over the Mad River Valley
Dinner at The Common Man Restaurant on the 14th
6 Roses – that you can take home with you
A bottle of Champagne and two souvenir Champagne flutes
Lake Champlain chocolates
And most of all – a peaceful get-away among the snow covered Green Mountains of Vermont
Please plan ahead as these packages will doubtless sell out quickly.
December 3, 2011 by Peter MacLaren
We've found it! The Pot of Gold is in the Mad River Valley!
November brought us 11″ (28cm) of snow for our Thanksgiving Day guests to enjoy and 60°F (15°C) weather a few days later. November also brought us this magnificent rainbow on the 30th. While we can't guarantee you a rainbow or a pot of gold when you visit West Hill House B&B, Sugarbush or Mad River Glen, we can guarantee you beautiful scenery and warm Mad River Valley hospitality.
November 28, 2011 by Peter MacLaren
Picture yourself doing your Christmas shopping and enjoying Christmas music in the quiet serenity of the green mountains of Vermont.
Saturday, December 3 marks the 13th annual Country Christmas Open House in the Mad River Valley. Over 30 local shops and services are offering special discounts which will make your pocketbook happy and may offer free refreshments which will make your tummy happy. Pick up a punch card at any merchants displaying the Participating Merchant sign then visit 5 businesses and have your card punched at each. When you leave your card with the 5th business it will be entered for a prize drawing. Check out the list of participating merchants and services.
On Friday, December 9 The Vermont Symphony Orchestra presents Holiday Pops "Fun and Games"  at the Barre Opera House, just under one hour from West Hill House. Favorite Christmas music with a twist as they take a look at the youthful side of the holiday. Fun for everyone. Tickets required.
Thursday, December 15 the Warren United Church will host the Vermont Symphony's Brass Quintet and Counterpoint for a perfect mix of brass and voices to ring in the season. Free admission although tickets are required.(802-496-9714).
And of course the area also offers skiing and riding at Sugarbush, skiing at Mad River Glen, and cross country skiing at Ole's and Blueberry Lake. Dog sled rides, sledding, skating, and moonlight snowshoe tours are just some of the other ways to enjoy a white Christmas in Vermont – oh and you can also curl up with a warm beverage and watch the movie White Christmas.
October 18, 2011 by Peter MacLaren
As a special 'Thank You' to US and Canadian, retired and active military, West Hill House joins with many other B&Bs across Canada and the US in offering one free night of accommodation for military personnel on November 10, 2011 in either the Garden Room or the Highland Room (occupancy 2 people per room). We are also offering additional nights at a 50% discount.  Of course our wonderful breakfast is included.
Come relax and enjoy Vermont hospitality in the peaceful surroundings of the the Mad River Valley in the heart of the Green Mountains. Our regular cancellation policies apply and a cc is required to hold the reservation. Proof of status may be requested upon check in.
This 'Thank You' Special is valid for the nights of Nov 9 – 13, 2011. Call to reserve. See you soon.
August 29, 2011 by Peter MacLaren
Well, it has been quite an amazing 24 hours! As with most of you, we were hooked on the weather channel keeping up to date with the progress of Irene. Our trusty garden rain gauge measured 6″ of rain between 8:30 yesterday morning and the same time this morning. We forgot to put the gauge out on Saturday evening when the rain started. The winds were not too extreme so with the exception of a few limbs, all our trees are still with us.
Being on the mountain side, our B&B was certainly not hit as hard as those of you along the coast in the direct path or our friends and neighbors in the lower elevations in the towns of Waitsfield and Warren.
The Mad River Valley did get an enormous amount of flooding. The Mad River lived up to its name. The lovely Pitcher Inn's kitchen and wine bar, Tracks, were flooded with 4′ of water and they are now digging out – literally. Many farmers lost their crops under copious amounts of water–hopefully their animals are all safe. All this after finally getting crops in following huge flooding in May. Lots of roads and bridges are washed out so travel is quite disrupted. Nearby towns including Montpelier, our state capital, were again inundated.
We trust that our guests and friends up and down the eastern seaboard–both in the US and Canada–are safe.
August 6, 2011 by Peter MacLaren
Prince William and Katherine did it in London. Prince Albert and Charlene did it in Monaco. And you too can do it …it's not too late to have a summer 2011 wedding at West Hill House!
Whether an elopement with just the two of you or  a small wedding with yourselves and an intimate group of friends, we are here to help you have a stress free wedding and one which won't break the bank.
A beautiful garden to be married in, a handsome barn in which to dine and dance, an inviting bed and breakfast in which to relax, and  a magnificent Vermont setting – what more could you ask for?
Make your dreams come true with a Vermont wedding this summer.  We only need a couple of days to help you get everything organized.
June 29, 2011 by Peter MacLaren
Yankee, in the July/August 2011 magazine, ranked the Waitsfield Farmers' Market as one of the 5 best Farmers' Markets in New England. Here's what they say…
Waitsfield Farmers' Market
It seems that the entire population of the Mad River Valley turns out to partake in a boisterous round of festivities: face painting, arts and crafts, live music, picnicking, and more. More than 60 vendors; space is equally shared among agricultural, craft, and prepared-food booths. Mad River Green, off Main St. (Route 100), Waitsfield. Saturdays 9am-1pm, May-October. waitsfieldfarmersmarket.com
We agree!  This weekend, whether you are here to attend the Vermont Symphony outdoor concert,  the Warren July 4th parade, the air show or the fireworks at Sugarbush be sure you take in the fun and excitement of the Farmers' Market.  On this July 4th long weekend it will be the place to be if you are in the Mad River Valley on Saturday morning.
June 11, 2011 by Peter MacLaren
The holiday weekend in Warren is chock full of excitement this year, starting on Friday July 1st and running through to Monday July 4th. Plan to stay at West Hill House for all four nights and we will make all the arrangements you need to enjoy your visit at an all inclusive price!
July 1st. The Vermont Symphony Orchestra offers "Symphony Royale" with Anthony Princiotti, conducting music fit for a king…or a summer evening in Vermont! Handel's fireworks begin the program and Northstar's fireworks conclude it, in this musical homage to royalty. The noble procession includes Scheherazade's Kalendar Prince, the King and Queen of Troy, and the King of Siam. In honor of Independence Day, we celebrate our freedom from monarchical rule with America's own version of royalty, Duke Ellington! The performance will be crowned, as always, by the majestic 1812 Overture and selections from Sousa, the March King. The performance is being hosted at Sugarbush.
The gates open at 5:00 PM for an included barbecue dinner and the concert begins at 7:30 PM.
July 2nd. The renowned Waitsfield Farmers' Market will be open from 9AM till 1PM. You will find fresh produce, flowers, seedlings, honey, wool, eggs, meat, cheese and other farm products. In addition you will find crafts made in Vermont, baked goods, and prepared food. There will also be live entertainment provided by local musicians. You will also find community groups such as the Vermont Festival of the Arts, Localvores, local libraries and fire departments.
Dinner on Saturday evening will be your choice from the many excellent nearby restaurants.
Still on July 2nd enjoy a performance by the excellent Valley Players of the classic George Bernard Shaw's play "Arms and the Man".
The play is set during the four-month-long Serbo-Bulgarian War that occurred between November 1885 and March 1886, this play is a satire on the absurdity of glorifying war, as well as a satire on the foolishness of basing your affections on idealistic notions of love. These themes brought reality and a timeless lesson to the comic stage. Consequently, once Shaw's genius was recognized, Arms and the Man became one of Shaw's most popular plays and has remained a classic ever since. The Performance starts at 7:30PM.
On Sunday July 3rd enjoy the Stars and Stripes Charity Airshow at Warren-Sugarbush airport featuring bi-plane aerobatics and other great stunts. This year there will be a model airplane demo, glider aerobatics and with both vintage plans and classic motorcycles on display. Check the video to see what you will be in for! Gates open at 11:00 a.m. and show starts at 1:00 p.m.  All proceeds to benefit the Vermont National Guard Charitable Foundation, a nonprofit organization which serves to meet the emergency financial needs of the men and women of the Vermont National Guard and their families.
On Sunday evening we will make reservations for you at The Common Man Restaurant, in our view the best restaurant in the area. (It will be open specially for the Sunday of the holiday weekend.)
Over 150 years old, the soaring hand hewn rafters of the timbered interior are lit by crystal chandeliers, soft candlelight, and a huge open-hearth manor fireplace in season. (See the photo alongside.) Dining is elegantly casual and casually elegant, definitely romantic, and is applauded by Vermonters and visitors alike. The restaurant has earned scores of prestigious awards.
Then the pièce de resistance on Monday, the 63rd consecutive Warren 4th of July Parade.
The event celebrates independence with a wild, wacky, and wickedly fun parade, street dance, and family festivities! The theme is "ACT LIKE A LOCAL:_________" (blank to be filled in by the participants!). This is always an "interesting" event with political correctness being left at home as floats assembled by area denizens broadcast their point of view to visitors from far and wide! The Parade starts at 10AM. Live Music will begin following the parade with Jimmy Yozell at the Warren Store porch for the big street dance and Mad Mountain Scramblers at Brooks Field (elementary school), a short walk from the village.
The video was compiled by Sugarbush from last year's parade.
On Monday evening West Hill House will provide an alfresco dinner sitting out on our Garden Terrace overlooking our gardens. Then in the evening about 9:45PM you can watch an amazing Fireworks display at Sugarbush.
Enjoy this exciting and unique long weekend with an all inclusive price from West Hill House, with four night packages starting at $999 per couple. The price includes tickets for all the events and meals described above, one of our beautiful well appointed en-suite queen-bedded guest rooms for four nights, and breakfast each morning of course. (Only extras are lunches, dinner at your choice of restaurant on Saturday evening and any alcoholic drinks.)  We will also be happy to customize the weekend package to your preferences. Tickets for the various events are subject to availability.
April 10, 2011 by Peter MacLaren
Save on Gas. Travel with Friends.
Invite another couple or two other couples to join you for a gas-saving get-away at West Hill House Bed and Breakfast.  Make a reservation for 2 or more nights, pay on one credit card, travel here in one vehicle and take advantage of our B&Bs Kick Gas, Gas Saver Special.
Pay full price for each of the rooms for the first night and receive the second night(s) at a 50% saving. If you stay for 3 nights, the third night(s) – on the house. Think of the savings as our way of helping you fill your gas tank.
We are happy to provide you with touring ideas, dinner reservations or even a home cooked dinner at the B&B if there are 6 of you traveling together.
The Gas Saver Special good now through June 30, 2011 and cannot be combined with other specials we may be offering . The Paris Suite is not included in this offer.
January 13, 2011 by Peter MacLaren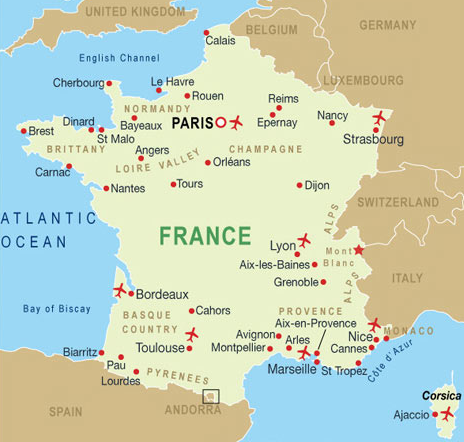 Three cousins visiting from France delighted us with this guest blog about their visit to the Mad River Valley. Nous disons, "Merci, Fanny, Audrey, et Valerie pour votre visite."
Nous avons passé quelques jours au West Hill House chez Susan et Peter en août 2010. Et quel séjour au coeur des Green Mountains, dans le Vermont. Les hôtes sont charmants et très accueillants, heureux de nous faire partager leur passion pour leur magnifique région. La maison est très jolie et confortable, rappelant les maisons Américaines (exterieur), Canadiennes et Ecossaises (intérieur). Quant aux petits déjeuners de Susan : exquis !! Et en tant que Français, tout le monde sait à quel point nous aimons les mets de qualité!
Et pour finir deux grands chats adorables : Smoky et Snowball!
La région du Vermont vaut le détour : de belles randonnées dans les Green Montains, des baignades dans la rivière, beaucoup d'expositions d'artistes et artisans d'art, The Warren store à voir absolument (Magasin qui rappelle le magasin de Mr Olson dans la petite maison dans la prairie!!), vous pourrez y déguster de délicieux petits plats et trouver des objets insolites, The Store à Waitsfield (petite ville à quelque kilometres de Warren) où l'on vous accueille avec une tasse de thé ou de café, vous y trouverez tout le necessaire pour cuisiner : des ustensiles aux condiments. Cette région regorge de "red barn" = fermes typiques rouges, de ponts couverts, et de restaurants où nous avons toujours très bien mangé.
Bref, je gardais du Vermont un souvenir exceptionnel, 15 ans après mon premier voyage, j'ai retrouvé la même authenticité et le même accueil chaleureux.
N'hésitez plus, West Hill House et le Vermont sont des lieux que l'on n'oublie pas ! Pour ma part, je reviendrai en automne ou en hiver, cela doit être magique!
December 5, 2010 by Peter MacLaren

1 classic single chair lift

2 come or not to come – is there any question?!

3 hours from Boston (or maybe slightly more)

4 glorious seasons for romance, recreation and relaxation

5 beautiful ski areas: downhill, cross-country and back-country

6 great restaurants (or more – you decide) within ten minutes of the slopes

7 hours from NYC (or maybe a bit less)

8 AM, weekend fun-on-the-snow begins

9 B&Bs within ten minutes of Sugarbush (and some are much closer!)

A perfect "10" as a winter get-away!

If you are still undecided, please call and tell us why!

Just in case you have never heard about the Valley, or are still wondering whether to come to ski here this season, we thought we'd make it easy for you by listing 10 reasons for visiting:
November 26, 2010 by Peter MacLaren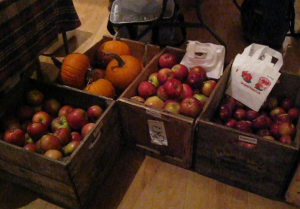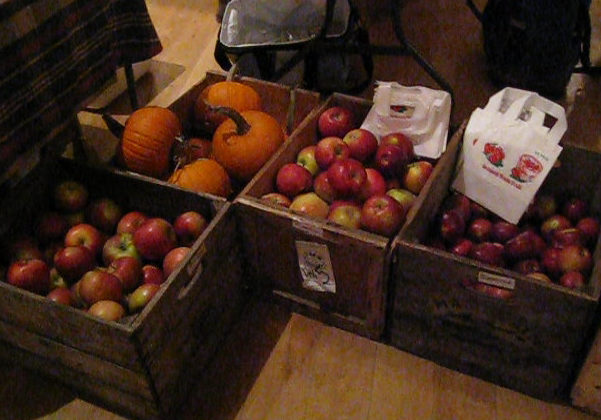 Last weekend we attended our local Thanksgiving Mad River Valley Farmers' Market.  There was a definite feeling of winter in the air so it was fortunate that this event was held indoors at the Inn at the Round Barn Farm.
What a variety of food, handicrafts and even some music! Locals and visitors alike wandered among the displays filling their bags with local fare.
Everything from beautiful handicrafts, to amazing cheeses made by Three Shepherds Cheese (we really liked the strong King Louis cheese), to chair massages from Mad River Massage (always relaxing), to a magnificent array of vegetables from local farms. The amazing displays pictured here are from David Hartshorns' Santa Davida Farm.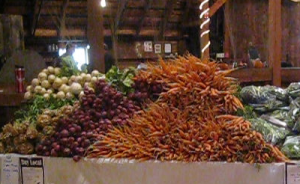 Although this is our last Farmers' Market for the year we invite you to come experience our winter wonderland – see our immediately prior blog entry about Ski Time in the Mad River Valley – then return next summer to visit our Summer Farmers' Market held every Saturday morning from Memorial Day through to the end of October.