November 26, 2010 by Peter MacLaren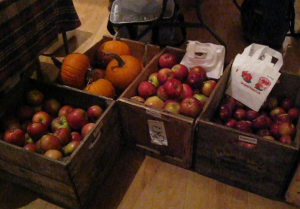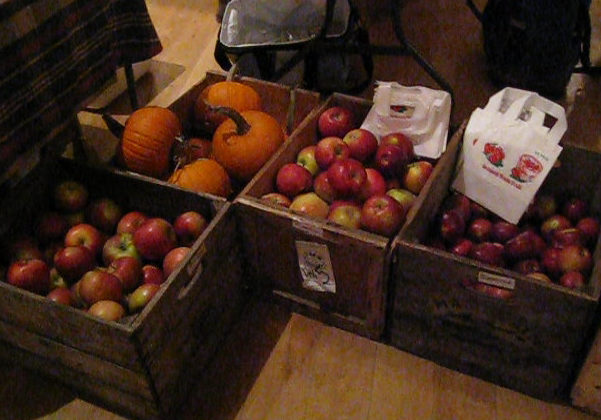 Last weekend we attended our local Thanksgiving Mad River Valley Farmers' Market.  There was a definite feeling of winter in the air so it was fortunate that this event was held indoors at the Inn at the Round Barn Farm.
What a variety of food, handicrafts and even some music! Locals and visitors alike wandered among the displays filling their bags with local fare.
Everything from beautiful handicrafts, to amazing cheeses made by Three Shepherds Cheese (we really liked the strong King Louis cheese), to chair massages from Mad River Massage (always relaxing), to a magnificent array of vegetables from local farms. The amazing displays pictured here are from David Hartshorns' Santa Davida Farm.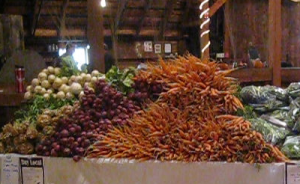 Although this is our last Farmers' Market for the year we invite you to come experience our winter wonderland – see our immediately prior blog entry about Ski Time in the Mad River Valley – then return next summer to visit our Summer Farmers' Market held every Saturday morning from Memorial Day through to the end of October.
November 25, 2010 by Peter MacLaren
Sugarbush opens today, November 25th, with a few runs, and both it and Mad River Glen will be fully open by early December.
The Mad River Valley, encompassing the picturesque towns of Warren and Waitsfield, is the perfect place to ski in the North East. We have three amazing ski hills, Lincoln Peak and Mt Ellen at Sugarbush, and Mad River Glen. The two high speed quads at the base of each of the Sugarbush hills mean short lines even on busy days, and at Mad River Glen – while you may have to wait a bit longer on weekends and holidays – you get to ride the legendary single chair and enjoy skier only slopes. (There's lots of variety at Sugarbush for riders.) Plus we have great cross country skiing, including right outside our door on the golf course, as well as two extensive networks of groomed trails nearby.
And there's more. We are privileged to offer a wide selection of excellent owner-operated restaurants here in the valley. No chains, no franchises, no fast food. One of our favorites is Mint, a boutique vegetarian restaurant that even meat eaters will love. Then there is The Hyde Away with a wide menu selection of good value home cooking open 7 nights a week. The Terra Rossa Ristorante will more than satisfy lovers of Italian food, and you can watch pizzas being cooked in front of you in the classic brick oven. Then of course there is The American Flatbread, the mecca of taking pizza to another level, which is so popular you almost always have to line up to eat there, but it's always worth it. Our overall favorite? The Common Man where you will always enjoy great food, great service and a unique atmosphere.
For non-skiers, our Artisans, anchored by the beautiful Artisans' Gallery in Waitsfield, are almost always open during the day and welcome your visits, we have Vermont classics to visit like Ben & Jerry's and Cabot Cheese, and to relax we can arrange a soothing massage at Mad River Massage.
If you've never been here, you are missing out! If you have, it's time to come back. Call us and we'll help you plan your visit, tell you about specials, and get you booked into the top rated B&B in the area (guess where!). Ask us about the newly opened Logan's Loft in the barn for a one-week stay.
See you soon!
November 17, 2010 by Peter MacLaren
From guests Jessica & David:
We spent a long Columbus Day weekend enjoying the fall colors and exploring the area. The West Hill House met every expectation of what we wanted in a New England B&B. Susan and Peter went out of their way to make sure we enjoyed our stay. The WHH B&B was very clean, very cozy and Susan's breakfasts were delicious.
The number of guests seemed just right (it was full up at 16 guests) and we enjoyed making new friends. The woodstoves in the common areas and the gas stoves in the bedrooms added to the ambiance, along with the decorative lighting throughout.
We travelled with another couple and the four of us are planning to return in the winter for a ski weekend.The West Hill House is about a 5-minute drive from Sugarbush. (Editor – actually about 2 minutes.)
We were surprised at the number of good restaurants in the area, and we enjoyed the farmer's market, Sugarbush quad chairlift up Lincoln Peak, the Sugarbush zipline, and a glider ride at Sugarbush Soaring.
Editor:  As you can see from their photos, our guests enjoyed great breakfasts and some nice relaxation in the hammock.
October 2, 2010 by Peter MacLaren
Wow – we had a lot of rain in the Mad River Valley over the last couple of days. All of the North East was inundated. While we had no problems at West Hill House (we are almost 1000 ft above the valley floor, so well away from surging rivers), there were a few problems that needed remedial action along Route 100. The photographs on the Valley Reporter website tell the story. The photo shown here, from their collection, is an amazing view of the Warren Falls taken by Jeremy Montemagni.
However the good news is that it is over. Sun is forecast for the next 10 days, the colors are amazing both on the trees and among the leaves already on the ground, so come and admire the foliage. We still have some openings this week (October 3rd and 4th only), and we still have our amazing and fun "Leak Raving Special" open from the 17th onwards.
September 17, 2010 by Peter MacLaren

In general moose, despite being very large, are shy and keep out of sight. So during our more than four years at West Hill House only a handful of our guests have actually had the opportunity to see one, and we have seen them near the property only twice. Also, fortunately, so far none of our guests have encountered one in the middle of a dark road while driving here, which can be a devastating experience, with the car and occupants often coming out on the worse side of the incident.

Having said all that, this May during breakfast all of our guests were treated to the fascinating sight of a mother moose and her offspring sauntering across the meadow behind the barn. Therese was quick off the mark with her camera and very kindly sent us the photo featured here. Click the photo for a larger image.

One of the frequent questions guests ask us at West Hill House, is can they see a moose? As many of the roads nearby feature large signs that say "Moose Crossing", it is a natural question.
August 24, 2010 by Peter MacLaren
West Hill House is delighted to be welcoming pro-cyclist Ted King.  Ted will be staying with us during his participation in this year's Green Mountain Stage Race.
Ted is an Economics Major from Middlebury College, so while he currently lives in Spain he is coming back "home" for this year's event in the Green Mountains.
He is a member of the Cervélo Test Team and was part of this year's team in the Giro d'Italia.
Last year we were honored to have James Mattis, the 2008 US Pro National Champion, stay at West Hill House while he was competing in the stage race.  Check out our Cycling page for more details.
While your innkeepers Peter & Susan have never counted cycling as one of their activities we are passionate followers of the Tour de France each year. We really enjoyed watching the almost unprecedented excitement of the close contest in this year's race between Alberto Contador and Andy Schleck.
May 18, 2010 by Peter MacLaren
Start summer off with a relaxing weekend in the Mad River Valley with 3 nights of accommodation and a barbecue dinner included, and several optional activities to choose from. To make it easy we will do the planning for you, but you must book by Monday May 24th so that we can make all the arrangements. Check out the full details on our Memorial Day Package page.
Activities you can include:
Open Studio Weekend: The Mad River Valley has many artists who work a wide variety of crafts and their studios are exciting places to visit because they reflect the dynamic yet organized process that is used to produce the finished work of art. Over Memorial Day weekend it is Open Studio Weekend in Vermont and there will be many studios close by for you to visit and enjoy at no charge.
Soaring above the Valley: One of the most beautiful soaring sites in the United States is nestled in the Mad River Valley here in Warren. Memorial Day weekend is a great time to take to the skies over the Valley. The cost is about $135 per person for a 20 minute visit to the heavens, or about $180 for 30 minutes. Soaring is available every day, weather permitting.
Kayaking on the Mad River: You will head out after breakfast from West Hill House and our friends at Clearwater Sports will give you the opportunity to see the Mad River Valley from the water! No prior experience is required. The cost is $80 per person and is available Saturday and Sunday.
A round of Golf at Sugarbush: We're right beside one of the fairways and less than a mile from the club house of the Sugarbush Resort Robert Trent Jones, Sr. championship golf course. A round of golf for 2 people, including a cart is just $150 on Saturday or Sunday and $100 on Monday.
Check out the full details on our Memorial Day Package page.
May 16, 2010 by Peter MacLaren
The Vermont Festival of the Arts is a month long celebration of the arts, including demonstrations and workshops in fields such as painting, cooking (& eating!), photography, poetry, meditation, gardening and many  more.
Here at West Hill House we are delighted to be hosting artist Charles N. Pruitt, a West Texas native, born in 1941 near the small farming and ranching community of Colorado City, Texas. An award winning artist, Charles enjoys painting primarily landscapes of the Southwest however from  August 24-26, 2010 he will once again be turning his brush and oil paints to the wonderful Vermont scenery in the Green Mountains.
As our Artist-in-Residence Charles will be conducting plein air workshops and demonstrations as well as providing individual guidance to both novice and experienced oil painters. The location will be the beautiful gardens of West Hill House.
We are fortunate to have several of his paintings currently on loan and gracing the walls of the B&B giving guests a glimpse of  the special treat we have in store this August. Even if you are not staying with us you are welcome to come and view his paintings – please call to confirm a time.
Workshop Dates: August 24, 25 & 26, 2010
Prices:
$60 per day (including lunch)
$150 for all 3 days (including lunch)Special: $50 for all 3 days with a 3-night stay
Please call to book: 802-496-7162.          Spaces are limited.
Participants should bring your own easel, canvas, paints, brushes etc. and a stool.
November 7, 2009 by Peter MacLaren
Bring on the leaves!
What better way to celebrate autumn than to frolic in fall foliage! With huge maple trees surrounding the B&B we get our fair share of leaves on the ground. Many thanks to the couples who took us up on our "Leak Raving" special and joined us in getting our lawns and gardens ready for winter. All our autumn leaves were raked and deposited in the compost and none too soon!
Yesterday morning we awoke to just enough snow on the ground to remind us that the wonderful winter days are just around the corner. It's not to early to start thinking about reserving a room with us for your winter vacation. Relaxation starts at West Hill House in the Mad River Valley in the Green Mountains of Vermont.
June 1, 2009 by Peter MacLaren
What marriage was created in 1784, perfected in 1786 and is just as good today as it was then?  Give up? Why the Marriage of Figaro! Based on a 1784 play, Mozart created this comic opera which continues to be enjoyed today.
The Marriage of Figaro is coming to the Mad River Valley complete with professional opera singers.
If you adore opera or if you're not sure about opera,  here's a wonderful opportunity to learn more about opera from the experts in a relaxed yet professional setting. Guests in the Mad River Valley are invited to attend open rehearsals, sit in on master opera classes, and participate in numerous other opera related activities between May 28 and June 21, 2009.
The full fledged opera will be staged on June 19 and 21 and tickets range from $10 -yes $10! to $50.
Check out the line-up of events and the West Hill House website for our special.
May 14, 2009 by Peter MacLaren
Peter's mum had a little saying for this time of year, "Spring has sprung, the grass is ris, I wonder where the birdies is." Well, some of the birdies are in the trees at West Hill House and can be enjoyed from the comfort of our Sun Room on blustery days and the garden on fine days. Binoculars and a bird book are at the ready giving guests the opportunity to check out the local bird scene around the inn. Today we saw hungry nuthatches, fat robins, a noisy blue jay, and a brilliant yellow goldfinch.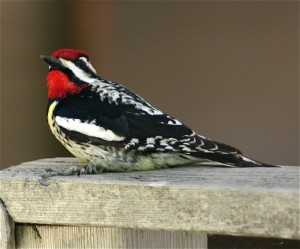 The goldfinch was amazingly bright, it looked like a sunbeam that had escaped from the sun. It sat in a nearby branch and preened for a few minutes giving us the opportunity to get a good look at this bright visitor. We have also been visited by a yellow-bellied sapsucker which, for some reason, though it might be productive to search for sap in the railing of our deck!
If you enjoy birding there are many places here in the Mad River Valley to go bird watching so grab your  binoculars and  bird book and book your room at West Hill House B&B, we're an excellent home-base for your birding expedition.