Stirring it up:
These peanut butter cookies could be called by any number of names: I Can't Believe It! It's Magic!, Too Simple To Be True!, the list could go on and you are welcome to make up your own name for these delicious, miraculously quick cookies. Amazing Peanut Butter Cookies will have to do for now. Perfect to whip up if unexpected guests drop in and, like Old Mother Hubbard, your cookie cupboard is bare. These cookies can be created in 5 minutes and cooked in 15 minutes fresh cookies can be ready by the time the coffee is perked or the tea kettle is boiled.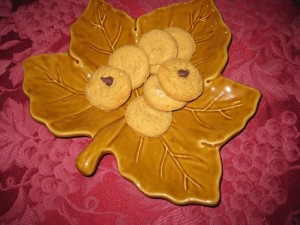 Ingredients:
1 c. peanut butter, smooth or crunchy
1 c. white sugar or light brown sugar
1 large egg
2 measures of tender loving care!
For gluten-free cookies, use gluten free peanut butter and sugar you'll have a quick GF treat.
Measure the peanut butter, sugar and egg into a bowl.
Mix together until smooth. The batter will be slightly thick.
Using a scoop or teaspoons, scoop out dough about the size of a walnut.
Place on parchment paper lined cookie sheet.
If desired, pattern the dough by pressing with a fork or by dressing it up with a chocolate chip. If you are making larger cookies use a Hershey's Kiss- unwrapped of course! I leave the cookies in their rounded state prior to cooking so they flatten out while they cook becoming crackled on top and slightly chewy in the center.
Bake for 15 minutes at 350°F. Keep an eye on them.
Cool on the pan for a few minutes then remove to racks to continue cooling.
Serve with tea, coffee, milk or just a plate!
Makes about 24 cookies using a small scoop. They freeze well so you can stock up for the holidays.
Dishing it out:
My Dad would have loved these cookies – peanut butter was a favorite; on toast, with carrots or celery, with a spoon!, with just about anything. I remember as a child we always had peanut butter in the pantry and in two or three pound jars. It was even sold in large bear shaped glass jars and I still have a couple of these jars, empty of course!
Peanut butter is a staple many North American kitchens but not so in the United Kingdom or Europe. When growing up in Scotland, Peter seldom had peanut butter and when living in France we only found it in small containers with a big price.
This recipe is from peanut butter lovers like Carol and Colin who were guests here at West Hill House B&B while attending the 50th year reunion of Vermont College and Norwich Military Academy respectively. Carol mentioned that Colin liked peanut butter cookies and she proceeded to give me this recipe. I'm not prone to disbelieving recipes which are shared with me, and I'm usually ready to experiment, so I made these cookies then and there and about 20 minutes later presented Colin with a plate of his favourites. Give the recipe a try, I'll bet you say, "I can't believe it, these are amazing peanut butter cookies!
Learn more about things that include peanuts:
Check out the information on George Washington Carver.