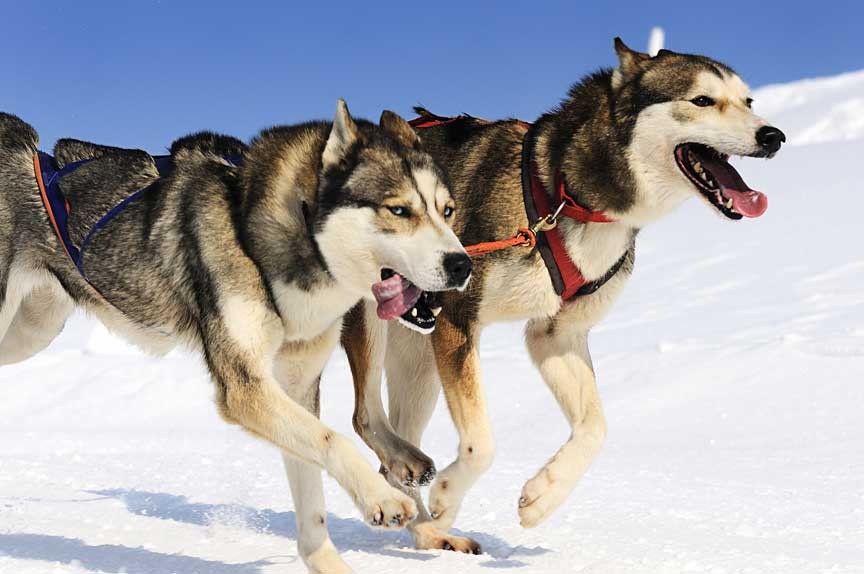 You knew you could ski, sled, and snowshoe Mad River Valley – but did you know dog sledding Mad River Valley was an option as well?
You hear a lot about those other winter sports because you can do them just about anywhere (albeit not as nicely as you can here) and, thus, people expect them – but dog sledding doesn't come up all that often because, unless you're headed to Alaska, right? Well, think again! Dog sledding Mad River Valley isn't just a possibility, it's a popular pastime!
October Siberians, Vermont Sled Dog Rides & Adventures, offers dog sled tours and rides in Stowe, Bolton, Burlington, Montpelier, at Little River State Park in Waterbury, and at Sugarbush Resort, right here in Mad River Valley.
Now, dog sledding with October Siberians is not some passive ride in a sled behind a couple of dogs but an actual, interactive experience of driving a string of sled dogs.
October Siberians special, tandem dogsleds are designed to give you a real feel for driving one of their teams of pure-bred, Siberian Huskies. These are great, responsive dogs who love what they do – and you will, too! Of course, if you'd prefer to just ride, that's also okay.
The trails you'll be on with these wonderful dogs are exciting, safe, and filled with beautiful Vermont scenery. Dog sledding Mad River Valley will provide you and your loved ones with an adventure to remember for many years to come.
Dog Sledding Mad River Valley
Let us here at West Hill House B&B know if you're interested in having this one-of-a-kind experience when you book your stay. October Siberians offers a number of different dog sledding tours, depending on your experience and interests. You can contact them directly or we would be happy to do it for you – but please be sure to give us plenty of advance notice, as there is limited availability and, of course, the experience is weather dependent.
Happy Holidays!