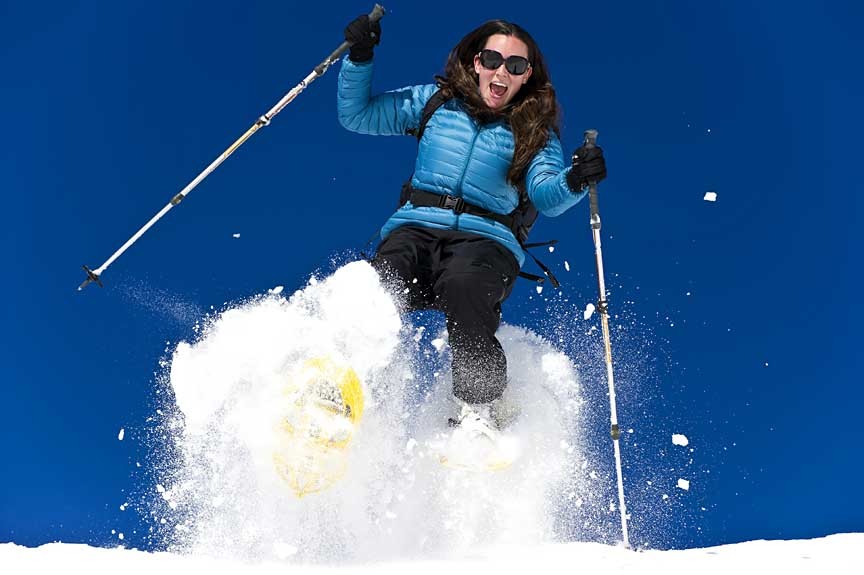 With all our recent talk about skiing, you might think that's the only popular winter sport around here but au contraire, mon frere! Mad River Valley snowshoeing is also a popular winter activity!
Snowshoeing has existed for time out of mind and, like skiing, evolved into a leisure-time sport out of a need for traversing fields of snow with greater ease. As a winter sport, snowshoeing extends the hiking season into winter and combines a good, low-impact workout with a more contemplative way to enjoy those snow-blanketed woods and fields.
The popularity of this age-old sport is on the rise and we keep some snowshoes on hand for those who want to explore the immediate area around West Hill House B&B. When it comes to Mad River Valley snowshoeing in the broader sense, however, there's no one we like better than Clearwater Sports for snowshoe rentals and tours.
Clearwater Sports offers a number of different options for those interested in taking a guided Mad River Valley snowshoeing tour.
Their Rocket-Shoeing Adventure includes not just snowshoeing but also the infamous Rocket Sled, born right here in Warren, VT! If you're unfamiliar with the Rocket Sled, I recommend correcting this oversight as soon as possible – but I digress. The Rocket-Shoeing Adventure tour takes you up the Green Mountains along the Lincoln Gap road, which is closed in the winter – but not to Rocket Sleds! Yahoo!
Clearwater Sports' Guided Backcountry Snowshoe Tour gives you a true backwoods experience with a three hour, guided tour of unmarked and off-trail areas. The length and difficulty of the backcountry tour depends on your level of skill and interest in challenge.
The Full Moon Snowshoe Dinner Tour involves snowshoeing under the full moon before enjoying a delicious dinner, then following it all up by relaxing around a roaring fire with homemade s'mores. One might be tempted to set aside a little time for that, eh?
For more details and a full list of snowshoeing tours available from Clearwater Sports, be sure to visit the Mad River Valley snowshoeing page on the Clearwater Sports website.
Mad River Valley Lodging
We're as passionate about winter sports as you are – sledding, skiing, snowshoeing, skating – and we can help you find the best options for whatever it is you love to do most, right here in the Mad River Valley. We partner up with a number of different resorts and vendors every year in order to offer you the kinds of service and perks you wont get "out of the box," otherwise. Complete your winter trip to Vermont by booking a stay at West Hill House B&B in Warren, VT. Our nine private, unique, and comfortable guest rooms are waiting for you!