Serving it up:
Mud season is a gray and rainy time here is the northeast. The snow has melted, the ground is thawing and the rain is coming down. Sometimes a sweet and gooey baked treat is the perfect pick-me-up on a gray and rainy day.  This baked treat fits the bill perfectly, a brownie-like cake base topped with nuts, marshmallows and chocolate icing. Due to its bumpy appearance it resembles a bumpy and muddy gravel road during mud season. But of course this tastes much better than mud!
Thanks to my sister for this recipe and while she has never been here in mud season but I am pretty sure she has seen her fair share of mud in the places she has lived.
Ingredients:
1 c. butter or marg
2 c. sugar
4 eggs
1 1/2 c. flour
1/3 c. cocoa
1 c. chopped nuts, walnuts or pecans are a good choice.
Method:
Set the oven for 350°F.
Cream the above and spoon the batter into a 9×13 greased pan and bake for 30 -35 minutes.
Remove from the oven and immediately sprinkle the top of the cake evenly with 3-4 cups of mini marshmallows, enough to completely cover the cake.
Return to the oven for 3-5 minutes until the marshmallows are slightly puffy.
Remove from the oven and sprinkle the chopped nuts on top of the melted marshmallows.
Cool for 30 minutes.
Icing:
3 c. powdered sugar (icing sugar)
2 T. cocoa powder
1/3 c. butter or marg, softened
2 t. vanilla
3 T. milk – you may need to add more
Method:
Mix all the above together. If using an electric mixer or beater, be sure to start the machine at a low speed or you will have powdered sugar everywhere!
You may want to add some more milk so that your icing is rather thin and can be drizzled across the top of your marshmallow.
Cut into squares with a sharp knife dipped frequently in hot water. A cool knife will pull the marshmallow off the cake.
Dishing it out:
For me, mud season is greeted with mixed emotions.  I love winter. I've successfully skied Mad River Glen, do my fair share of shoveling and don't mind driving in the snow. Although I hate to see the snow disappearing, there is excitement in knowing that the spring flowers will soon be appearing in our gardens. Meanwhile we all manage to get through mud season by knowing which gravel roads to avoid and which can be more easily traversed.
It is the moisture in the soil from the melting, thawing and the rain that allows Vermont to be the 'Green Mountain' state. This past winter Sugarbush Resort, just  mile from us, recorded 363 inches of snow at the top of the mountain, just one inch short of the 1995-96 record snowfall. It was indeed a great 2016-17 winter.
Whether you visit West Hill House B&B in the winter, spring, summer or autumn, you will be guaranteed a warm welcome and a plate of home baked goodies will be waiting on the sideboard.
Serving it up 
Lorne Sausage, also known as Square Sausage, Flat Sausage or Slice Sausage, is a traditional Scottish  food made with beef and pork. It is said to have originated in Lorne, Argyll in Scotland. If you are in Scotland and ask for a full Scottish Breakfast you will see Lorne Sausage on your plate.
The following recipe is my version using turkey. It has received "thumbs up" from our guests who prefer not to eat beef or pork.
Ingredients:
2 lb. ground turkey
1 1/2 c. Fine Bread Crumbs   (seasoned or not as you prefer)
1 tsp. Pepper
1 tsp. Nutmeg
1 1/2 tsp. Coriander
1 tsp. Salt
3/4 c. of Water
1 egg lightly beaten
3 T. Maple syrup (optional)
Method:
Mix really well by hand then place in a wax paper or saran lined oblong pan about 10″ x 4″ x 3″.
Fold the wrap over top of the meat and place in the freezer until it's just starting to set.
Remove it from the pan and peel the paper away, it might be a bit sticky.
Cut into slices to the thickness you like.
Separate the slices with wax paper, wrap the whole sliced loaf in waxed paper and put it into a freezer bag and put it back in the freezer.
When required, pop off a slice, defrost and fry it in a little fat or oil until crispy brown and cooked through.
If you make this using the traditional recipe, instead of using ground turkey, use 1 lb. of ground beef and 1 lb. of ground pork – neither being too lean or the sausage will be dry. You may wish to leave out the egg as these meats will have more moisture than turkey. Recipe can be doubled however use a very large bowl.
I serve this on half a lightly toasted English muffin or Kaiser roll or on toast and topped with mornay sauce. Next time I think I will make it with chicken instead of turkey and see how that turns out.
Dishing it out
When we travel in Scotland, if we aren't staying with family, we usually stay at B&Bs as it is a real treat to have someone else make breakfast for us!
If you have never had a typical Scottish Breakfast, aka 'Fry Up', at a B&B or hotel (if you must!) here is a sample of what you will find on your plate and traditionally it is the same breakfast which is served every day. Ready? Going clockwise: baked beans, parsley (just for show), fried mushrooms, tomatoes -again the basil is just so you can say you had something really healthy, pork sausages, bacon, Lorne sausage or haggis, and tattie (potato) scone. OK, push back from the table now and you'll want to loosen your belt about now – or maybe reach for something to settle your tummy.
If you keep eating these breakfasts belt loosening won't help, you'll need new clothing. I certainly don't recommend eating like this every day of your Scottish holiday but you need to do this a few times just for the experience! We get smart after a couple of days and ask for the full breakfast minus whatever we have had enough of previously and often end up with egg (not fried), scone and Lorne sausage or haggis.   Now the average family is not subjected to this high fat diet so oatmeal, breakfast roll with butter and marmalade, some fruit and tea are the main stays and greatly enjoyed.
Stirring it up: Last week was the first week for our Community Supported Agriculture share for this year and it got me thinking about carrot greens.  Carrot greens are most often thrown away during meal prep but I thought there had to be a use for them. I searched the internet, got some inspiration from a number of websites then opened the fridge and built a salad. I used various quantities of veggies untill it looked and tasted good.  Quantities are to the best of my memory!
Carrot Greens Salad
1 1/2 – 2 c. cleaned & chopped carrot greens
1 c. black beans, pre cooked or canned
1 – 1 1/2 c. garbanzo beans (aka chick peas), pre cooked or canned
3 med carrots, diced
4-5 stems parsley, fresh & chopped
1 scallion thinly sliced
5-6 mint leaves, fresh & chopped
1 1/2 c. quinoa, cooked & cooled
4-5 green peas in the pod, fresh and thinly sliced
Dressing
1/2 c. olive oil
3T. red wine vinegar
1 small clove garlic, crushed or 1/4 t. dry garlic bits (not powder)
2-3 T. lemon juice, fresh
2 t. sugar
Prepare all the vegetables and place them in a large bowl along with the cooled quinoa. Prepare the dressing by putting all the ingredients in a small jar and, with the lid on,  shaking it well. Pour the dressing over the veggies about 10 minutes prior to serving and lightly toss the salad. Be sure to adjust the quantities and veggies to your liking! It tastes great the following day too and the carrot greens are still fresh looking. Bon appétit!
Next time I might add about 1/2 c. corn kernels and 1 med tomato, diced. I served this with a side of a couple of slices of Cabot Seriously Sharp Cheddar cheese. This salad was a great meal in itself.
Dishing it out: As a child I was sometimes called "carrot top" by those out to tease me but seriously, I had red hair and a carrot top is green.  Obviously those folks had no idea what they were talking about and, thus far in my life, I've never seen anyone with naturally green hair!
That being said, we love the carrot greens we get from Muddy Boots CSA and we love being part of the Muddy Boots CSA (Community Supported Agriculture) which is a collaborative venture of  Kingsbury Market Garden, Wood's Market Garden and Burnt Rock Farm.  It also includes dairy products from several of the local farms including Von Trapp Farmstead and Ploughgate Creamery at Bragg Hill Farm. Our week one share was a marvelous selection of absolutely fresh produce including brie cheese, luscious tomatoes, tasty shallots, crisp carrots and cucumber, crunchy kale, dried black beans, beautiful lettuce, pungent basil, deep red beets, and more. How could you not like any of it, or waste any of it which is why I wondered about the carrot greens. Carrot Greens Salad, what a perfect way to celebrate the wonderful farms and hard working farmers this 4th of July or on Canada Day if you are north of the border!
Stirring it up:
Our guests love this granola. It takes little time to prepare and packs a good measure of fiber into your daily diet. Granola is great sprinkled on fruit, eaten as breakfast cereal or used  as a topping for a fruit crisp or ice cream!
Very Yummy Granola
4 cups oats (not quick oats)
1 cup corn flakes
1 cup grape nut flakes
1 cup coconut
¾ cup chopped walnuts
¼ cup pine nuts
¼ to ½ cup real maple syrup or honey
¼ cup oil
1 cup chopped dates
¾ cup golden raisins
¾ cup Craisins
Mix all dry ingredients together in big a bowl, except raisins, craisins and dates and any other dried fruit you use—they will be added later.
Mix liquids together and pour over dry ingredients.
Stir well until completely moistened.
Spread evenly on a large jelly roll pan which you have lined with parchment paper or very lightly sprayed with cooking spray.
Bake in 350°F oven for about 25 minutes, but keep an eye on it as it will go from toasted to burnt, quickly.
Stir 3 or 4 times during cooking – this is important so that the oats toast evenly,  you want them to be golden brown.
Add fruits after baking is done and while the oat mixture is still warm.
Cool completely then store in an air-tight container.
Experiment with ingredient, more nuts, different dried fruits, chocolate chips, wheat germ, ground flax… remember to adjust the amount of syrup and oil when you add dry ingredients. Dice larger pieces of dried fruit such as apricots, peaches or the like, into raisin sized bits.
Have fun and enjoy the fruits, nuts and oats of your labour.
Dishing it out:
Growing up, granola was a staple in our home. My dad had his special recipe and for years I thought this was the only taste for granola. Not that Dad's recipe wasn't good, actually it was quite wonderful, it's just that I guessed it was the recipe everyone used. I was soon set straight on that one, and when I cook,  Dad's words echo in my mind, "Be creative and never be afraid to experiment." His granola recipe?  He was creative and made it up himself. Thanks Dad!
January 14, 2015 by Susan
At breakfast on January first I presented our guests with my variation of  the Icelandic dessert Vínarterta, a Shortbread and Prune Jam Layer Cake. If you want to learn more about our amazing Icelandic Experience check our January 5, 2015 blog.
So, with thanks to the Icelandic cooks for the inspiration which I gained from the Vínarterta recipe and apologies to Icelandic cooks for the changes I made to their much enjoyed special occasion cake, as promised, here is my recipe.
The Spread
5 oz dried apricots,  finely chopped
7 oz, dried figs,  finely chopped
3/4 c. granulated sugar
1 T. ground cinnamon
1/2 t. ground cloves
3/4 c. cranberry juice
Put these ingredients into a blender and puree. Add a bit of water or more cranberry juice if this seems too thick to puree. The resulting spread should be on the thick side. This will make enough spread for the dessert as well as a good amount which can be kept for toast, muffins or filling for a small genoise cake.
The Cake
3 1/2 c. all purpose flour
1 t. baking powder
1 t. ground cardamom
1 c. (two sticks) butter slightly softened
1 c. sugar
2 eggs
1/4 c. whole milk
Mix the flour, baking powder and cardamom together in a bowl and set aside.  In a larger bowl, by hand or with a mixer, cream the sugar and butter until fluffy. Add the eggs one at a time, beating well after each addition. Add the dry ingredients and milk alternately, mixing between additions. Transfer the dough to a floured board and knead for about one minute. Break dough into balls about the size of a large walnut. With a floured rolling pin, roll out each ball on the floured board, to a thin circle (about 1/6″ thick) and about 4″ across. Carefully lift the dough and place it on a parchment covered jelly roll pan and chill for at least one hour. I  covered my pans with plastic wrap and chilled them overnight. This dough is not like a cake dough, it is more like we'd call shortbread.
Bake chilled dough on the parchment lined pan in a 375° oven for about 20 minutes. Keep an eye on it though!
Cool then spread with the fig and apricot jam and top with a slice of pear and enjoy.
Icing  (I didn't use icing on my presentation)
2 c. icing sugar
1/4 c. brewed coffee, chilled
The traditional method of preparing this cake is to baking circles 7″ across, cooling them then spreading a very thick jam on each layer except the top layer. Stack the jam covered circles and pour the icing over top of the whole thing and chill it until the icing is firm. Slice and serve. Friends in Iceland tell me that using a thick jam between the cake layers should make the cake pretty sturdy and able to be cut neatly. My next try at this will be to make Vínarterta in the traditional way. Wish  me luck!
Iceland , 'The land of Ice and Fire'. If you have ever dreamed of an Icelandic holiday, stop dreaming and go!
As we have in past years, we kicked of 2015 by watching and listening to, via a live web cam , the midnight fireworks from Reykjavik, Iceland.  The closer it got to midnight the more fireworks lit the dark sky Icelandic. It seemed as though every family in the city was illuminating the sky with their own fireworks display.
Why, you might ask, do we do this? In April of 2002 our family explored Iceland and had an absolutely amazing time; even our teenaged son had a wonderful experience! From the moment we spotted Iceland from the plane till the moment it disappeared from view when we flew home, we were captivated.
In researching travel to this island country I discovered Isafold Travel which operates out of Reykjavík. After correspondence with the owner, Jón Baldur Þorbjörnsson, we booked a private tour and were all set to start out on an Icelandic adventure. The people we met were very friendly and their English was waaaaaay better than our (non-existent) Icelandic! The landscape seemed to change with every kilometer we traveled, the waterfalls were spectacular, the views breathtaking, and, because we were there at the end of winter, every spot of green grass was a sign of spring and greeted with exclamations of joy.
Iceland's famous Blue Lagoon was our first stop and shouldn't be missed by anyone traveling to Iceland. The geothermally heated water is a comforting 38°C (100°F). The turquoise blue colour is a result of  the silica which the water picks up on its way to the surface and the way the sunlight reflects off it. Enjoying the many spa related facilities there or just enjoying the water makes a good start or finish to any Icelandic adventure.
Of the many waterfalls we stopped to gaze upon, Gullfoss, Skógafoss, and Hraunfossar were our favourites. Each spectacular in its own way and each with a captivating legend. Hraunfossar was perhaps the most geologically interesting as it flows underground from between the layers of lava then spills into the icy Havítá River.
Þingvellir was another stop on our adventure. Here marks the meeting of two tectonic plates, the North American Plate and the Eurasian Plate, and a rift is clearly visible. In places it is very wide and in other places along the rift anyone with a good wide step can have one foot on each plate. It also marks the location of Althing, Iceland's original parliament, the oldest parliament in the world, where for hundreds of years people of this nation would gather to discuss issues of concern and make laws to govern.
The food was delicious! We enjoyed langoustine (Icelandic lobster), wholesome multigrain breads, thick stews, skyr, bananas—grown in Iceland by the way!—and yes, a taste of rotten shark meat, which wasn't really that bad.
The country is dotted with sites and sounds which in various ways record the history of Iceland:  historic turf homes, small country churches,  original farmsteads, museums illustrating early domestic life as well as detailing the life of Icelandic folk who emigrated to North America, The Great Geysir, volcanoes, glaciers, music, the list goes on.
Guests at West Hill House B&B have come from all around the world (including from Iceland!) and many have traveled the world bringing back special memories of their adventures. Doubtless there will be a time, perhaps in the morning around the breakfast table or in the evening in the living room, when adventures are recalled and shared. We might hear of driving in Australia with kangaroos hopping across the roadways or a trip to Europe to hike in the Alps, or a journey to China to see the Great Wall and the Terra Cotta Army.  All who listen travel vicariously as a stories unfolds. If asked about a favourite adventure of ours, we are always happy to recount highlights of our wonderful time in Iceland.
At breakfast on January first I presented our guests with my variation of  the Icelandic dessert Vínarterta, a Shortbread and Prune Jam Layer Cake which was enjoyed by all. As promised, you'll find my recipe if you check West Hill House B&B recipes.
December 22, 2014 by Susan
At this time of year many of us pause to remember Christmases past. Do you remember receiving a special dress your mother made for you, or a the doll you were wishing for, or a new book by your favourite author (and you still have that book today)?  Perhaps you received a model train or Meccano set. Did you attend a Pantomime or the Nutcracker during the Christmas season? Do you remember hot cocoa with marshmallows and special baked goods on Christmas morning? Or perhaps a big family dinner after the presents were opened, did it feature ham, turkey, tourtière or haggis?
One of the fondest memories people have of this special season is of food, we bake (and eat!) cookies and special cakes, we bring out the eggnog, peppermint candy canes, ribbon candy, and oranges for the stockings. We prepare special meals and we invite friends to join us around the table. Food traditions are a big part of this season.
In Scotland Christmas Day didn't become a public holiday until 1958. Hogmanay (New Year's Eve) was, and still is, the big public holiday. Today as Christmas approaches, the winter days are short, with sunrise about 8:30 in the morning and dark skies again at about 3:30 in the afternoon so Christmas celebrations help to brighten up the long wintry evenings. A fire is set in the sitting room, the drapes are pulled against the darkness of the evening and in the kitchen a flurry of activity takes place as mincemeat pies are popped into the oven, fruit cake with thick marzipan icing is wrapped for giving to neighbours, and  preparations are made for the Christmas evening feast. Particular consideration is given to "pudding" (the general name for desserts of all kinds), would it be Sherry Trifle, Clootie Dumpling or perhaps Dundee Cake? Hmmm, this year for a memorable pudding, let's try Cranachan, a lovely, creamy fruit and oat creation.
At West Hill House B&B this Christmas Dinner our guests will enjoy this scrumptious 'pudding' made following recipe I have used and adapted from the BBC Good Food. The number of servings depends on the size of the presentation glass but I'd say about 4 servings. The recipe is fairly happy to be adjusted according to your taste.
Cranachan, a tasty Christmas treat
Ingredients:
3T  original rolled oats (not instant oatmeal)
1 cup of whole raspberries, blueberries or strawberries,
1 t. white sugar (optional)
1 1/2 c. heavy cream, whipped  or Greek yogurt
2-3 T. good whisky
3 T. honey, lavender honey is especially nice
Putting this together should take about 15 minutes.
Place the oatmeal on a jelly roll pan under the broiler and toast until it smells nutty. This may happen very quickly so keep a careful eye and nose on what's going on in the oven.
Remove from the oven and cool the oatmeal on the pan.
Take about 1/3 to 1/2 of the berries and puree them, adding the white sugar if needed for sweetness.
Whip the heavy cream while slowly adding the whisky until the cream will hold a peak. Be careful not to over whip. If you are using Greek yogurt instead of cream, carefully stir the whisky into the yogurt.
Fold in the oatmeal until it is nicely mixed.
Present in clear glass dessert dishes alternating layers of the cream mixture with the whole and pureed berries.
Drizzle the top with the honey.
Cool for a few minutes prior to serving.
Where ever you are on Christmas day, what ever your Christmas meal, may you be around a table with special friends and wish them, as we wish you, Merry Christmas and all the best for the coming year.
November 24, 2014 by Susan
Stirring it up:
These peanut butter cookies could be called by any number of names: I Can't Believe It! Magic!, Too Simple To Be True!, the list could go on and you are welcome to make up your own name for these delicious, miraculously quick cookies. Amazing Peanut Butter Cookies will have to do for now. Perfect to whip up if unexpected guests drop in and, like Old Mother Hubbard, your cookie cupboard is bare. Amazing Peanut Butter Cookies can be created in 5 minutes and cooked in 15 minutes fresh cookies can be ready by the time the coffee is perked or the tea kettle is boiled.
Ingredients:
1 c. peanut butter, smooth or crunchy
1 c. white sugar
1 large egg
2 measures of tender loving care!
Measure the peanut butter, sugar and egg into a bowl.
Mix together until smooth. The batter will be slightly thick.
Using a scoop or teaspoons, scoop out dough about the size of a walnut.
Place on parchment paper lined cookie sheet.
If desired, pattern the dough by pressing with a fork or by dressing it up with a chocolate chip. If you are making larger cookies use a Hershey's Kiss- unwrapped of course! I leave the cookies in their rounded state prior to cooking so they flatten out while they cook becoming crackled on top and slightly chewy in the center.
Bake for 15 minutes at 350°F. Keep an eye on them.
Cool on the pan for a few minutes then remove to racks to continue cooling.
Serve with tea, coffee, milk or just a plate!
Makes about 24 amazing peanut butter cookies. They freeze well so you can stock up for the holidays.
Dishing it out:
My Dad would have loved these cookies – peanut butter was a favorite; on toast, with carrots or celery, with a spoon!, with just about anything. I remember as a child we always had peanut butter in the pantry and in two or three pound jars. We even had peanut butter in large bear shaped glass jars and I still have a couple of these jars, empty of course!
Peanut butter is a staple many North American kitchens but not so in the United Kingdom or Europe. When growing up in Scotland, Peter seldom had peanut butter and when living in France we only found peanut butter in pricy, small containers.
This recipe is from amazing peanut butter lovers like Carol and Colin who were guests here at West Hill House B&B while attending the 50th year reunion of Vermont College and Norwich Military Academy respectively. Carol mentioned that Colin liked peanut butter cookies and she proceeded to give me this recipe. I'm not prone to disbelieving recipes which are shared with me, and I'm usually ready to experiment, so I made these cookies then and there and about 20 minutes later presented Colin with a plate of his favourite amazing peanut butter cookies. Give the recipe a try, I'll bet you say, "I can't believe it, these are amazing peanut butter cookies!"
Learn more about things that include peanuts – check out the information on George Washington Carver.
Stirring it up!
These bars are quick and easy to make, perfect when you need a little something to go along with an afternoon cuppa. Dates add a special sweetness and walnuts give a nice crunch to each bite. This recipe does not call for any butter or shortening.
Ingredients:
2/3 c. all purpose flour
1 t. baking powder
1/4 t. salt
3/4 c. sugar, white
1 c. dates,  pitted and chopped
1 c. walnuts, chopped
2 eggs, well-beaten
1/2 t. vanilla
confectioners sugar
Stir the flour, baking powder and salt together.
Add sugar, dates and nuts, then stir in the eggs and vanilla.
Spread about 1/2″ thick in a well greased or parchment lined 9″ x 9″ square pan.
Bake at 325°F  for 25 to 30 minutes.
Cut into small squares while still warm and dust with confectioners sugar.
Dishing it out:
Apparently this recipe was first published in Good Housekeeping magazine in 1917 but by all accounts, why the name Chinese Chews, remains a mystery. While this recipe may not be the same as the early version, my mom made these from a recipe in her trusty Five Roses Flour cookbook,  A Guide to Good Cooking. My copy of the same cookbook is filled with annotated recipes on well worn pages, several of which are held in the book with tape.  The recipe actually called for the squares, once cool enough to handle, to be rolled into balls then dusted with sugar. I never remember having them rolled but no matter the shape, the taste is great and they are chewy! One drawback though, they are so good they won't last long!
March 23, 2014 by Peter MacLaren
Stirring it up:
For all of you who have been after me for the recipe I use to make German Pancakes, here it is. This is a simple recipe for one serving and can easily be increased depending on how many hungry folks are at the table.
 Ingredients:
1/4 c. all purpose flour or sifted bread flour
1/4 c. milk (2% is just fine)
1 egg
1 t. butter
pinch of salt
dash of cinnamon or nutmeg
This recipe is for one serving. Increase it by the number you are feeding. I have found that using a 10″  (25cm) round, pyrex pie dish and trebling the recipe makes 4 good servings.
Preheat the oven to 400°F (200°C)
Place the butter in the baking dish (size is dependent on the number you are feeding) and place it in the oven when the oven reaches 400°F  (200°C). Leave it there while you proceed but be careful the butter does not burn.
Combine all the ingredients in a food process or blender and blend until just smooth. A wire whisk will do the job however the batter will not be as smooth.
When the butter has melted, remove the pan from the oven. Pour in the pancake batter and put the pan back into the oven. Be careful  as the butter and the pan are extremely hot and the batter may make the butter splatter a bit.  
Bake for 12-18 minutes depending on the size of your pancake. You want around the edges to be puffed up and the center to be just firm. I tend to use a lower temperature than similar recipes call for,   I find the pancake stays thicker in the middle while still being puffy around the edge.
The pancake will start to deflate as soon as it comes out of the oven so serve it immediately.
Top each serving with fresh fruit, some powdered sugar, and sausage or two along side, and you have a very yummy breakfast. Oh, and if you have a sweet tooth, add some real maple syrup.
Tip: Sometimes I dice apples or peaches, cook them in some butter in a separate pan until they are soft and add them to the batter once it is poured into the hot buttered baking dish. Makes a nice change from a plain pancake.
Dishing it out:
These are also sometimes called Dutch Babies. 'Dutch' relates to the German-American immigrants who were known as the Pennsylvania Dutch— Dutch being of course a corruption of the word Deutsch which is German for, well, German!  My great-grandmother, Ursula, came to the United States from Germany when she was a child and I can only imagine that she would have loved eating this wonderful eggy breakfast treat.
Stirring it up:
Who doesn't like chocolate? And what about chocolate and mint? A yummy combination to be sure. These absolutely delicious chocolate cookies have just a hint of peppermint and pack a mouthful of chocolaty goodness.
Makes 36 cookies
Oven 350F
Bake 5 – 6 minutes
Ingredients:
1 c. white sugar
6 T. canola oil
2 eggs
2 c. all-purpose flour
1/2 c. baking cocoa
1 T. baking soda
1/4 t. salt
1/4 t. peppermint extract
4 T. milk (whole, 2% or fat free)
In a bowl, beat sugar and oil until crumbly. Add eggs and beat for 1 minute. Combine flour, cocoa, baking soda and salt and gradually beat into the sugar mixture. Add the milk and mix well
With lightly floured hands roll dough into 36 balls and place 2″ apart on a parchment lined or non-stick sprayed baking sheet. Flatten slightly with your fingers.
Bake at 425° F for 5 – 6 minutes just until the edges are set and the tops crack. Cool a couple of minutes before removing to cooling racks. Enjoy as excellent plain chocolate cookies or make cookie sandwiches with some fluffy vanilla butter icing or you could make larger cookies and make ice cream sandwiches with them – now that would be great for a 4th of July party!
Dishing it out:
Outside our Garden Room we have an herb garden which at this point is growing like crazy because of all the rain we have been having. The first crop of chives has been snipped and dried in the oven for use in the winter and the remaining sprigs have flowered. The flowers make a lovely garnish and are good in soup and cream sauces as well. You'll see in the photograph that I have put some mint along with the cookies. This isn't just ordinary mint but chocolate mint. It looks like "regular" mint but it has a chocolate brown stem and it actually smells and tastes like chocolate mint—like the cookies! While I considered chopping the mint and mixing it into the cookies I wasn't sure how guests would react to bits of green stuff in their cookies. Maybe I'll try that another time. In the meantime, this mint is really nice floating in black tea or just in hot water. A real treat is mint with strawberries and some whipped cream. There is a tasty summer watermelon salad that has mint, feta cheese, english cucumber among other ingredients—you'll find that in the June 13, 2010 blog. Happy munching.
February 12, 2013 by Susan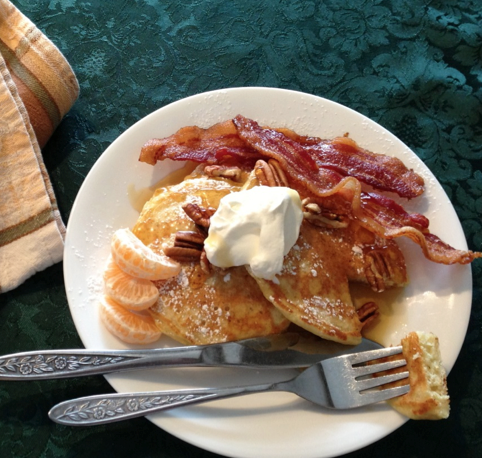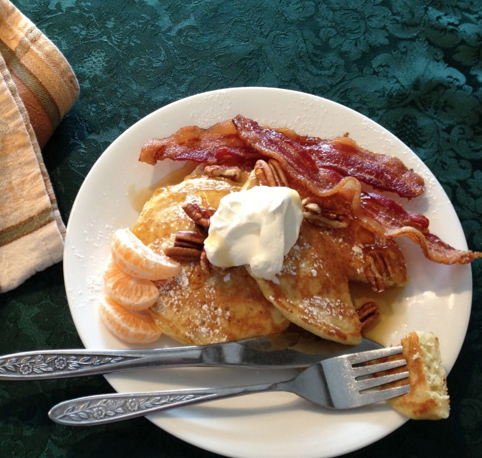 Stirring it up: Pancakes…just the name conjures up the sights and smells of a marvelous breakfast. These Ricotta Pancakes are easy to make and will provide you with great taste, fluffy pancakes and enough energy to tackle a day on the slopes.
Ingredients:
1 1/2 c. all-purpose flour
1 t. baking powder
1/4 t. baking soda
1/4 t. salt
1 1/2 T.  sugar
1-2 t. finely grated orange zest
4 T. melted butter
1/2 c. ricotta cheese
1 lg egg
1/2 c. orange juice
1/3 c. milk (or almond milk or silk)
1/2 t. vanilla extract
In a large bowl, combine the flour with the baking powder, soda, salt,  orange zest,  and sugar. In another bowl, whisk together the butter, ricotta cheese, egg, orange juice, milk, and vanilla. Combine the wet into dry ingredients until just blended,  the batter will be thick and you may add a bit more milk if you wish but you still want it to be fairly thick.  Onto a lightly greased, medium-hot skillet pour about 1/4 c. of batter for each pancake. Flip when bubbles appear on the top of the pancake. Serve with all the fixings and don't forget the maple syrup.
Dishing it out: In our house they were flapjacks. My dad was a great flapjack maker and we loved the mornings when we would smell them cooking. Dad would tell the story of Paul Bunyon and flapjacks: Paul Bunyon was a giant of a lumberjack. Paul's lunber jack friends (who were also very large) loved flapjacks too so Ole the Blacksmith, made a griddle so large you couldn't see across it when the smoke was thick. Sourdough Sam had fifty men with pork rinds tied to their feet skating around the griddle to grease it. The batter was mixed in large barrels and it took a strong cook just to turn the flapjacks, let alone get them to the table. Check here for more Paul Bunyon stories. We would always ask Dad if he would  make Paul Bunyon sized flapjacks for us. He never made them  quite that large but they were delicious and we gobbled them up just the same. I think Paul Bunyon would have liked Dad's flapjacks!
Whether you call them pancakes, hotcakes, flannel cakes, drop scones (Scottish),  oatcakes (English), griddle cakes, or flapjacks this is one breakfast that will surely hit the spot.