Spring in Vermont is different than that of many other states. Sure, we see budding green trees and daffodils poking up to say hello, but that snow is still here and has a multitude of parts to play in this season. Spring skiing  (same fun – slightly warmer temperatures) is only part of spring in Vermont. Today, we're talking about Maple Syrup.
Vermont has a rich history with Maple Syrup and after producing 1.9 million gallons last year, it's no wonder this tiny state maintains its top ranking for syrup production. In just a few months, maple trees go from stagnant pillars in the snow to a vital resource.
The Language of Sugaring
Let's talk a bit about the language surrounding maple syrup. First of all, the process of making maple syrup is called Sugaring. The group of maple trees used for each operation is called the Sugar Woods, and the building where you boil is called the Sugar Shack. Sap is the liquid collected from the Maple tree that will later be boiled into Syrup. Now that we're on the same page with the lingo, let's dive into the culture and process.
There's a rich history of sugaring in Vermont, one that occasionally walks the line of truth and myth. Sap doesn't always run consistently within the trees and everybody has opinions and superstitions about what makes for a good year and a good run. I'll just lay out a few for you here, with science as a bit of an afterthought.
They say having a thick layer of slowly melting snow on the ground keeps the roots and trees wet. This moisture is essential to a steady flow of sap.
Freezing temperatures at night and a warm thaw during the day. A tree in direct sunlight always seems to pump out more sap after a long, cold night.
Some trees can support only one tap, but thicker, larger maples will support multiple buckets, anything to avoid overflow and wasted sap.
Having a good run is essential to a successful sugaring season, so anything from the temperatures to the consistency of the snow is under scrutiny.
Vermont takes pride in its history and the value of locals. We share both a name and a hometown with one local Sugar Shack, and we'd like to point you in their direction.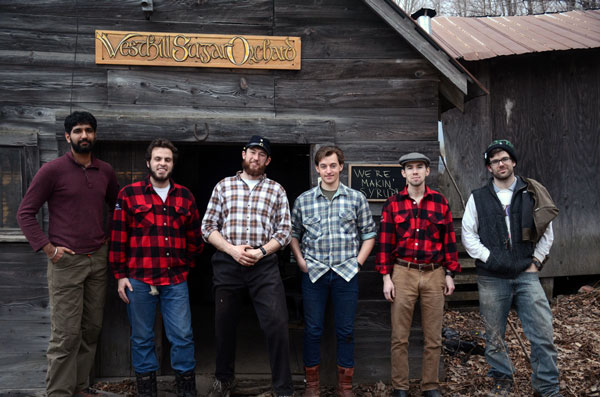 The West Hill Sugar Orchard
The West Hill Sugar Orchard is located in Warren, Vermont, right next door to us. They have a fascinating history, one with deep roots in the culture, struggle, and strength that makes Vermont the state that it is. They maintain the classic and environmentally conscious choice to do things the old fashioned way. What does that mean exactly? We'll tell you.
Sap, the thin liquid pulled from the maple trees to make syrup, can be collected in two primary ways, by bucket or by pipeline. The old way, and the way West Hill Sugar Orchard operates, is by bucket. A small hole is drilled into the maple tree, a metal spile is hammered in, and a tin bucket is hung from the spile. Each day, or sometimes more often, the team goes bucket to bucket dumping the sap into their collection tank to transport it back to their Sugar Shack.
Now, when you see those classic tin buckets hanging from the maple trees, you might think it brings in a ton of sap each day. You'd be right, but you have to remember that it takes roughly 40 gallons of sap to produce a single gallon of syrup. It truly is liquid gold.
Once enough sap is collected, it moves into a large open tank heated by a burning wood fire. Old Vermonters will always claim that you can taste a difference in the syrup if it's heated by gas instead of wood. At The West Hill Sugar Orchard, they burn wood harvested from their own Sugar Woods, as local as local can be.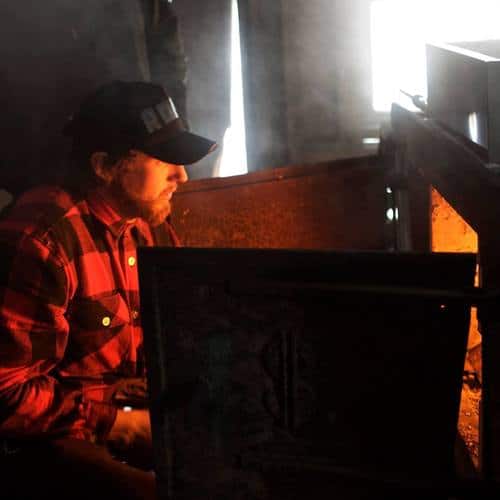 From Sap to Syrup
Boiling is an experience we truly can't describe, but we'll try our best. As the sap boils, the steam that fills the air is sweet, creating a misty cloud so thick you almost can't see more than a few feet in front of you. There's an indescribable smell, not quite as strong as the maple you'd imagine, but teetering on that edge. Standing in the shack, family resting against the walls, tin buckets stacked and drying, it's as "authentically Vermont" as you can get. The Sugar Shack is a place where decades of tradition rest while something so pure is made. Being there brings a feeling of true, old labor and hard work coming to fruition. Watching the sap bubble and thicken, change color and become sweeter is a value beyond words. It's about community, strength, tradition, and a good ol' fashioned love of Vermont.
Sound pretty good? Well, you don't have to settle for out words. The folks at The West Hill Sugar Orchard have an open door policy. If smoke is rising from their chimney, they're ready to welcome you. We'll help you get in contact and find a time to visit. With Syrup for sale in stunning glass bottles, this is one thing we cannot recommend more highly. Spring is a favorite season for Vermonters, and sugaring is one reason why.
Looking for more Vermont experiences? Visit West Hill House B&B for a one-of-a-kind trip to the Green Mountain State and enjoy our home baking!