Stirring it up!  Nothing's better than a good night's sleep and a breakfast ready and waiting for you to enjoy.  As a breakfast starter, warm muffins pair well with a bowl of fresh fruit and some Cabot Greek Yogurt. Our guests tell us they love waking up to the tantalizing smells of home baking and freshly brewed coffee. The following recipe is one of our wonderful morning "wake-up smells".
Quick Honey Oatmeal Muffins
400'F         12-18 min           =12 muffins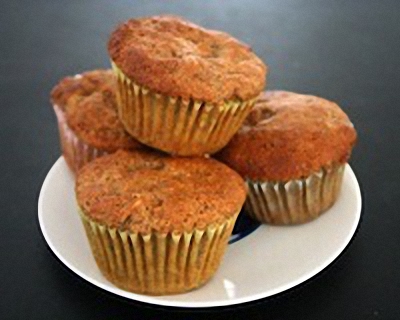 In a large bowl combine:
2/3 c. milk
1/3 c. vegetable oil or applesauce
1 egg, beaten
1/4 c. dark maple syrup (not artificial pancake syrup!)
In another bowl mix together:
1 1/2 c. quaker oats (not instant)
1 c. all purpose flour
2 tsp. baking powder
1/3 c. brown sugar
3/4 tsp. salt
1/2 c. raisins
1/2 c. chopped nuts
Add the dry ingredients to the bowl of wet ingredients, stirring until just blended.
Spoon into a muffin tin lined with cupcake papers. Bake and enjoy.
You can use raisins, chopped dried fruit, dates, pecans, almonds – use your imagination just remember that the more dried fruit you use, the more liquid is absorbed from the mix so don't get carried away.
———————–
Dishing It Out! My first stove was a wooden orange crate complete with painted-on burners, wooden spool knobs, and a heavy cardboard oven door kept closed with a twist knob. I graduated from that directly to cooking with the real thing… no Easy Bake Oven for this kiddo! My mom encouraged my cooking skills and my dad encouraged creative interpretation of  recipes. I can't remember a time when I didn't like to cook.
Guests often ask for recipes so from time-to-time I will post some of our guest favorites on the blog. I don't claim any of the recipes as my originals as they are from my stash of over 45 years of collecting recipes from family, friends, magazines, cookbooks, and various internet sites. Bon Appetite!