Company retreats are a vital tool to create strong working relationships, refresh your team members, and maintain a healthy and happy group of individuals. However, those three things are not always prioritized in our fast-paced society. We understand the pressure to work as hard as possible as fast as possible as often as possible, but is that what your team needs to succeed? If company retreats are a part of your culture already, here are a few tips to make your next one stand out. If you have never planned or attended a company retreat, take a look at some of our suggestions and reasoning behind making them a priority this year.
Set Clear Goals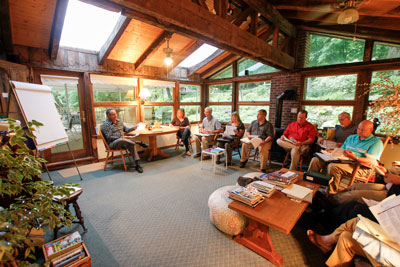 There are a few different routes you can take with a company retreat and it is important to establish goals before setting out. If both the leadership involved and the team members participating are not on the same page about the activities and goals of the retreat, you may not have the experience you hope for.
Company retreats can range from in-depth times to buckle down and focus on a hard project or those that are looking for games, conversation, and bonding. Both are valuable, but if your team is expecting to play games and get to know each other and ends up in brainstorming sessions all day, you're in trouble. On the flip side, if your team is flooded with work and has some serious topics they need to tackle, team building activities may begin to feel like a waste of their time.
A good mix of the two is recommended, allowing your team to build stronger connections while also taking time to work on their tasks. Either way, establish schedules and expectations ahead of time to avoid ending up in an unproductive or frustrating situation. Communication is key before, during, and after the company retreat.
Get Out of the Office
Being in a new setting can facilitate bonding and personal relationships which can translate to greater respect for coworkers and increase the likelihood of effective collaboration. It can be so easy to keep your head buried in work, shooting emails across the office and letting that be the extent of interaction with one another. You need more than that and to build an understanding of your employees and coworkers as people and individuals with unique lives and perspectives, you've got to get out of the office.
You want your retreats to be a time of positive memories that strengthen the core of your team and give them a much needed moment to take a breath and dive head first into innovation and collaboration. Office spaces are going to be connected to certain mindsets, goals, and expectations and it can be essential to take time away from those routines to infuse creativity into your team.
Bring the Team Together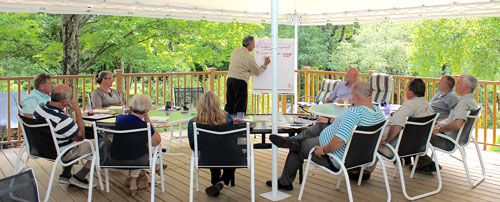 With the ease of online collaboration and an increasingly global world, companies may have employees and partners scattered all over the state and country. Company retreats can create a unique opportunity to get that valuable face-to-face interaction that you might not have if you're working from multiple locations each day.
Even if you do see your employees every day, you can always benefit from taking a moment to pause the day-to-day tasks and dive into building a more cohesive group.
Show Appreciation
You work hard and your team works hard. Take some time to show your appreciation for one another. Handwritten notes or conversations where you discuss the strengths of one another can refresh your team and put you on a path to success. People so often feel undervalued and taking a moment to acknowledge the reasons each member of your team contributes to your success is vital to the health of an organization.
Opening and closing ceremonies can be popular to create moments for reflection that may lead to a natural outpouring of positivity. They also provide an anchor for your retreat to really set a tone for your time and allow opportunities to summarize and reflect. Think about how you might include these into your schedule and be sure they align with the goals you have set with your team.
Book West Hill House B&B and Retreat Center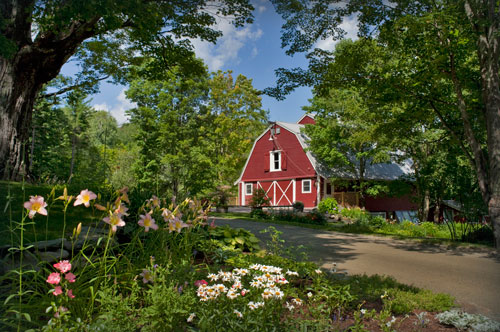 Of course, the most important part of a successful retreat is a location that will reach your goals and accommodate your team. Our event spaces are designed to allow your team to find that balance of productivity and relaxation. From private indoor and outdoor spaces, our rural property offers a secluded setting that promotes productivity and inspiration.
Customization is our priority and after selecting the right venue, be it our Handsome Red Barn, or the common spaces in the B&B, we are prepared to equip the space with the technology and tools needed to make your retreat a success. We offer WiFi throughout the property, multiple locations for projecting, customizable seating plans based on your goals, and a host of other benefits.
In the warmer months our grounds offer abundant seating, gardens and gazebos, ornamental ponds and fountains, as well as spacious meadows and other activities nearby. In the winter months downhill and cross country skiing, show-shoeing and sledding are all close at hand. Our Retreat Center is designed to make your team comfortable, relaxed, and ready to make the most of your time with us.
What could your team accomplish?