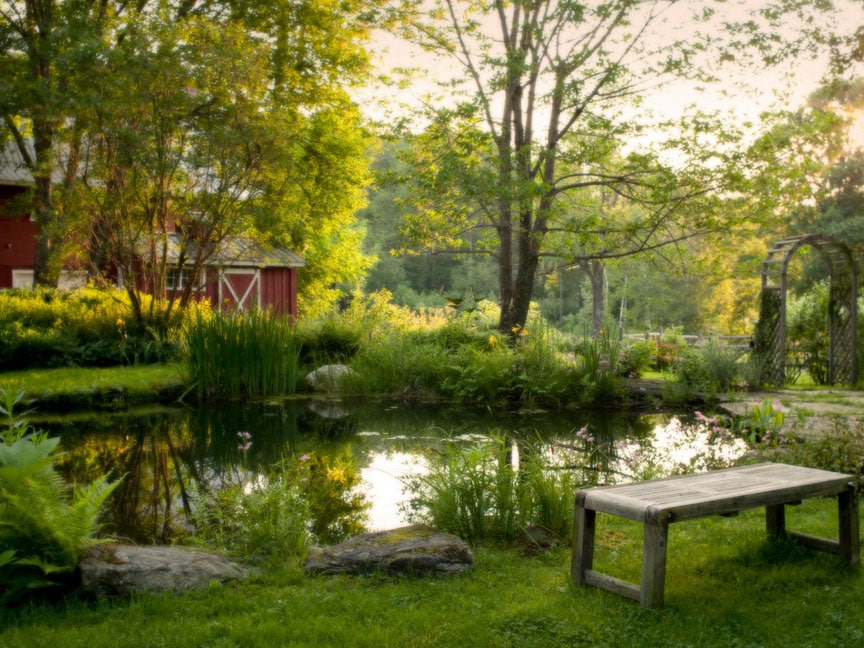 With the changing seasons in Vermont, it can often feel like an entirely different state. The views transform from icy, greyscale paintings to explosions of warm color to rich, lush green forests. The seasons are as unique in sights as they are in activities, with skiing, apple picking, hiking, shopping, sugaring, camping, all trading off with one another. What matters most? Each season has so much to offer and brings different experiences. You haven't truly explored Vermont until you've seen it in each season.
Spring
Spring is possibly the most underrated and equally misunderstood of the seasons in Vermont. We spend so much time celebrating the deep winter, that we forget how magical it can be to watch the state come back to life. Not only are the trees sprouting fresh green leaves and producing billions of gallons of syrup, but the mild temperatures are perfect for a whole collection of new adventures.
Spring Activities
On April 26, 27 & 28, the streets of downtown St. Albans are overflowing with people, parades, and maple products. We've talked all about the excitement of sugaring season in Vermont and the Maple Syrup production process, but what happens after? Every answer from maple cotton candy to sugar on snow (yes, we pour Boiling Maple Syrup directly onto fresh snow to create candy!) can be found at the festival. It's a time to explore something Vermonters are proud to share with the world and get a glimpse at the people who make it all possible.
Spring Skiing
This year Vermont experienced a tremendous amount of snow and that means that spring skiing is extending until the end of April. Imagine all the fun of downhill or cross-country skiing, the beautiful Vermont views, and the trees bursting to life; but without the frigid winter temps. Spring skiing has an extra sort of fun to it, many skiers trading snowsuits for Hawaiian shirts. Want to get in on the fun? Make sure you check out the schedule of the mountain you plan to visit to keep an eye on what trails they have open during April.
Summer
Summer is all about getting outside and enjoying nature. From swimming holes, campgrounds, to some of the country's most stunning hikes, Vermont knows how to make summer a blast. The state celebrates the rare warm temperatures with festivals and events of all kinds, even a circus!
Summer Activities
Balloonists from around the country take flight over Vermont during a three-day festival hosted in Stowe. Either take a ride in a Hot Air Balloon or simply watch the colorful orbs float over the green mountains of Vermont for a memorable time with friends or family. If you're looking for a unique way to see Vermont's famous landscape, this is the way to do it.
Did you know that Vermont is home to the #1 Traveling Youth Circus? Circus Smirkus has been putting on dynamic, family-friendly shows all over New England for over 30 years and they're located right here in Vermont. With jugglers, acrobats, and happy clowns all under the age of 18, this is a unique trip back in time and a tradition you'll want to add to your summer list year after year.
Fall
It's all about those stunning leaves. Here in Vermont, we call it "leaf peeping" and it's a bit of a sport to find the right time to go driving through backroads to find vibrant red maples, quaking gold aspens, and every color in between. Fresh cider, pumpkin carving, and fun for everyone is ready for you in autumn and we can't wait for you to explore.
Fall Activities
You might already have a trip to Ben & Jerry's on your list, but did you know there are tons of other attractions just a few miles from the ice cream factory? Cold Hollow Cider Mill is bursting with locally made products perfect to bring back home, delicious cider donuts, and fresh cider made right on the property. With gazebos waiting to let you relax and cider sampling for kids and adults, this is a hidden gem of Vermont.
Cabot Cheddar has made quite a name for itself and it's all from Vermont. This cheese is consistently voted as a top cheddar in the state, country, and world and you can sample just about every flavor imaginable. At the Annex in Waterbury, VT, you can try Everything Bagel Cheddar, Chipotle Cheddar, and even some cheese older than you! Cabot Creamery has locations all around the state with different offerings and opportunities. What one will you do?
Find more Fall Events Here!
Winter
We all know winter in Vermont. Snow piles up outside the windows and sparkles in the sunlight. The chilly temperatures keep you cuddled in front of the warm fire, watching movies and playing board games after a long day on the mountain. Winter has a magic in Vermont that we just can't describe, but the options are endless.
Winter Activities
Check out a big list of winter activities here or our blog for non-skiers here!
What season are you excited about? We love talking about the seasons in Vermont and what to do as the weather changes. We hope to see you then!