Vermont in the fall is a special place, a place filled with wonder, romantic activities, and vibrant colors everywhere you turn. The Mad River Valley, located in central Vermont near the Green Mountains, is particularly splendid – but it's not just the colors that you'll find enchanting. You can spend your time hiking, biking, and driving through wonderful displays of foliage, but don't miss your chance to visit the area's quaint, historic towns, admire the simplistic beauty of Vermont covered bridges, and taste your way through the valley at local markets, farms, and restaurants.
Whether you come here to enjoy this breathtaking season year after year, or you're just now discovering the beauty of Vermont in the fall, we can't wait to welcome you to our charming B&B. We're nestled on 9 beautiful acres in Vermont's rural countryside, offering you the quintessential New England getaway you've been craving. There's no better place to sink into the comfort of Vermont in the fall.
Wake up to beautiful views on our grounds, savor a delicious and hearty breakfast, and relax in cozy comfort. Book your room at our Vermont B&B today!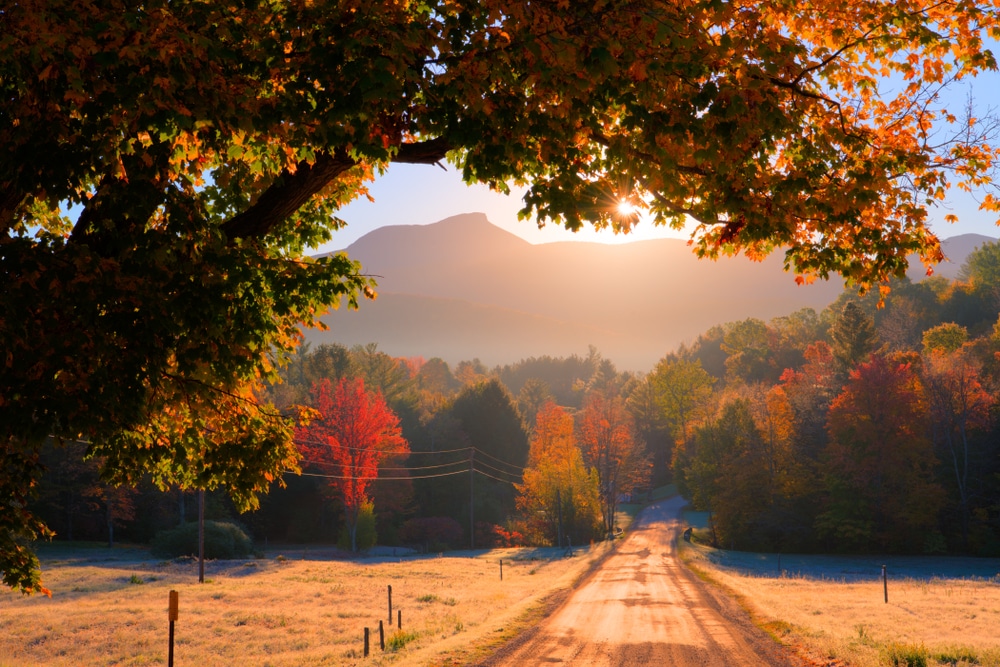 Our Favorite Ways to Enjoy Vermont in the Fall
With so much to see and do in Vermont in the fall, you'll want to ensure you have plenty of time in which to do it all.  Many of our favorite fall activities involve getting outside and taking in the vibrant colors of fall – but this season truly is about more than taking hikes and scenic drives.  We thoroughly celebrate the changing of the seasons here, and we'd love to share the very best of it with you.
Enjoy a classic fall afternoon sipping apple cider and cider doughnuts at Cold Hollow Cider Mill.
Enjoy the beautiful sight of Vermont covered bridges surrounded by fall foliage.  Our Covered Bridge and Culinary Tour is a great place to start.
Take a stunning flight in a piloted glider. If you act fast, you can take advantage of our snore and soar getaway package.
Take a beautiful chairlift ride at Mad River Glen or Sugarbush Resort, and see this famous ski area in a whole new light. While you're there, make sure to pick up your season's passes for skiing this winter!
Visit the Waitsfield Farmers Market, and sample the many goodies that appear in Vermont in the fall.
Leaf-peeping, of course, is one of the best ways to enjoy Vermont in the fall.  Here are our top suggestions for enjoying Vermont's fall foliage this year.
Discover One of the Best B&B's in Vermont
It won't take you long to appreciate just how special time spent in Vermont in the fall truly can be.  You can stay as busy (or not) as you want to be, of course, but when it's time for some cozy and romantic time, nothing beats our Vermont B&B.
We pride ourselves on offering much more than a comfortable place to sleep. As a part of your stay, you'll enjoy a delicious and seasonally fresh gourmet breakfast with us each morning, and in the evenings, we'd love to welcome you back to the Inn with a drink from our selection of wine, beer, and single malt scotch's. We also offer concierge service throughout your stay, and we are happy to help you make plans and reservations both before and during your stay with us.
Truly great getaways are made in the small details – and that is what we excel at here at our Vermont B&B. Stay with us and enjoy the beauty of Vermont in the fall. Reserve your room at our Vermont B&B today!