A great way to see all the vibrant beauty of autumn is on scenic Vermont fall foliage drives. The Mad River Valley is one of the absolute best places to take in these gorgeous colors of the Sugar and Red Maple trees. A great route is the Mad River Byway, which encompasses 36-miles of Vermont countryside, passing by charming small towns, farms, historical sites, and two famous ski areas—Sugarbush and Mad River Glen.
Heading out on scenic Vermont fall foliage drives is a favorite pastime of visitors and locals alike to our lovely state. Thankfully, as a guest at our Vermont Bed and Breakfast, you'll not only be in an ideal location to set out in the Mad River Valley on these scenic Vermont fall foliage drives, but you'll also be surrounded by these bright reds and golds on our forested and garden grounds at the Inn.
The best time for seeing the peak of fall colors in the Mad River Valley area is early to mid October, so it's never too early to start planning for the season next year. Our Vermont Bed and Breakfast is one of the coziest places to be in autumn, especially curled up in front of a wood-burning fireplace, with a steaming cup of hot tea and your favorite book. We've made it super easy to relax and find a sense of calm here.
Come see how amazing the fall colors can be in Vermont and book your next stay at the West Hill House!

Routes in the Mad River Valley for Scenic Vermont Fall Foliage Drives
The Mad River Valley in the heart of the Green Mountains is the ideal starting point for scenic Vermont fall foliage drives. Along these routes awash in the vibrant reds, oranges, and golds, you'll also come across waterfalls and historic covered bridges. These add a special touch to any scenic drive in the Mad River Valley.
Here five routes to check out in the Mad River Valley on scenic Vermont fall foliage drives:
Mad River Scenic Byway: This main route through the Mad River Valley is 36-miles of beautiful forests, quaint downtown areas, picturesque farmland, and many places to pop out of your car and stretch your legs. This byway is definitely one of the best for scenic Vermont fall foliage drives.
Bragg Hill Loop: This is a relatively short loop, but the views along the way are some of the most quintessential scenic Vermont. The route takes you by Knoll Farm (a popular berry picking spot), the historic South Fayston Cemetery with ancient burial grounds, and the Ploughgate Creamery for some of the best butter in New England.
West Hill Loop: If you're still wanting to take in more beautiful vistas on your adventure exploring the scenic autumnal landscape, this is a great add-on loop that takes you up Lincoln Gap, an amazing and steep passage in the Green Mountains.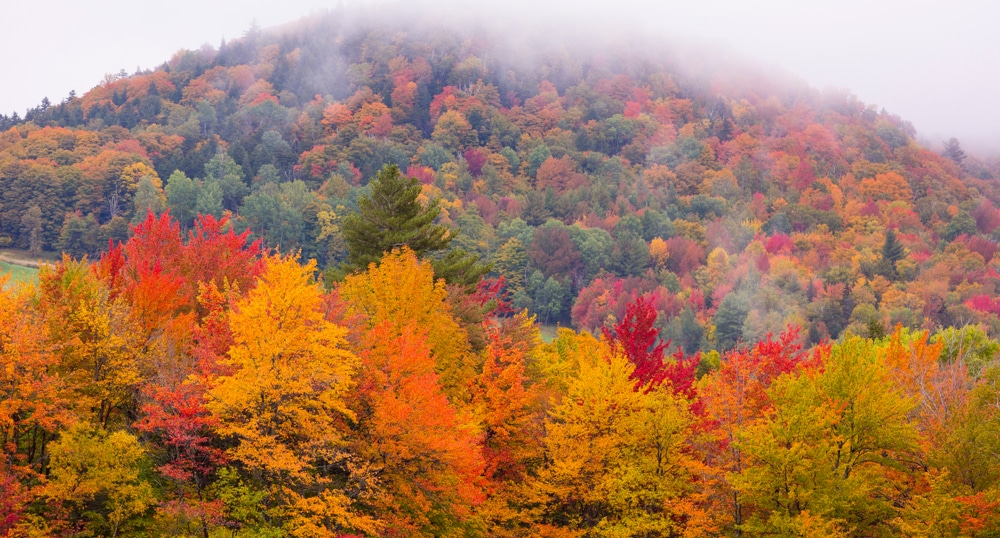 Covered Bridge Tour: On any of these scenic Vermont fall foliage drives, navigating under one of these covered bridges is just a magical addition to your trip. There are many of these historical bridges around town and this route shows you eight of these architectural gems.
Waterfall Routes: The Mad River Valley landscape is dotted with beautiful rivers, streams, and waterfalls. Some of the most stunning falls are just minutes from our Vermont Bed and Breakfast. Warren Falls, only six minutes from our Inn, is a lovely spot to take in the fall foliage with cascading pools and swimming holes in the summer months. For a detailed route for the best waterfall viewing, check out our itinerary here.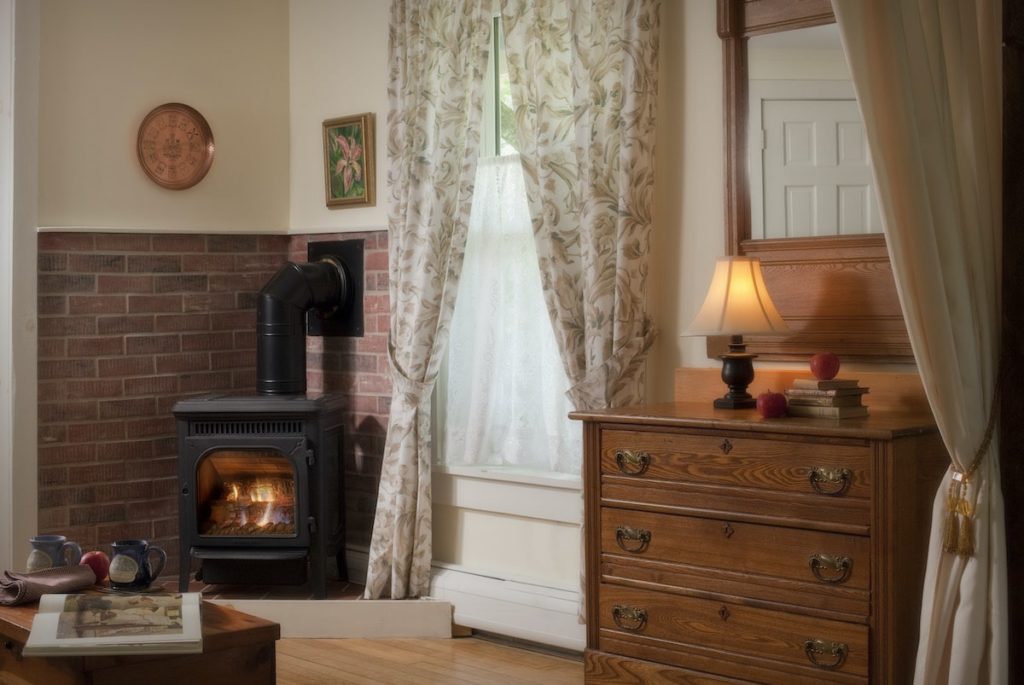 Cozy Fall Lodging at our Vermont Bed and Breakfast
Each of our nine guest rooms at our Vermont Bed and Breakfast offers a private and quiet place for reflection and relaxation. The Allen Suite (pictured above) has a cozy gas-fired stove, comfortable king size bed, and en suite bath with jetted spa tub and a vintage marble vanity. It's equipped with everything you need for a romantic getaway, especially when you add-on one of our indulgence packages of flowers and Champagne or special spa services.
Wake up each morning to the amazing aroma of fresh brewed coffee and our scrumptious homemade breakfast. complimentary to all of our guests. We strive to support local businesses and farms in our area whenever possible and our seasonal and rotating morning menu reflects that. We can't wait for you to join us at our dining table. Book your stay today!