The fall season is one of our favorites to write about, in part because it's so beautiful here but also because it's an excellent time of year to plan the best Vermont getaway. As beautiful as it is when fall foliage season comes into focus, it's equally as romantic, especially when you choose to stay at our Vermont B&B.
The West Hill House Bed and Breakfast offers you a quintessentially New England getaway. We're nestled in the rural countryside of Vermont's Mad River Valley, situated on 9 beautiful acres on a quiet country road and not too far from some of the area's top attractions, including Sugar Bush Resort. Here, you'll find 9 cozy guest rooms, beautiful gardens in which to relax, a welcoming atmosphere curated by our Innkeepers, hearty breakfasts each morning of your stay, and everything you could possibly need to enjoy the best Vermont Getaway.
When (or if) you do crave a bit of adventure, you won't have to go far! There is plenty of hiking, mountain biking, kayaking, shopping, dining, and even skiing and snowshoeing in the area. Our Inn truly is postcard-picture-worthy – it's no wonder it's considered by so many to be the best Vermont getaway! Book your room today!
Are you Ready for the Best Vermont Getaway?
Apart from the chance to stay at our charming and romantic B&B, you might be wondering what it is that makes us the best Vermont getaway? The answer to that is pretty simple! Vermont, and the Mad River Valley, in particular, is a fantastic 4-season getaway destination, filled with a wide variety of things to do and see. It's also gorgeous here – especially so in fall.
But regardless of the season in which you visit, you'll find a quaint, rural environment surrounded by beautifully wooded mountains, dramatic views, charming towns, and a welcoming atmosphere. It's pretty hard to feel inspired and romantic when visiting this part of the world!
While we think this area is well-suited for the best Vermont getaway, what that looks like will be different for everyone. Adventurous couples and those seeking pure relaxation alike will find something to love about a stay at our Vermont B&B. We're also happy to use our knowledge of the area to help you plan an itinerary that will have you falling in love with Vermont – and each other – all over again!
If you do want to get outside and do a bit of exploring, here are a few things you can do while enjoying the best Vermont getaway!
Travel around the valley enjoying the simplistically beautiful architecture of Vermont's Covered bridges, all while enjoying the sights and flavors of central Vermont. Our covered bridges & culinary tour takes you to 8 Vermont covered bridges, with a few delicious stops in between.
Just as with the covered bridges, seeing waterfalls is a great way to gain a new appreciation for this area – this kind of natural beauty is just one of the many things that makes this the best Vermont getaway. We've put together the perfect itinerary for you to enjoy.
If you're looking for something new and interesting, we recommend heading to the Vermont Icelandic Horse Farm. You'll enjoy a comfortable ride through the meadows, forests, and mountains of the Mad River Valley. You won't be disappointed!
Do the kind of shopping you can't do anywhere else! There's plenty of great shopping in the area, and we'd be happy to recommend a few favorites. You don't want to miss the "Almost World Famous" Warren Store for gifts, and the Mad River Taste Place, where you can buy all sorts of Vermont-made edible goodies like cheeses, chocolates, meats, coffee, beer, and wine.
Cheese lovers are never disappointed when visiting Vermont. Spend a day traveling down the Vermont Cheese Trail – a truly delicious way to enjoy your Vermont getaway. There are plenty of other great farm and food tours to consider, too.
Take a hike! The Vermont Long Trail is one of the most popular areas and can be easily accessed from our Inn. If you're looking for even more trails, we're happy to recommend some.
Hit the road and take a scenic drive through the mountains, admiring the scenery as you go.
Go on a piloted glider adventure with Sugarbush Soaring! It's one of the most beautiful gliding trips in the country.
Spend an afternoon sampling local craft beers and spirits at breweries and distilleries in the Mad River Valley.
The Mad River Valley is also a very art-friendly destination. Take the time to visit local studios, galleries, and more during your Vermont getaway.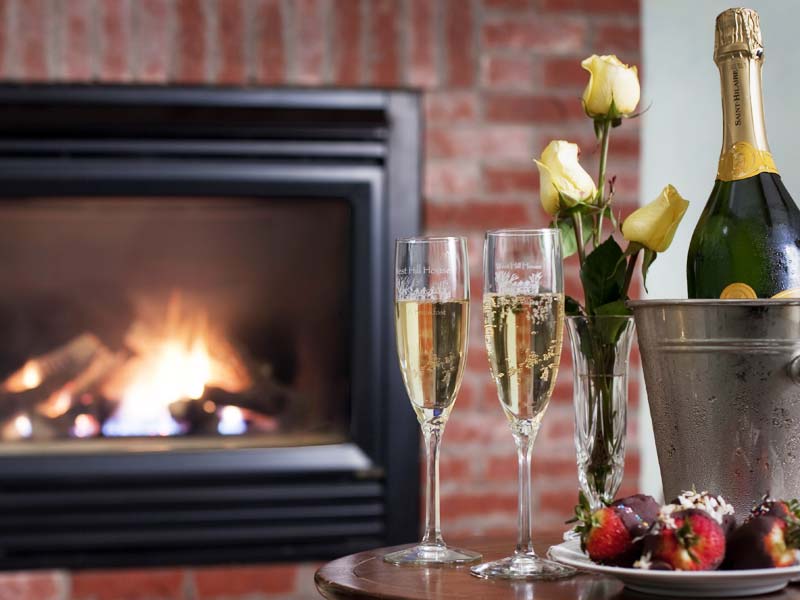 The Most Romantic Vermont B&B
To enjoy the best Vermont getaway, you'll need accommodations that match the occasion. You'll find just that at the West Hill House B&B. We offer 9 beautiful guest rooms for you to choose from, each of which comes with its own unique personality and either a jetted tub or steam shower, among a host of other welcomed amenities.
In the morning, you'll awaken to the mouthwatering aromas of breakfast being made for you from scratch. Our sumptuous three-course breakfast starts with fruit juice, homemade bread or muffins, and a specially prepared fruit dish, followed by a tantalizing hot entrée that changes daily. Coffee, tea, hot chocolate, and homemade treats are always available throughout the day, too!
To take your Vermont getaway to the next level, consider adding one of our many romantic packages or Inndulgencies to your stay, too. It's the perfect way to remind your sweetheart just how special they are! If you're ready to experience the best Vermont getaway, it's time to book your room at our Vermont B&B!