One cause we've always been passionate about at our historic bed and breakfast in Vermont is being a steward of the environment. We've implemented green practices over the years to lessen our carbon footprint in the beautiful rolling Mad River Valley in the Green Mountains. Vermont is one of the most naturally beautiful areas in the world, and we want to do what we can to keep it that way. Here, we take recycling, reusing, and conservation very seriously!
Like-minded travelers can rest easy knowing that we do all we can to stay green—from our solar panels, EV charging stations, natural cleaning products, composting, and much more. As a designated Green Leader at the Gold Level on TripAdvisor (one of the first B&Bs to earn that honor), we are always evolving our sustainable practices at our bed and breakfast in Vermont. Our goal is to protect and preserve the environment as much as possible while maintaining a luxurious and comfortable getaway in Warren, VT.
Read on to learn more about our dedication to being a Green B&B in Vermont, and book your stay today!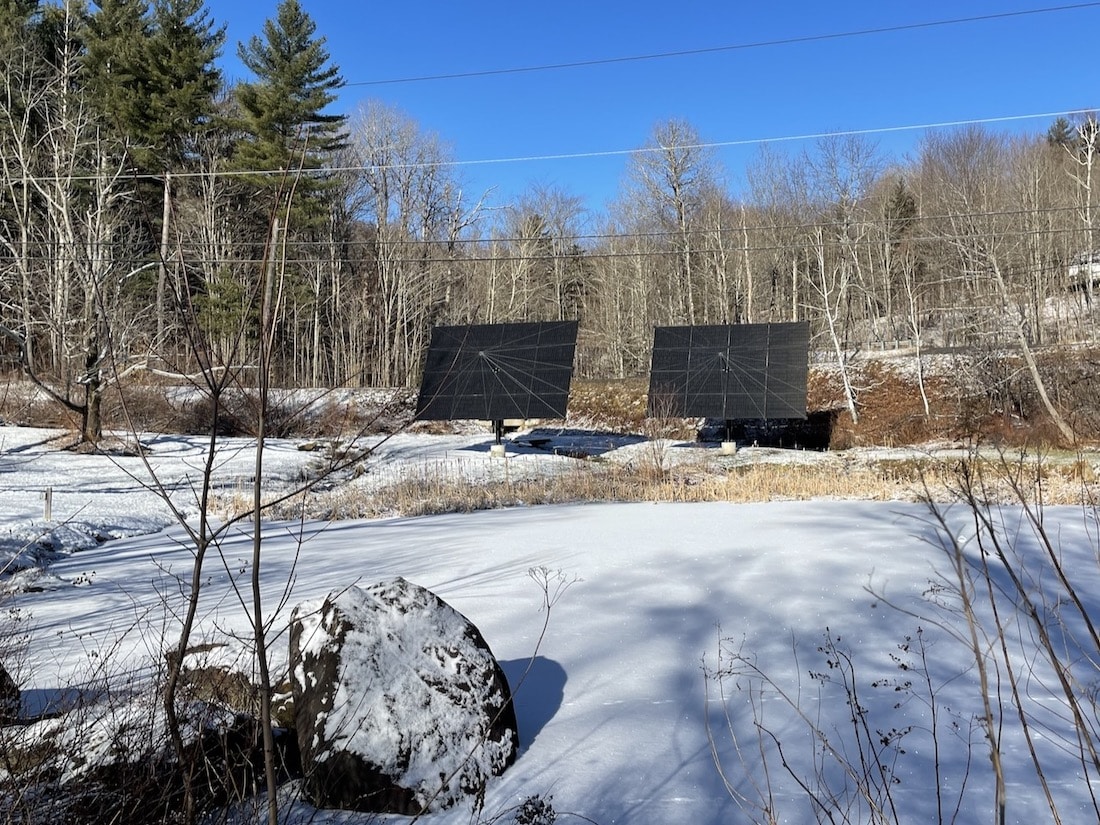 The Best Bed and Breakfast in Vermont for Sustainability
While the travel industry is often criticized for its waste and disregard for sustainable practices, at our bed and breakfast in Vermont, we're aiming to change that reputation. Protecting and preserving the environment doesn't mean you have to compromise on comfort during your vacation.
Here are the top reasons why our bed and breakfast in Vermont is the best green choice:
A Dedication to Solar Power: It first began when we invested in 28% of a large community Solar Array in Poultney, Vermont. The electricity produced by our share of that system roughly covered our year-round needs. Still, recently we added two new lightweight and highly reliable Solar Trackers on our property designed by a Vermont company called Solaflect Energy. These panels track the sun, collecting as much solar power as possible, even into the winter. They will give us the extra power we need to use our new efficient heat pumps for heating as well as cooling.
Sustainable Cool Air: Over the last three years, we have installed heat pump mini-split systems in both the house and the Handsome Red Barn primarily to provide more efficient, quieter, and more comfortable air conditioning in the summer months
Hot Water Pre-Heating System: As one of the first major sustainable systems we implemented, in 2009, we added solar hot water pre-heating system to reduce our propane use.
Composting: Food waste is one of the biggest excess areas for restaurants and hotels! Thankfully, Vermont leads the country with centralized composting.  We separate all our compostables and they are collected monthly along with our recycling. All the food waste is then put to good use as animal feed and fertilizer.
Recycling Made Easy: We offer recycling bins in each guest room at our bed and breakfast in Vermont to make it as easy as possible for guests to reduce waste.
Our Stunning Garden Grounds: We take pride in maintaining our beautiful nine acres of Vermont paradise. Our seasonal gardens not only bring so much color and lush green foliage but also support our local bees, butterflies, birds, and small critters. You'll find no shortage of picturesque areas to stroll, catch the sun, and enjoy the fresh Green Mountain air.
Spring-Fed Water: We have crisp, clean spring-fed well water running from every faucet and complimentary reusable water bottles, and we encourage our guests not to bring bottled water.
No Harsh Chemicals: We clean the B&B with all natural products, and each of our guest rooms and common spaces is sparking clean without environmentally damaging chemicals.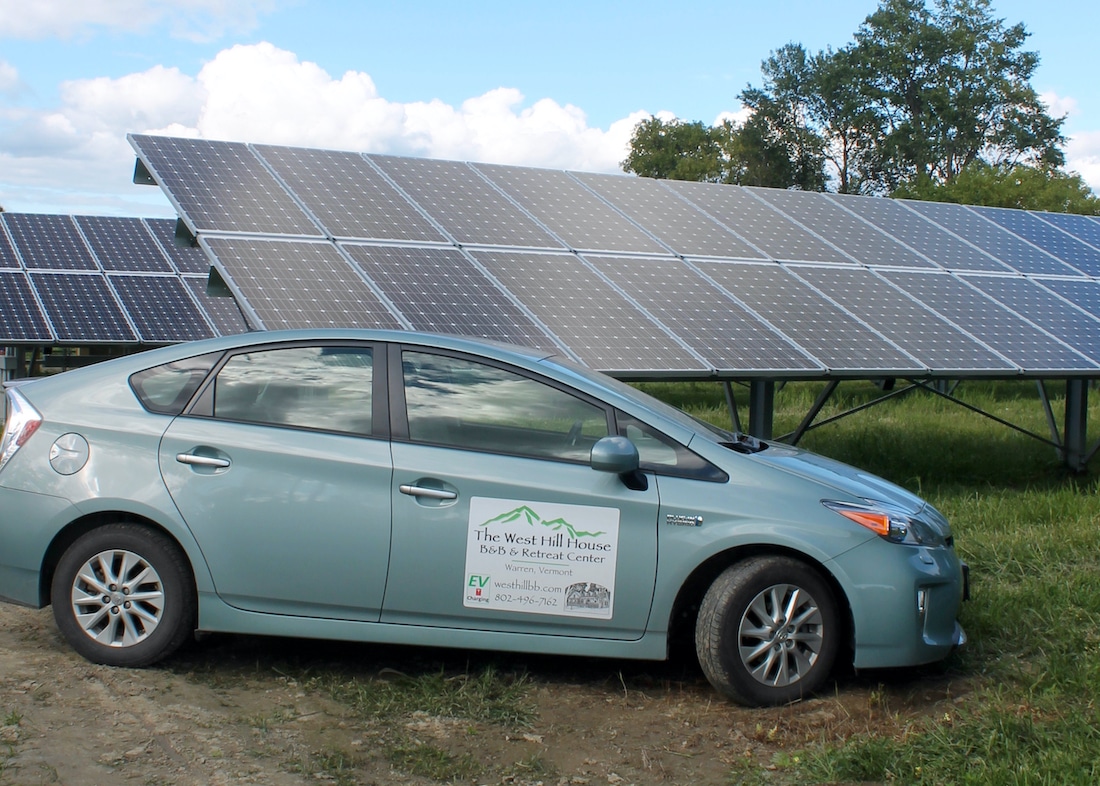 Electric Vehicle Charging Stations:
Last but not least, one of our greatest green achievements at our bed and breakfast in Vermont was leading the charge on installing EV and Tesla charging stations. As one of the first B&Bs to add this green amenity, we then worked closely with Select Registry (a large B&B association representing hundreds of Inns across the country) to help other locations implement these stations for their guests as well.
Recently, we installed yet another Tesla destination charger. This one is in the main parking area beside the barn, powered by our trackers. We now offer our guests three Tesla chargers and two universal J1772 chargers. Topping up your EV is, of course, complimentary for our overnight guests!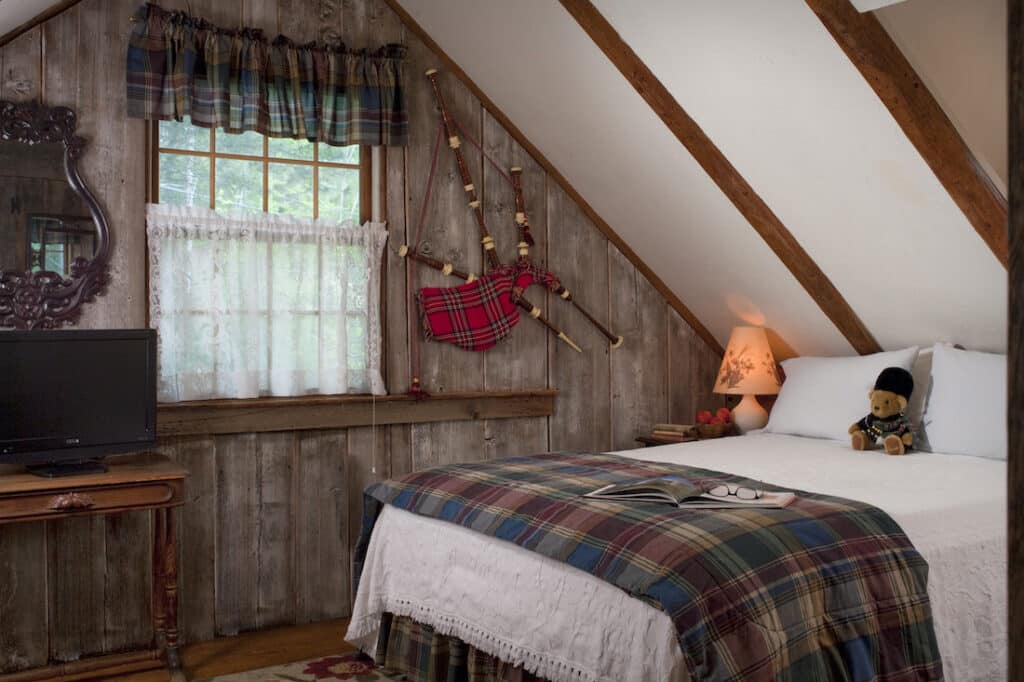 Cozy Lodging at our Bed and Breakfast in Vermont
You'll be welcomed with open arms at our bed and breakfast in Vermont. Past guests have likened the experience to visiting a distant relative you've missed over the years and finally having a reunion, while not being asked to help wash the dishes! Join us in the dining room each morning for home-cooked meals, hot coffee, and friendly conversations! Our shared spaces are warm and cozy, packed with games, books, and comfortable seating areas for relaxing.
We are very proud of our environmental achievements and our green practices. We always encourage our guests to learn more and Peter loves to talk about solar power and EVs!
Our beautifully-appointed guest rooms are nothing short of excellence, where every detail has been thought out for you to enjoy your stay best. Our rooms are spacious, with big plush beds dressed in fine linens. En suite baths offer a restful respite with either jetted soaking tubs or large steam showers. We can't wait to host you at our green bed and breakfast in Vermont! Book your next eco-friendly journey to the Mad River Valley today.