Stirring it up:
Baked French toast makes a great start to any morning. With its eggy custard, craisins, and brown sugar topping, a breakfast like this would be hard to beat. It's a time saver too. Put it together the night before, pop it into the fridge, and bake it in the morning.
Makes:
One 9 x 13 x 2″ (33 x 22 x 5 cm) pan serves 8-10 – or fewer if serving folks with very large appetites!
Oven:
350° F   (175°C)
Bake:
45 – 50 minutes depending on your oven.*
Ingredients: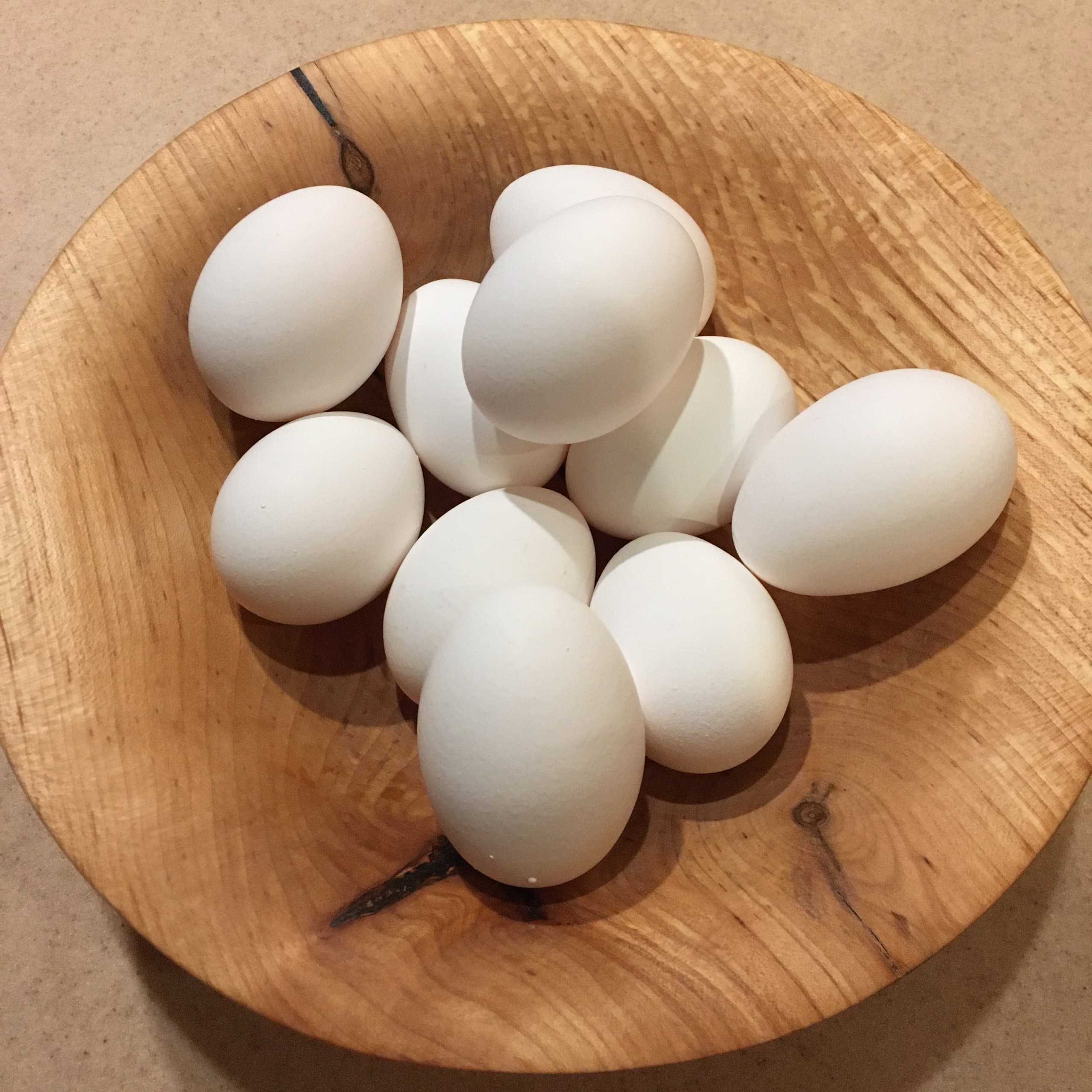 1 loaf of French bread cut into cubes  1-2″  (1.5 – 2.5 cm) OR 6English muffins cubed OR your favorite bread
2 c. (500mL) milk  ~I've found that almost any type of milk or "milk" works, although cow milk works best
2t. (10mL) vanilla
8 large eggs
1/2t. (2mL) nutmeg
1t. (15mL) cinnamon
1/2 – 3/4c.  (125 – 175mL) dried cranberries ~ or use your imagination
1/4c.  (50mL) butter, softened
1c. (250mL) brown sugar, packed
1c. pecans, chopped   ~I've also used chopped almonds
Method:
Grease a 9 x 13 x 2 (33 x 22 x 5 cm) pyrex or decorative baking pan
Fill with bread cubes, it should be bit more than one layer deep
Sprinkle the dried cranberries over the bread cubes
Blend eggs, milk, vanilla, nutmeg and cinnamon
Pour the blended ingredients over the bread cubes
Mix together the butter, brown sugar and pecans and sprinkle over the egg and bread mixture
Bake 350°F (175°C) for 45-50 minutes* If right out of the fridge you may want to let it sit at room temperature for about 10 minutes before baking.
Let it cool about 5 minutes to make cutting and serving easier.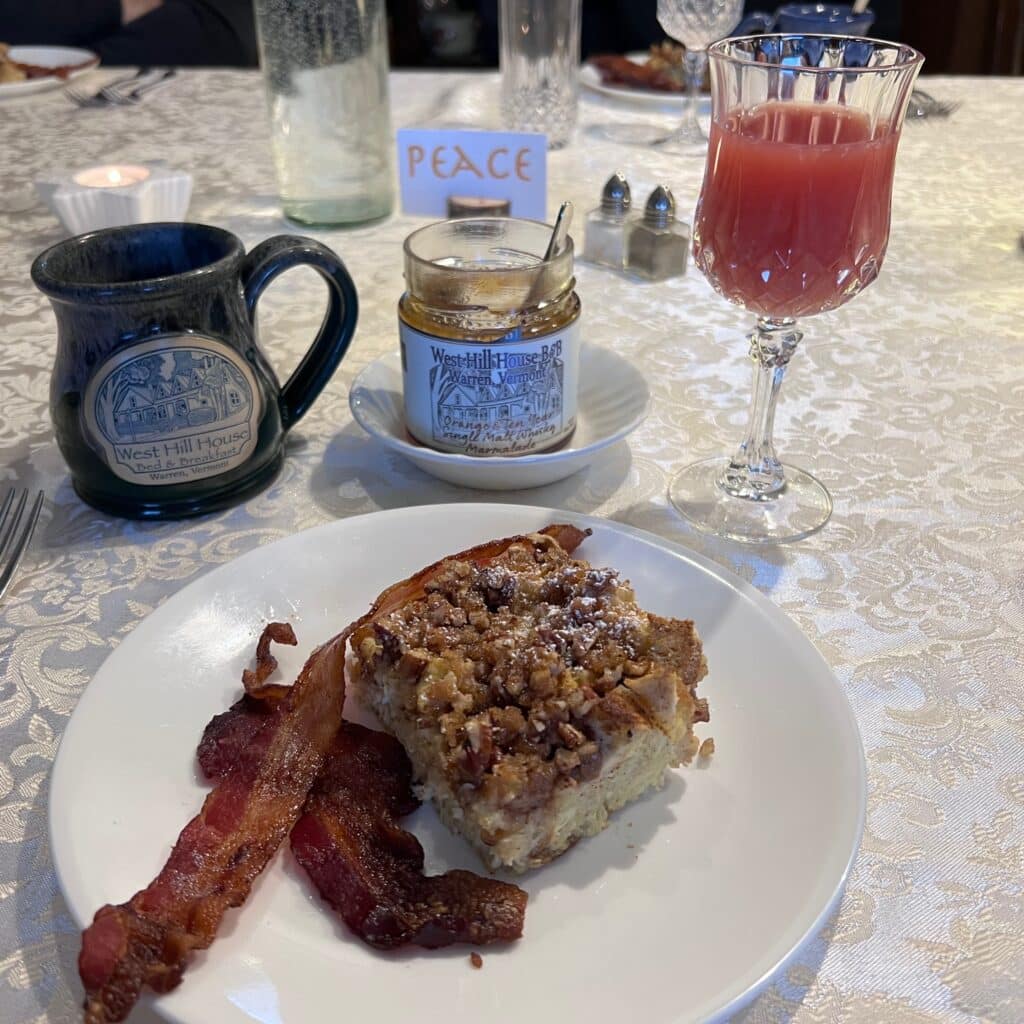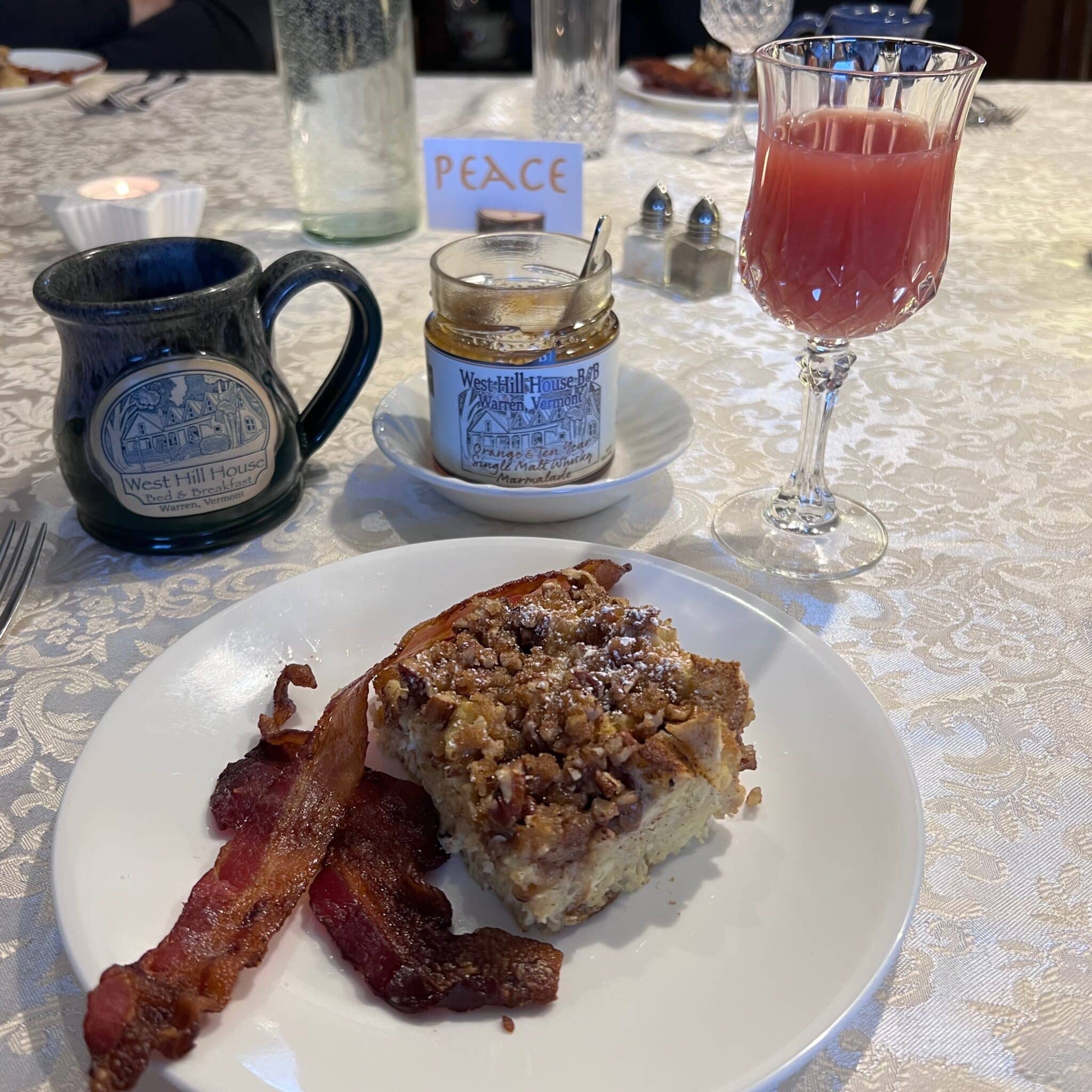 Dishing it out:
French Toast, it's my favourite go-to meal for breakfast or brunch. A couple of strips of bacon doesn't hurt either! Of course this breakfast has to be accompanied by REAL maple syrup.  We live in an area where sugar maple trees abound. Many of the nearby businesses have 'sugar' in their name, including the close by ski resort,  Sugarbush.  As you might imagine, there is a  lot of maple syrup produced and used here in Vermont. For a recipe with maple syrup, check out our chewy Maple Almond Cookies. You may also like to try another of maple syrup's best friends, Blueberry Croissant French Toast.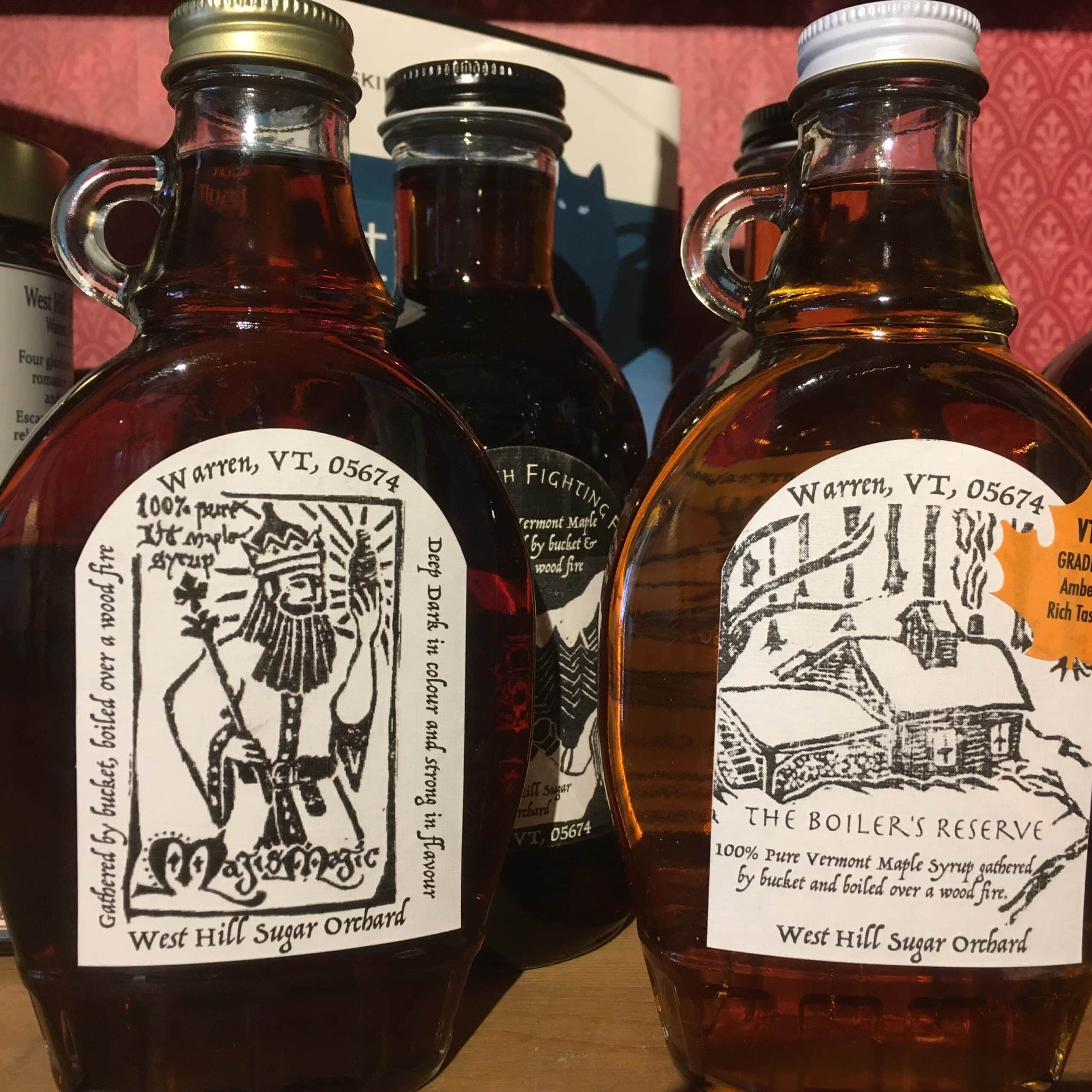 At one time there was a restaurant in our area that charged extra for Vermont maple syrup, imagine that! A recent guest told us they went to a restaurant which charged extra if you requested fake maple syrup! I think  charging for fake syrup is a much better idea.
In the US and across most of Canada we call this wonderful dish, French Toast. In Quebec, however, it's known as "Pain Doré", golden bread.  So how did French toast originate? Did the French invent it? If the French didn't invent French Toast, even though we always thought they did, who on earth did?
Apparently French Toast originated long before France was even a country. Wikipedia tells us this luscious breakfast-brunch meal, when created was simply called "aliter dulcia 'another sweet dish". Check it out.
Whether you like Baked French toast or fried French toast, you've go to admit, it a perfect way to start the day.
What are you waiting for… grab some real maple syrup, some bread, some milk and some eggs and get cracking! Breakfast will be ready before you know it 😋