If you've never experienced the breathtaking beauty of the Mad River Valley of Vermont up close and personal, 2023 is your year! The wild rolling forested mountains, expansive farmlands with classic old barns, charming villages connected along scenic backroads, and historic covered bridges are just the beginning of what you'll discover here. We experience all four seasons in the Mad River Valley of Vermont—with bright cheerful days in Spring, warm sunny days in Summer, crisp Fall days with stunning autumnal colors, and lovely blankets of snow in the winter.
There's something for everyone in all seasons, whether you're a wilderness adventurer and thrill seeker or a culinary enthusiast or a relaxation seeker, the Mad River Valley of Vermont offers an array of indoor and outdoor activities. The villages of Warren and Waitsfield, VT, are two popular stops for recreation and beautiful views of the Mad River, a tributary of the Winooski River. It's the ideal area of Vermont to make your home base during your stay!
There's a beautiful selection of lodging options in the Mad River Valley of Vermont, but none as classic and memorable as West Hill House B&B—a premier Vermont Bed and Breakfast. Set on stunning nine acres of gardens, woodlands, and meadows, our historic Inn is warm and welcoming, offering the perfect reprieve for a day out on the slopes, long hikes, or exploring the nearby farms. You'll experience the full package with a beautiful breakfast each morning, comfortable guest accommodations, and knowledgeable Innkeepers eager to share their advice. Book your room today!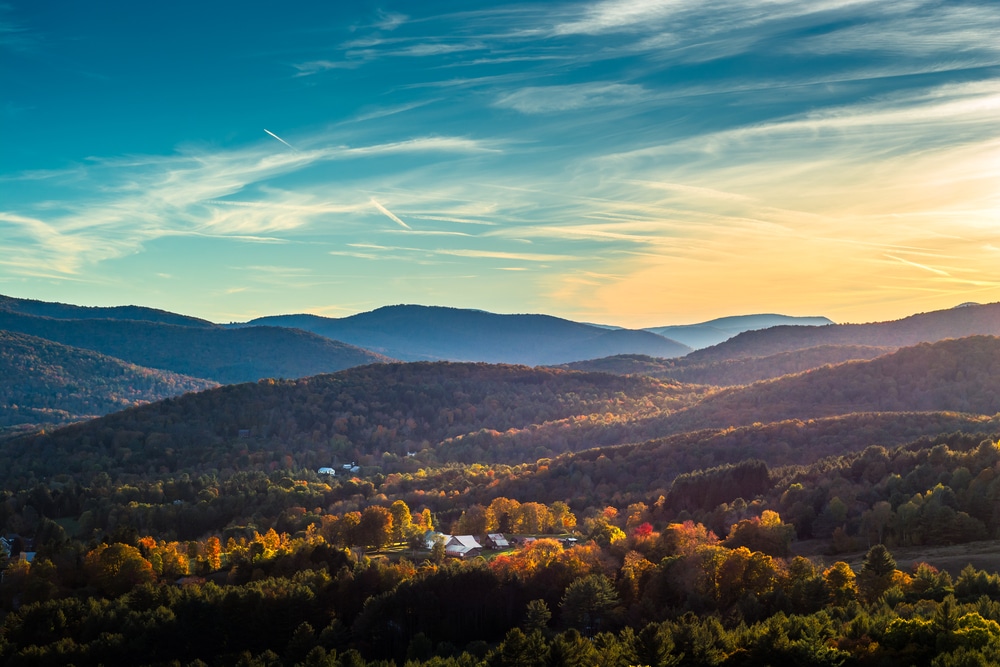 The Best Things to do in the Mad River Valley of Vermont
There are so many amazing things to do in the Mad River Valley of Vermont all year long! The best way for you to decide what season you'd like to visit is to see all of your options. Here we'll offer you the top three most exciting activities in each season.
Things to do in the Mad River Valley of Vermont in Spring:
A Farm Tour for Local Cheeses: As the fresh beginnings of spring emerge in the Mad River Vally of Vermont, the local farms come to life. Our area is known for its exquisite dairy farms, and you'll find local cheeses on menus around town and often in our breakfast service at the Inn. The Vermont Cheese Trail is a self-guided way to hit the best stops!
Maple Syrup Season: This sweet syrup is synonymous with Vermont, and the Mad River Valley offers wonderful places to learn more and experience the Maple harvesting process firsthand. Morse Farm Maple Sugarworks is a great place to start!
Mad River Distillers: Check out this award-winning craft distillery during your time in Vermont, they offer tours and tastings at their distillery by booking in advance or you can head to the Mad River Taste Place in Waitsfield for in-store tastings and a lovley selection of local products.
Summertime in the Mad River Valley:
Swimming Holes: Nothing makes you feel more like a kid again than swimming in the lakes or rivers in the Mad River Valley of Vermont. The Great Eddy Bridge swimming hole has it all—a beautiful rocky shoreline, a historic covered bridge, and a deep pool for a refreshing dip.
A Craft Brewery Tour: Vermont has an amazing collection of local breweries crafting delicious brews. A few favorites are Lawson's Finest Liquids, Good Measure Pub, and Bent Hill Brewing.
Waitsfield Farmers Market: This local farmers market is a must-visit each Saturday from May to October. During the summer, you'll find produce and flowers in abundance, welcoming vendors, and live entertainment.
Things to do in the Mad River Valley this Fall:
Sugarbush Soaring: One of the best views of the stunning fall foliage is from on high in a glider over the Mad River Valley. The experienced pilots will give you an experience of a lifetime!
Scenic drives: An ideal way to take in the jaw-dropping beauty of autumn in the Mad River Valley of Vermont is along scenic byways and mountain roads. One of our favorite routes heads by and under the historic covered bridges that dot the local highways.
Hiking at the Vermont State Parks: There's no shortage of amazing hiking opportunities in the Mad River Valley. One well-known option is Vermont's Long Trail which crosses through the Green Mountains just behind our Inn—as a guest, and you'll be able to explore a segment of this famed trail by popping into our backyard.
Wintertime in the Mad River Valley of Vermont:
Sugarbush Resort: Our Inn is only one mile from Sugarbush Ski Resort—one of the largest ski resorts in New England—it's known for its distinct terrain and exciting trails. Choosing to stay at our Vermont B&B puts you in the ideal location to hit the slopes by day, and have a private place to retreat in the evenings.
Mad River Glen: As one of the areas last operating cooperative ski resorts, there's something nostalgic about hitting the slopes here with classic runs from beginner to expert.
Snowshoeing with Clearwater Sports: This local touring group offers guests a guided look at the best snowshoeing trails and backcountry areas. One of the most memorable tour options is the moonlight snowshoe adventures with headlamps and exploring under the stars.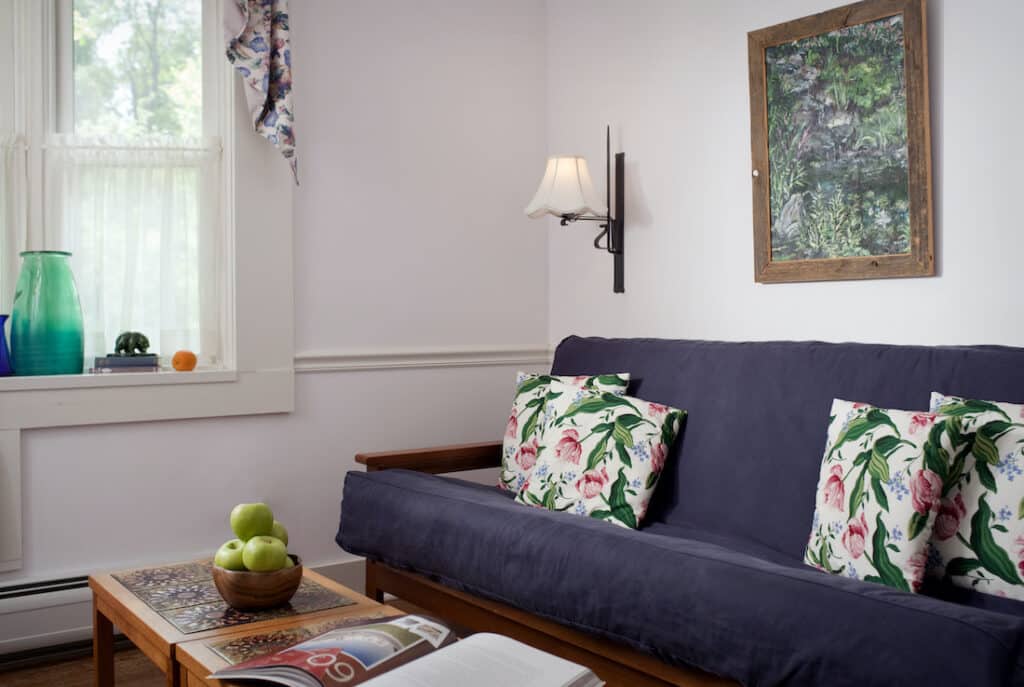 The Best Bed and Breakfast in Vermont for 2023
Before you start filling up your itinerary with all of the best activities in the Mad River Valley of Vermont, you'll want to secure your lodging. That's where our #1 rated Vermont Bed and Breakfast comes in. We're in the ideal location, nestled on a quiet country street, set back from the hustle and bustle, but just a short drive to all of the favorite attractions. You'll want for nothing on your stay—as we offer a beautiful morning meal, sweet treats and beverages throughout the day, and a wealth of knowledge about the area.
The Stetson Suite (pictured above) is a fine example of the diverse lodging options at our bed and breakfast in Vermont. Named for the original founders of West Hill House B&B, this main floor room is bright and airy with a sitting area with a gas-fired "woodstove" and comfortable couch. The en suite bath features a jetted tub as well as a steam shower. You'll love retreating to this room after a long day on the slopes or hiking trails—you'll feel rejuvenated in no time.
While the Mad River Valley of Vermont is a four-season destination in New England, you'll want to time your trip based on your interests and plan accordingly. Guests are beginning to plan their summer getaways now. And for example, if seeing Vermont during the height of autumn is on your bucket list, you'll want to book well in advance! Check out our upcoming availability at our Vermont Bed and Breakfast and book your room today.