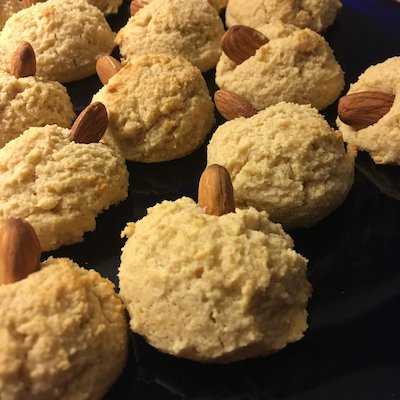 20 in 20. Make 20 cookies in 20 minutes. Maple-Almond Cookies are the perfect cookie to bake in the early spring each year. The sugaring season is over for West Hill Sugar Orchard, just down the road from us here in the Mad River Valley of Vermont. All the buckets are off the trees and the sugaring-off has finished for the year. After the long hours of boiling down the sap, this year's maple syrup tastes aaaamaaaazing!
Vermont is the leading producer of maple syrup in the United States. This little state produced over 2 million gallons of syrup in 2019. Vermont generates 47 percent of the country's maple syrup. New York produced 800 thousand gallons and New Hampshire produced 11 thousand gallons. Canada produced 13.2 million gallons in the same year. With all that sweetness on one continent it's high time it was given more importance in home baking
Maple syrup is generally seen to be a healthier alternative to sugar or honey. To replace white sugar with maple syrup in most cooking, use ¾ cup of maple syrup for every one cup of sugar you wish to replace. In baking it's different, use ¾ cup, but be sure to reduce the amount of overall liquid in the recipe by about three tablespoons for each cup of sugar substituted.
Vermont Maple Syrup stars in these cookies
Stirring it up:
Maple-Almond cookies are easy to make as the require only 4 ingredients and very little equipment. A perfect cookie to highlight Vermont's maple syrup. Full of maple goodness with the added bonus that they not only taste great, but are gluten free and vegan as well.
Makes: 16-20 cookies depending on scoop size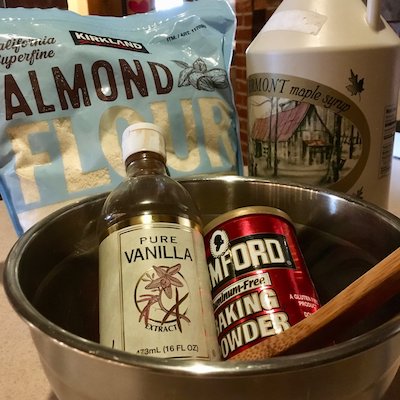 Oven: 350°F/175°C
Bake: 12-14 minutes
Ingredients:
2 c. finely ground almond flour (227g.)*
1/2 t. baking powder (use GF baking powder if cooking for gluten sensitivity)
1/3 c. dark maple syrup (100g.)
2 t. vanilla extract
Method:
In a medium sized bowl, whisk almond flour and baking powder together.
Add the maple syrup and vanilla to the almond flour mixture.
Use a wooden spoon to mix the ingredients together. It will seem like it needs more liquid but don't add any! It will come together and become a sticky dough.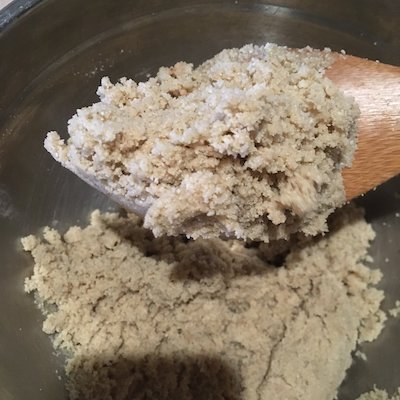 On a parchment covered jelly roll pan, drop the dough by the teaspoon full (I use a teaspoon scoop) placing each spoonful about one inch apart.
Leave cookies with a rounded dome and you will have a bit of a crust on the outside and a soft chewy inside or, flatten the cookie a bit with your fingers or a small glass if you wish a crispier cookie. Top the cookie with a slivered or whole almond.
Bake 12-14 minutes but watch if you cook longer than 12 minutes, the maple syrup is pure sugar and over baking can happen quickly.
Cool on the baking pan for 2-3 minutes then transfer to a rack to cool.
If you are going to bake another batch let the pan cool first.
*If you don't have almond flour on hand, you can grind whole almonds and make your own almond flour.
Dishing it out:
During this time of confinement due to CORVID-19, Staying Home and Staying Safe is the right thing to do. While it can be frustrating at times, it can also give the opportunity to undertake different activities. So here's a challenge for you. Go through your collection of recipes, find the quick, easy and tasty ones and put them all in one spot be it in your computer recipe file or in your recipe card box. Now you'll be prepared for the next time you need baked goods but are short on baking time.
Having a collection of tried and true, quick and tasty recipes is a must. To get you started here are two recipes you can find on our West Hill House B&B blog: Cheesescake Indulgance and Amazing Peanut Butter Cookies .
Happy Baking!!