January 9, 2017 by Peter MacLaren
As we look out the windows at West Hill House B&B during the winter months, we are thankful for the beautiful snowfalls, the ski areas and the great outdoor activities the local mountains and surrounding area offer.
While one man may not be able to move a mountain he surely can shape what happens on a mountain. Perry Merrill (1894-1993) is often called the "the father of Vermont's State Parks and Alpine Ski Areas…Merrill was the Vermont State officer who could lease State land…". (The History of Vermont Skiing by Jeremy Davis). It was Merrill who seems to have put Vermont on skis. With his help, Vermont received workers and money as part of  government project know as the Civilian Conservation Corp (CCC). In the 1940s, the CCC was responsible for building ski rails in Vermont which were the foundation for much of today's ski industry.
Vermont currently boasts some 15 major ski resorts as well as a number of smaller ski areas. Suicide Six, near Woodstock, VT., was the earliest resort opened in 1934. Others, including Mad River Glen- Ski It If You Can – and Sugarbush Resort – Be Better Here – both here in the Mad River Valley, were not far behind. Once night  temperatures fall to freezing, mountain resorts start snowmaking to provide base coverage then Mother Nature takes over. It is not unusual for Sugarbush to record 300″ (7.62m) or more of snow in a good winter.
Read the rest of this page »
December 20, 2014 by Peter MacLaren
Have you been reading "Top 10" lists over the last few weeks? If so you will have you see lists of almost everything under the sun, Top 10 Ugliest Cars, Top 10 Best Places to Live, Top 10 Best Companies to Work For, Top 10 Best Universities, and who knows, maybe even a list for the Top 10 Best Top 10 Lists!
Well…  here's our "Top 4" list – Four Great Reasons to come Ski in the Mad River Valley this Winter.
1.  Mad River Glen – Mad River Glen – Ski It If You Can. Seriously, don't miss out on skiing this legendary co-op owned ski area. Ranked by Ski Magazine as one of the most challenging on the east coast of the US, Mad River Glen provides an opportunity for skiers of all levels to ski a variety of trails on natural snow though narrow trails which follow the terrain. Riding the Single Chair, chairlift is an absolute must! Lessons, ski shop and General Stark Pub are hillside amenities. Down hill, telemark, and cross country skiers will love MRG but be warned snowboarders… you will  have to look elsewhere for your downhill excitement as no snowboards are allowed.
2. Sugarbush Ski Resort – As one of the largest ski areas in the northeastern US, and with two mountains to choose from, Lincoln Peak and Mount Ellen, snowboarders and skiers alike will enjoy the range of it's 111 trails from beginner slopes to the more challenging black diamond runs. Sugarbush is locally owned and offers lessons, a variety of places for foodies, ski shop and accommodations.
3. Blueberry Lake Cross-Country Center– Is a cross country skiers' delight. Designed for the average skiers,  outdoor enthusiast can enjoy the classic or skating style of skiing or can snowshoe on the 11 trails which includes 30km of groomed trails. Ski and snowshoe rentals are available as are lessons. Pre-skiing age children can also enjoy the outdoors in the comfort of a pulk which can also be rented. And for dog lovers, your well behaved dog is welcome and please, remember to clean up after your pooch.
4. Olé's Cross-Country Center – Offering about 40km of groomed trails, lessons, rentals of both skis and snowshoes, a deli and friendly staff, Olé's beckons to cross-country skiers of all ages to come and enjoy winter. With relatively flat terrain skiers can explore the trails while getting great mountain views and if quiet woodland trails are your choice you'll find them here too. There are about 15km reserved for snowshoeing only and today's modern snowshoes are a lot easier to walk in that the old, oversized 'tennis rackets' and you don't need special boots, your regular winter boots fit these snowshoes nicely.
The Mad River Valley offers skiing of all sorts, comfortable B&Bs and slope-side accommodations, friendly folks, great food, beautiful shops, gorgeous mountains, stately trees, as well as wonderful snow, more mountains, more trees, more snow and lots of fresh, crisp mountain air.
Get your mittens and scarf ready and consider this your invitation to visit Vermont, winter in its natural state. Come experience skiing at its best. We're ready and waiting for you…what are you waiting for?
December 15, 2014 by Susan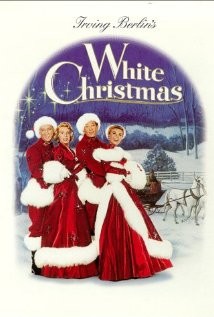 Dreaming of a White Christmas but live where there isn't any snow? Stop dreaming and come live your dream. Come to Vermont!
The movie White Christmas is indeed a classic and a must see Christmas movie in our family and perhaps yours too. The holidays are not complete without a visit, via DVD, to the the Columbia Inn in Pine Tree, Vermont.
Starring Bing Crosby and Danny Kaye as successful broadway producers, and Rosemary Clooney and Vera-Ellen as a sister, singing act, a twist of fate brings the foursome to The Columbia Inn in Pine Tree, in late December. Dreaming of a white Christmas and that "Vermont should be beautiful this time of year, all that snow" the four arrive and find, to their great disappointment, that there is no snow at all. The sisters find, with few registered guests, their singing contract is to be cancelled. Meanwhile, the two men discover that the innkeeper is their former commanding general.
Despite the lack of guests and the challenge of the weather, the four decide to stay and the story develops as a light-hearted romance suitable for family viewing. With songs sung by Crosby and Clooney and beautiful dancing by Vera-Ellen and Kaye, the movie is a good way to spend a winter evening.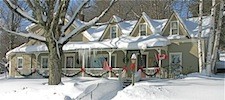 While there is no Columbia Inn, there is West Hill House B&B in Warren, Vermont, a place to enjoy a white Christmas and winter in all its glory.
We can predict with some degree of certainty that we will have a white Christmas and we most certainly have a copy of the movie for you to watch!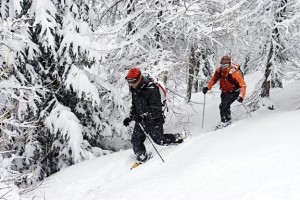 Skiing at  Mad River Glen  and Sugarbush will be in full swing with people from around the world enjoying the opportunity to ski some of New England's best slopes. On the Sugarbush golf course just behind our Handsome Red Barn, is a perfect hill for sledding on one of the Mad River Rocket Sleds created here in Warren. If your pace is slower, there are miles of cross-country skiing at Olé's and  Blueberry Lake only 10 minutes from West Hill House B&B. If skiing isn't for you, our snowshoes are perfect for exploring around our property or farther afield.
If you're not an outdoors type or your skiing days are past, there are numerous artisan shops, small stores and coffee shops to visit but that will have to wait for another blog.
If  a white Christmas to you means looking at snow through a window,  how about curling up in a big chair by the fireplace and losing yourself in a good book, or playing a board game with your special someone.
If you are dreaming of a white Christmas look no further than Vermont in winter. Winter in its natural state!
January 18, 2012 by Peter MacLaren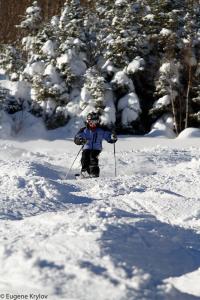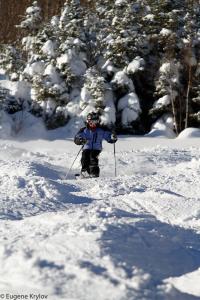 For the 2011-12 Ski Season we are once again offering our guests great prices AND flexibility for skiing at Sugarbush – immediately adjacent to the B&B with door-to-door shuttle service, Mad River Glen – a few minutes drive away, and the option to also ski on Olé's Cross Country Ski trails just down the road from the B&B.
Ski & Stay "Passport*" packages for Sugarbush & Mad River Glen start at $110 per person per day, plus tax (2-night minimum weekdays, 3-night minimum weekends) and we'll be pleased to customize a package with your choice of room and days of skiing.
The best value packages are:
4-day inclusive weekday package including Ski the Valley "Passports*" for two for 4 consecutive week-days of skiing and 4 week-nights of B&B
3-day inclusive weekend package including Ski the Valley "Passports*" for two for 3 days & nights.
Pricing for both packages, including taxes, is just:
Queen Room Package: $899
King Room Package: $999
Suite Package: $1,049
Our King Room ensuite bathrooms have double Jacuzzi tubs.
You can add another weekday day (or more) at Mad River Glen to any package for just $35 per person per day if you stay an extra night at our regular rates. The Lincoln Peak base at Sugarbush is just two minutes away by free shuttle bus from our front door and you can come back anytime during the day.
*The Passport also includes skiing at Ole's cross country resort, and specials and freebies at some restaurants and stores.
Check our Winter Activities page for more information on a winter holiday at West HIll House.
Offers are good for one pair of ski tickets per night stayed. Note ski conditions cannot be guaranteed! (The packages are not available on Presidents Week, and weekend packages require a minimum of 3 days & nights. Note that 7 days advance notice is required for all Ski the Valley passport packages.)
Photo credit Sugarbush and EKrylov.
November 28, 2011 by Peter MacLaren
Picture yourself doing your Christmas shopping and enjoying Christmas music in the quiet serenity of the green mountains of Vermont.
Saturday, December 3 marks the 13th annual Country Christmas Open House in the Mad River Valley. Over 30 local shops and services are offering special discounts which will make your pocketbook happy and may offer free refreshments which will make your tummy happy. Pick up a punch card at any merchants displaying the Participating Merchant sign then visit 5 businesses and have your card punched at each. When you leave your card with the 5th business it will be entered for a prize drawing. Check out the list of participating merchants and services.
On Friday, December 9 The Vermont Symphony Orchestra presents Holiday Pops "Fun and Games"  at the Barre Opera House, just under one hour from West Hill House. Favorite Christmas music with a twist as they take a look at the youthful side of the holiday. Fun for everyone. Tickets required.
Thursday, December 15 the Warren United Church will host the Vermont Symphony's Brass Quintet and Counterpoint for a perfect mix of brass and voices to ring in the season. Free admission although tickets are required.(802-496-9714).
And of course the area also offers skiing and riding at Sugarbush, skiing at Mad River Glen, and cross country skiing at Ole's and Blueberry Lake. Dog sled rides, sledding, skating, and moonlight snowshoe tours are just some of the other ways to enjoy a white Christmas in Vermont – oh and you can also curl up with a warm beverage and watch the movie White Christmas.
November 25, 2010 by Peter MacLaren
Sugarbush opens today, November 25th, with a few runs, and both it and Mad River Glen will be fully open by early December.
The Mad River Valley, encompassing the picturesque towns of Warren and Waitsfield, is the perfect place to ski in the North East. We have three amazing ski hills, Lincoln Peak and Mt Ellen at Sugarbush, and Mad River Glen. The two high speed quads at the base of each of the Sugarbush hills mean short lines even on busy days, and at Mad River Glen – while you may have to wait a bit longer on weekends and holidays – you get to ride the legendary single chair and enjoy skier only slopes. (There's lots of variety at Sugarbush for riders.) Plus we have great cross country skiing, including right outside our door on the golf course, as well as two extensive networks of groomed trails nearby.
And there's more. We are privileged to offer a wide selection of excellent owner-operated restaurants here in the valley. No chains, no franchises, no fast food. One of our favorites is Mint, a boutique vegetarian restaurant that even meat eaters will love. Then there is The Hyde Away with a wide menu selection of good value home cooking open 7 nights a week. The Terra Rossa Ristorante will more than satisfy lovers of Italian food, and you can watch pizzas being cooked in front of you in the classic brick oven. Then of course there is The American Flatbread, the mecca of taking pizza to another level, which is so popular you almost always have to line up to eat there, but it's always worth it. Our overall favorite? The Common Man where you will always enjoy great food, great service and a unique atmosphere.
For non-skiers, our Artisans, anchored by the beautiful Artisans' Gallery in Waitsfield, are almost always open during the day and welcome your visits, we have Vermont classics to visit like Ben & Jerry's and Cabot Cheese, and to relax we can arrange a soothing massage at Mad River Massage.
If you've never been here, you are missing out! If you have, it's time to come back. Call us and we'll help you plan your visit, tell you about specials, and get you booked into the top rated B&B in the area (guess where!). Ask us about the newly opened Logan's Loft in the barn for a one-week stay.
See you soon!
March 17, 2010 by Peter MacLaren
As spring approaches, there is no better time to head to Sugarbush. The skiing is still great, and there are lots of special spring activities including barbeques, local bands, and ton of events. March is looking so good — you'd BETTER BE HERE! (Photo from Sugarbush website – click to link.)
Don't miss out on any of these March Madness events:
•  "Broadway Rocks II" Cabaret – Friday, March 19
•  Sugaring Time Festival – Saturday, March 20
•  43rd Annual Pond Skimming – Saturday, March 27
•  12th Annual Spring Mogul Competition – Sunday, March 28
•  Hot Dog Race – Sunday, March 28
•  32nd Annual Sugarbush Adventure Games – Saturday and Sunday, April 10-11
Click here for the complete events calendar, which also includes the latest event videos.
And of course we have our special spring prices in effect here at West HIll House.
So come and check it all out! Operators are standing by! (A.k.a Peter & Susan)
February 24, 2010 by Peter MacLaren
"Yabba-Dabba-Dooooooooooo!" 12-16 inches of NEW SNOW since yesterday morning and it is still snowing and snowing hard. No kidding, Vermont  is really beautiful this time of year! It looks like this will be THE weekend to come to the Mad River Valley and ski Mad River Glen, Sugarbush or do some cross country or snowshoeing at Ole's or Blueberry Lake. Of course West Hill House is a great place to stay – we're just a short distance from each of the ski areas. Come enjoy winter with us.