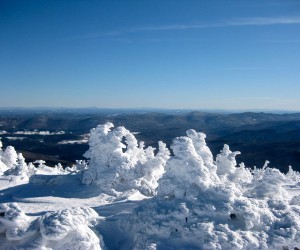 Built by the Green Mountain Club between 1910 and 1930, the Long Trail is the oldest long-distance trail in the United States. The Long Trail follows the main ridge of the Green Mountains from the Massachusetts-Vermont line to the Canadian border as it crosses Vermont's highest peaks.
Access to the Trail is just a few minutes from West Hill House.
Most guests hike on it in the summer months, but Kelly & Paul had a magnificent outing in the December snow and sun – and then Paul proposed at the top of Mt Abraham!
Click on the photo to see more of their outing in our photo gallery.