Here are the top things to do in Vermont in Winter
Skiing downhill and cross-country, riding, dog sledding, snowshoeing and more at West Hill House B&B. Winter is what the Mad River Valley is all about! Once the snow flies, the excitement starts. Check our Favorite Attractions for even more ideas. Plus there is always lots going on so have a look at Mad River Valley Events.
Mad River Valley Winter Skiing and Riding
Skiing And Riding At Sugarbush – home to the most diverse and celebrated terrain in the East, and it's no secret that many of the world's top skiers and riders began their careers here. It was Ranked #1 in Terrain Variety by SKI Magazine for 2010. The slopes are only a couple of minutes from our front door, and the ski shuttle will whisk you door-to-door if you prefer. Sugarbush also has the reputation of being the friendliest and among the least crowded of the top ski resorts in the north-east. The best way to get your ski tickets is online and as far ahead as possible as prices vary dynamically, total capacity is limited, and same day tickets are not available for the 20-21 season. For first time skiers Sugarbush has a marvelous program and a really good deal that combines lessons, rentals and lift tickets. Check their website or give us a call to learn more. 
For something really special let us book you on a first-tracks tour that leaves from the base of Lincoln Peak, and gets you to the best terrain before the lifts start spinning. Ride on the private Cat ski and ride tour in the Lincoln Limo to experience pristine, deep powder or untouched corduroy as you cruise down the mountain before anyone else. These guided tours leave from the base of the Gate House Quad, and get you access to the terrain off the North Lynx Triple. The tours are weather dependent and do require adequate snow cover. These tours are for any age but require intermediate – advanced skiing/riding ability, as there is no beginner terrain available in this location. Guided by some of Sugarbush's finest, the number of runs you get per tour depends on the speed of the group. Most tours average at least five runs.
Skiing At Mad River Glen – A ski area like no other. It is probably the only large co-operatively owned ski area in North America where the skiers own the resort. It's a place where skiing remains an outdoor adventure in a pristine, natural setting. It is also home of the historic – and now restored – single chair lift. Best to come weekdays if you can, however even on busy weekends it is a lot fun given how friendly everyone is, both on the slopes and in the General Stark pub and restaurant. Note that tickets sales are restricted for the 20/21 season – check the Mad River Glen website for details. And don't be intimidated: their slogan "Ski it if you can" means you need to get here to ski it, not that you need to be an expert! Even Susan has skied down from the top of the single! Please watch the video to get the inside scoop on skiing Mad River Glen. (But no snowboards please).
As food options will be limited at the ski areas this season we will be offering modestly priced sack lunches. Please order at least 3 days ahead.
Mad River Valley Winter Snowshoeing and Sledding
Our friends at Clearwater Sports are the experts when it comes to taking you out snowshoeing, sledding or back-country skiing. They have great organized expeditions – note that advance reservations ARE usually needed. They offer a true backwoods snowshoe experience on unmarked and off-trail areas, and on special dates you can snowshoe through the scenic Mad River Valley forest to a secluded log cabin nestled into the woods. A warm fire and delicious hors d'oeuvres followed by a hearty, down-home Vermont dinner is waiting for you. Clearwater sports can also introduce you to the infamous Mad River Rocketsled.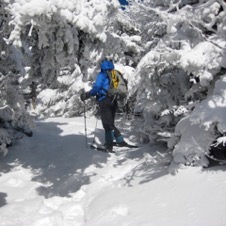 Born in Warren, Vermont, this totally controllable sled allows you to carve down the mountains. They will take you up the Green Mountains along the Lincoln Gap road, which is closed during the winter due to the many curves and steep terrain, on snowshoes, then rocketsled the whole length down. (Regrettably all Clearwater Sports group outings are cancelled for the 20/21 season.)

Or enhance your Vermont experience with a private, guided snowshoe tour on your own schedule. Enjoy the splendor and serenity of the quiet wooded hillsides and clear running streams. As you explore these hidden forest trails, you are encouraged to stop to admire the beauty of the surroundings. Your guide will help you identify the trees and tracks along the way and introduce you to the some of the history of the area. The tours are not strenuous though good winter boots and warm clothing are required. Being reasonably fit helps too! Tours are one hour or longer and at a time that fits your relaxation schedule. Contact us for further details, or add to your stay when you book.

And for the less adventurous you can of course snowshoe and Rocketsled right from West Hill House B&B on the adjacent golf course – we can lend you the equipment.
Mad River Valley Winter Dog Sledding
Sled Dog Adventures offers a truly magical experience. October Siberians Sled Dog Adventures – one of Vermont's best kept secrets – offer tours in the historical Little River State Park in Waterbury Vermont, which is conveniently located just about 30 minutes from West Hill House.
Their Siberian Huskies are friendly, energetic, hard-working dogs that could transport you back to a time long ago when man and dog depended on each other for more than companionship.
This is not just a ride in the sled but an opportunity to be part of the team and have hands-on experience running a dog team. We can book the adventure for you and you can share the beauty, peace, and history of the Green Mountains through the sport of Mushing.
It is important to let us know ahead of time so that we can book it for you as there is only limited availability and outings are weather-dependent.
Mad River Valley Winter Nordic Skiing
West Hill House B&B is also conveniently located for Nordic skiers. Awaiting cross country country skiers are Ole's, and Blueberry Lake. Both are nearby in Warren and feature 30 or more km of groomed trails each, both for classic and skate skiing.
For backcountry skiers, the Catamount Trail offers some great challenges as well as some relatively straightforward skiing, in some beautiful and peaceful settings. The trail passes right behind West Hill House. And for a more casual outing go right outside our door and ski on the adjacent golf course.
If you go out early after the new snowfalls you make your own trails. If you wait a while, someone else will have broken the trail for you!
After your activities we have several excellent suggestions for you to relax for the rest of the day:
Put your feet up in one of our comfortable chairs, either on the patio or inside, and enjoy a glass of wine before dinner.
Let us arrange a massage for you to relieve any aches and pains!
And of course make plans for dinner at one of our excellent local restaurants – we'll be happy to arrange the reservations for you.
Blog Posts about things to do in Vermont In The Winter