Meet your hosts, Vermont Innkeepers Susan & Peter MacLaren
Running a B&B is hard work, but the rewards—meeting fascinating people and living in our favorite place in the world year round—make it all worthwhile.
Since we bought West Hill House B&B in April of 2006, we have, as Vermont innkeepers, watched the seasons come and go from the vantage point of the Mad River Valley and have continued to appreciate the opportunity to live and work in such a beautiful place.
Between the two of us, we have lived and traveled in Scotland, England, Canada, France, and all over the US, before finally making West Hill House B&B our home to become full-time Vermont innkeepers. Feel free to call or email us for more information as both of us are certified Vermont Ambassadors. A warm welcome awaits each and every one of you from us and our friendly cats.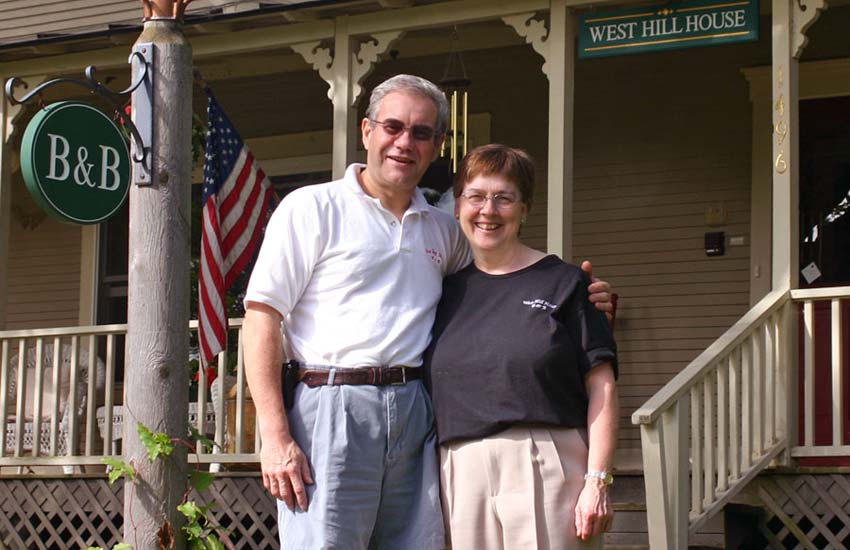 Peter retired from a 35-year career in the telecommunications industry, which took him to many countries worldwide, before taking on the role of Head of the Engineering-Maintenance-Advertising-Finance-Snow Removal Department at our B&B. He still finds time to read, ski, and as a long-time Mac and iPhone user he loves providing advice to guests when they have questions about their devices.
Don't get him started on EVs, his current passion! He also speaks some French and loves to practice when we have French-speaking guests. Peter was honored as the 2019 Vermont Chamber Borden E. Avery Innkeeper of the Year and as the inaugural recipient in 2020 of the Mad River Valley Chamber Win Smith Be Better Award for his community service.
Susan has been married to Peter for over 35 years. Intriguingly, about 30 years ago she was a historical interpreter working in costume and in character at an 1880's vintage "stopping house" (the progenitor to a B&B) in a historic park in Edmonton Alberta.
It must have been good training as she now enthusiastically pursues her activities as Head of the 'Purchasing-Decorating-Food-Wedding-Coordinating Department' at our B&B, although the role of 'Head of Housekeeping' challenges that enthusiasm at times. She makes amazing breakfasts!
Our indoor cats Snowball & Tigger look forward to welcoming you. Sadly Snowball's brother Smoky (bottom far right photo) died in May 2020. Note that our cats are never in the guest rooms. They ask that you leave your pets at home, or check with us for local boarding options. Let us know if you have allergies.
Blog Posts about our Vermont Bed and Breakfast in Warren VT