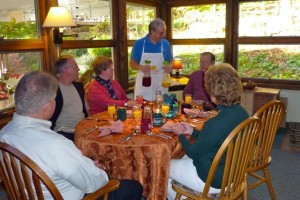 From guests Jessica & David:
We spent a long Columbus Day weekend enjoying the fall colors and exploring the area. The West Hill House met every expectation of what we wanted in a New England B&B. Susan and Peter went out of their way to make sure we enjoyed our stay. The WHH B&B was very clean, very cozy and Susan's breakfasts were delicious.
The number of guests seemed just right (it was full up at 16 guests) and we enjoyed making new friends. The woodstoves in the common areas and the gas stoves in the bedrooms added to the ambiance, along with the decorative lighting throughout.
We travelled with another couple and the four of us are planning to return in the winter for a ski weekend.The West Hill House is about a 5-minute drive from Sugarbush. (Editor – actually about 2 minutes.)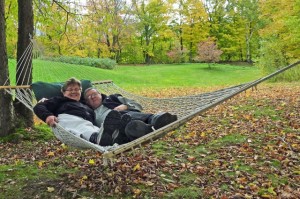 We were surprised at the number of good restaurants in the area, and we enjoyed the farmer's market, Sugarbush quad chairlift up Lincoln Peak, the Sugarbush zipline, and a glider ride at Sugarbush Soaring.
Editor:  As you can see from their photos, our guests enjoyed great breakfasts and some nice relaxation in the hammock.