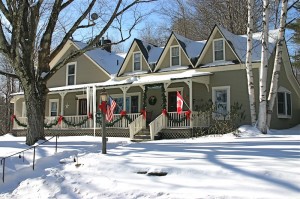 Imagine a Christmas Card snow scene, a house surrounded by snow on a quiet country lane, a quintessential red barn, snowshoes, sleigh rides, shushing down the slopes or gliding on trails through the trees on your skis… Then comfortable beds, Jacuzzi tubs, steam showers, amazing breakfasts, and of course a cat or two curled up in front of a blazing fireplace…
Your imagination can become reality when you book this year's ski holiday at West Hill House!
To make things even simpler this year, while we will be happy to put together a custom package for you for two or more nights, we have two inclusive deals you can choose from:
3 nights of B&B over the weekend and 3 days of skiing at Sugarbush
4 weeknights of B&B and 4 weekdays of skiing at Sugarbush
All you have to do is choose your room and the same all inclusive price (including taxes) applies:
Queen Room Package – $899
King Room package – $999
Suite package – $1099
You can add dinner for two at The Common Man on any of Tuesday through Saturday evenings for just $99 including tax and gratuity (drinks are extra).
So time to stop imagining, and start planning.  We are looking forward to seeing you at West Hill House.  Smoky and Snowball are standing by!
Note that these package prices are not available over Christmas/New Years, MLK weekend and Presidents Week, although of course we will be pleased to have you stay at those time as well!