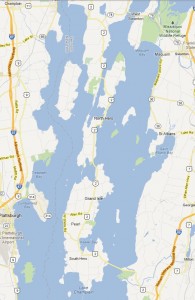 For our guests from the north and west, a delightful daytime route in the summer to West Hill House from northern New York State is Route 2 down the island chain in Lake Champlain.The road runs from just the south and east of Alburg to I89 intersection 17 just north of Burlingon, and is the alternative to following Route 78 from the same point over to Swanton and I89 intersection 21 (which is the faster route).
In addition to driving through picturesque small communities and having marvelous views of the lake, you will go over an arm of Lake Champlain on the North Hero – Grand Isle Draw Bridge. This structure was built in the 1950's and consists of a double leaf bascule* girder draw bridge with a total draw span of 130 feet.
We were driving on the route this week and were fortunate to arrive to find the bridge open to allow the passage of a small yacht. When you are taking the road less travelled this kind of interruption is not a delay but an added attraction! We enjoyed the wait by taking some photographs.
The bridge operator told us that the draw bridge is opened for lake traffic every half hour on the hour and half hour from 8AM to 8PM if a boat is waiting.
*A bascule bridge is a moveable bridge with a counterweight that continuously balances the span.