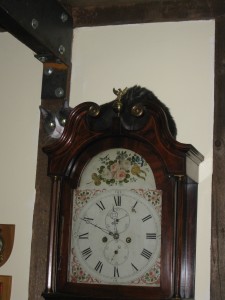 On the go from one place to another at the B&B, I always take a quick look around to see that everything is as it should be.  But today I seem to have an supervisor relaxing in an unusual spot!
"Excuse me, but what exactly do you think you are doing up there?"
A quiet "meow" was the reply.
Not wanting to startle Smoky into moving too quickly and perhaps upsetting our heirloom grandfather clock I left him there and, after a few minutes, he delicately hopped down – as only a cat can do.