Stirring it up: Pancakes…just the name conjures up the sights and smells of a marvelous breakfast. These Ricotta Pancakes are easy to make and will provide you with great taste, fluffy pancakes and enough energy to tackle a day on the slopes.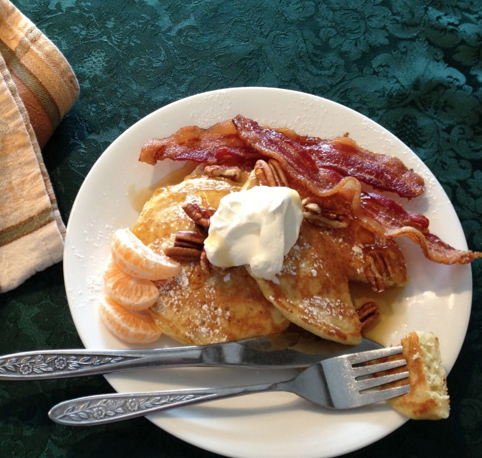 Ingredients:
1 1/2 c. all-purpose flour
1 t. baking powder
1/4 t. baking soda
1/4 t. salt
1 1/2 T.  sugar
1-2 t. finely grated orange zest
4 T. melted butter
1/2 c. ricotta cheese
1 lg egg
1/2 c. orange juice
1/3 c. milk (or almond milk or silk)
1/2 t. vanilla extract
In a large bowl, combine the flour with the baking powder, soda, salt,  orange zest,  and sugar. In another bowl, whisk together the butter, ricotta cheese, egg, orange juice, milk, and vanilla. Combine the wet into dry ingredients until just blended,  the batter will be thick and you may add a bit more milk if you wish but you still want it to be fairly thick.  Onto a lightly greased, medium-hot skillet pour about 1/4 c. of batter for each pancake. Flip when bubbles appear on the top of the pancake. Serve with all the fixings and don't forget the maple syrup.
Dishing it out: In our house they were flapjacks. My dad was a great flapjack maker and we loved the mornings when we would smell them cooking. Dad would tell the story of Paul Bunyon and flapjacks: Paul Bunyon was a giant of a lumberjack. Paul's lunber jack friends (who were also very large) loved flapjacks too so Ole the Blacksmith, made a griddle so large you couldn't see across it when the smoke was thick. Sourdough Sam had fifty men with pork rinds tied to their feet skating around the griddle to grease it. The batter was mixed in large barrels and it took a strong cook just to turn the flapjacks, let alone get them to the table. Check here for more Paul Bunyon stories. We would always ask Dad if he would  make Paul Bunyon sized flapjacks for us. He never made them  quite that large but they were delicious and we gobbled them up just the same. I think Paul Bunyon would have liked Dad's flapjacks!
Whether you call them pancakes, hotcakes, flannel cakes, drop scones (Scottish),  oatcakes (English), griddle cakes, or flapjacks this is one breakfast that will surely hit the spot.