The organizers call it "The World's Most Beautiful Marathon" and you aren't going to hear us disagree! Our bed and breakfast is in the Mad River Valley because this place is truly a year-round natural wonderland. We think the marathon is a wonderful and sustainable way for folks to see this corner of the nation we love so much, hence we are a sponsor again this year.
If you are a runner, no matter your skill level, we encourage you to come to central Vermont for the Third Annual Mad Marathon, taking place on July 7.
You will be running through our extraordinary community on back roads, some of which will be gravel. There will be breathtaking views of the Green Mountains, challenging rolling farmlands with tough climbs and descents.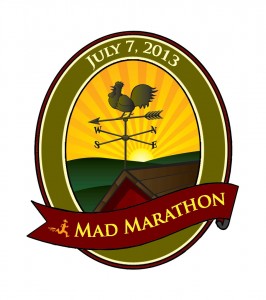 Cruise through quaint villages, under covered bridges, past old barns and fields of famous Vermont cows!
The marathon course is certified and sanctioned by the US Track & Field.  The certification number is VT11012RF and is a Boston Marathon qualifier. Walkers are more than welcome for the Mad Half and there is also a category for Mad Half Walkers.
Marathon Course Description
The race starts at the Mad River Green in central Waitsfield Village, heading north on Rte. 100. You will pass under a covered bridge almost immediately and your first hill at around mile one. Once you finish your climb up Joslin Hill Road, you will head gently downhill for about 2.5 miles. Once you hit the third aid station, you will be on dirt roads through farmlands until about mile six.
You get to our neck of the woods, Warren, at just over 12 miles into the route. You will spend about 3 miles running on East Warren through rolling countryside.  When you reach Roxbury Mountain Road, you take a four mile loop amongst back country lanes before returning to East Warren Road around mile 19 and heading back to the Finish line. See the full route and map on the Mad Marathon website.
Lodging for the Mad Marathon
Our bed and breakfast is seven miles from the starting point of the race. We are delighted to be full for the weekend with Marathon runners— and we wish them all good luck!