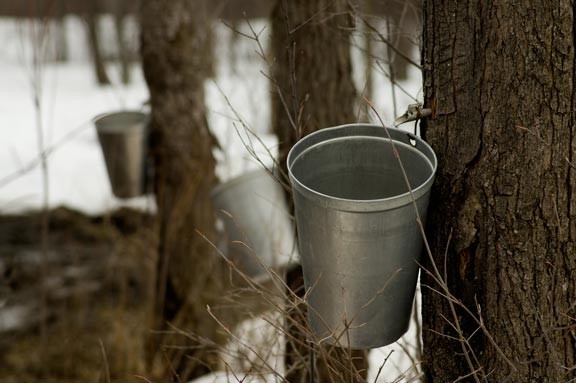 It is probably a little hard to believe, what with so much snow on the ground and all but Spring is fast approaching and that means one thing: Sugaring Time!
If you're scratching your head at that, it's clear you are not from Vermont because, up here, *everyone* knows about sugaring time. It's a major event! Maple, as they say, is in the blood of Vermonters.
Oh, and now I've gone and let the cat out of the bag with that word: "maple."
When we say "sugaring time" we are talking about the time in early spring when the sap begins to run from the taps in the maple trees. It runs out into the buckets hung from the taps and, from there, it is collected and carefully cooked down into that delicious condiment you know as maple syrup – and not just any maple syrup but real maple syrup: Pure Vermont Maple Syrup.
"Sugarmakers" is what you call a Vermonter who collects and processes maple sap, and sugar houses are where they do it. Mid-February through mid-April is when you'll begin to see the telltale puffs of steam billowing from the sugarmaker's sugar houses and then you'll know: sugaring time!
The smell, as you can imagine, is utterly delicious.
Sugarbush Resort (appropriately enough) is holding the Sugaring Time Festival again this year, an all day event for the whole family. Come out and join in the Maple Syrup Scavenger Hunt for the maple syrup nips hidden hither and yon: 5 at Mt. Ellen and 5 at Lincoln Peak. Bring the ones you find to guest services at either location and you'll be entered into the prize drawing: every finder's a winner.
There will be pure Vermont maple inspired cuisine at the Sugaring Time Festival as well as entertainment in the form of Dux the Balloon Man and live après music. A Vermont mini-farmers market will also be set up with local crafts, produce and other offerings such as a free Maple Culinary Demonstration and Cocktail Tasting with local chef, Gerry Nooney. And, of course, if the snow is still on the ground, Sugarbush Resort is good for a few other things, too …
Sugaring Time Festival
March 15th, 2014 – All Day at Sugarbush Resort
For more details, please visit: www.sugarbush.com