Many folks come to the Mad River Valley just to soak up the scenery and who can blame them? One great way to do just that is to take yourself on a self-driving Vermont waterfall tour!
West Hill House B&B, located is near a number of picturesque and famous waterfalls and "gaps" – also known as "notches," "gulfs," "cols," or, more mundanely, "passes" – all of which can be seen on a relaxing, Vermont waterfall loop tour around the Green Mountains and Mad River Valley region.
Along with all the scenic gaps and falls, you'll also be discovering some of the most picturesque and quintessential Vermont towns, so let's get going!
Vermont Waterfall Tour
Warren Falls
We'll begin the Vermont waterfall tour from our Vermont B&B here in Warren, VT, by taking West Hill Road to Route 100 and turning right.
Follow this for around two and a half miles (3.5km) until you come to a parking area on the right. A path will you to the beautiful series of cascading pools of Warren Falls with its popular swimming hole. Great for the warm, dry days, Warren Falls can be less worth a stop if it's mucky or icy.
Granville Notch and Moss Glen Falls
Continue along Route 100 for another five miles (8 km), on through the Granville Gulf watershed.
A little over a mile (1.6kms) after passing through Granville Notch, on your right, you'll see the parking area and then one of the most beautiful waterfalls in Vermont: Moss Glen Falls. Be sure to get out and walk along the boardwalk to get a closer look but, for your own safety, please stay on the boardwalk – the falls are far too treacherous for rock climbing or swimming.
Texas Falls
Continue south along Route 100 for another seven miles (11 km), passing through Granville and on to Hancock.
Turn right onto Route 125, following it for three miles (5 km), turning right onto Texas Falls Road and Green Mountain National Forest. The bridge and paths around the falls are very scenic but can be slippery in the wetter, colder months. The Texas Falls stop is great for a picnic lunch, with picnic tables just up the road from the falls.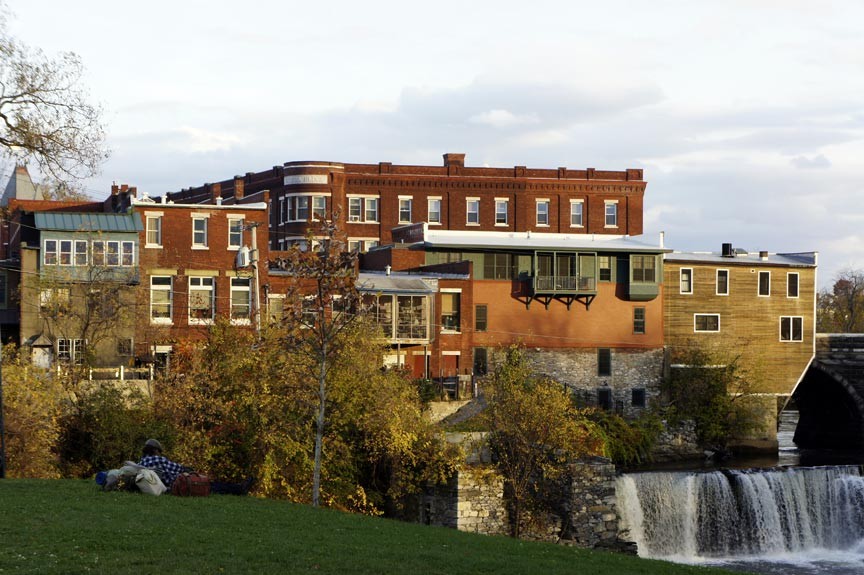 Middlebury Waterfall
Continue along Route 125 for another thirteen miles (21 km), turning right onto Route 125N and 7N until you reach Middlebury.
Middlebury Waterfall is there in the center of town, where Otter Creek takes a sheer drop just below the Route 125 bridge, downtown Middlebury. A footbridge just below the falls offers a great view.
Of Interest – Middlebury is one of the prettiest towns in Vermont and definitely worth your time to stop and investigate. Home to Middlebury College, Middlebury offers plenty of wonderful shops and restaurants, as well as hiking, biking, skiing, and numerous musical performances and arts events throughout the year.
Lincoln Gap (open May – October)
Continue North out of Middlebury on Route 125N and 7N for around 3 miles (5 km) then take a right onto River Road. River Road merges onto Route 116 after 5 miles (8km).
Of Interest – Lincoln Peak Winery is right here, if you have the time, do stop in for a tasting. We sell their wine glasses at West Hill House B&B – if you have them with you when you stop in, you'll get a free tasting!
Keep left, heading north for two more miles (3km), then take a right onto Route 17/Route 116 towards Bristol.
Of Interest – Bristol is a beautiful, little Vermont town worth discovering. Stop in, nose around town some, and treat yourself to some rejuvenating, fresh coffee and treats at the Bristol Bakery. Mmmmm!
Just north of Bristol is Lincoln Gap Road, the scenic and most direct route back to West Hill House B&B.
Appalachian Gap
If you want to see the Appalachian Gap (or if the Lincoln Gap is closed) continue along Route 17/Route 116 for another mile or so. Route 17 takes a turn to the right and you'll find yourself on the steep, winding roads of the Appalachian Gap.
Back to the B&B
Drive down 3 miles (5km) past Mad River Glen Ski area, then start keeping an eye out for German Flat Roads on your right. German Flats Road will take you past the Mt Ellen Ski area, all the way down to the Sugarbush Access Road "T" intersection.
Turn right at the intersection, in the direction of the Lincoln Peak area of Sugarbush – watch for Sugarbush traffic!
Take a left on Inferno Road, following it for one mile (1.6km) to West Hill Road. Take a right and you're Home again, home again, jiggity jig at West Hill House B&B!