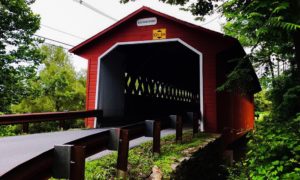 Covered bridges, there's just something about a covered bridge. Is it the charm, a reminder of an earlier way of life, the architecture? Perhaps all of these and surely more. Whether long, short, painted, unpainted one span or two, windows or solid walls, there is something almost romantic about these structures.
These amazing bridges are an integral part of Vermont life. They add a quaintness and beauty to the landscape. While Vermont does not have the greatest number of covered bridges, there are just over 100 authentic covered bridges, however this gives Vermont the highest number of covered bridges per square mile in the USA.
Here is the story of one Vermont Covered Bridge.
Waterways have always been important in the life of Vermonters.  Historically they provided a means of food, travel, and transport for logs heading downstream to mills. Later, waterways provided a source of power for early manufacturing. Today waterways provide recreation for residents and visitors alike.
Bridges to traverse Vermont's wonderful waterways were developed to enhance the transport of people and goods. Early bridges were simple in structure, usually two parallel logs covered by rough timbers. While addressing the need, winter storms made them slippery and heavy rains raised the waters to flood level, often washing them away. Today these bridges are always a great attraction.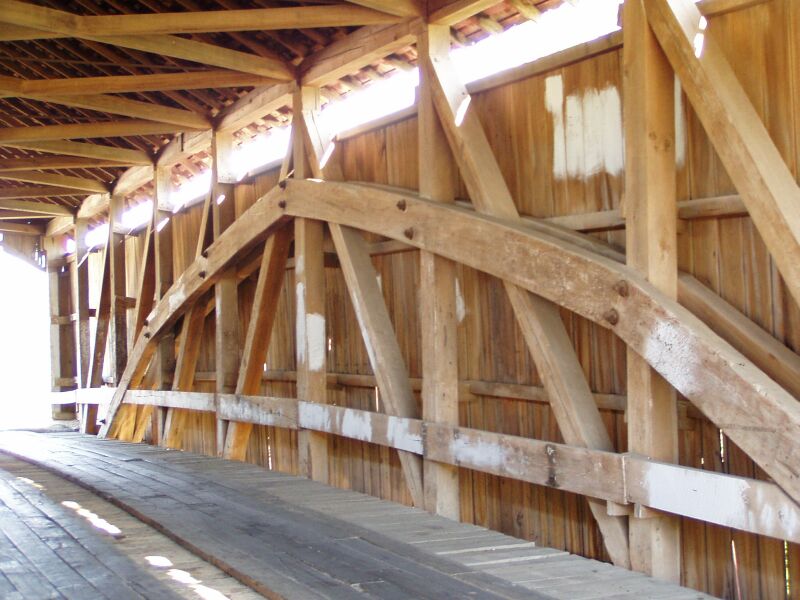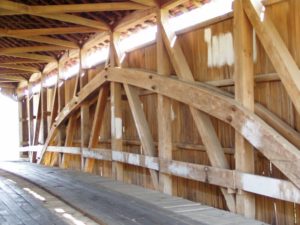 A covered bridge is considered authentic not due to its age, but by its construction.
An authentic covered bridge is constructed using trusses rather than another assembly of beams such as stringers which are a popular choice for non-authentic covered bridges.  Queenpost, Kingpost, Burr Arch and Lattice, to name but a few, are types of covered bridge trusses. It is not unusual for devotees of covered bridge construction to be able to identify the bridge builder by the style of truss.
The Lincoln Gap Bridge, usually referred to by locals as the Warren Covered Bridge, is in the center of Historic Warren Village just south of the Pitcher Inn and the Warren Store and just 2 miles from West Hill House B&B. The 65-foot-long bridge is drivable, walkable, photogenic, and with the proper permission, can be used as a wedding ceremony venue! Built in 1879, the date noted on the bridge, it was opened in 1880, nearly 100 years after the Town of Warren was chartered.
To learn more about Vermont's covered bridges, Spanning Time: Vermont's Covered Bridges by Joseph C. Nelson is an excellent resource. In his description of the Lincoln Gap Bridge we learn it is an example of one of only two Queenpost Truss bridges in Vermont, with both the interior and exterior trusses being enclosed. You can see this in the photo.
Wooden bridges need ongoing maintenance and repairs must be attended to in order that they remain not only safe but a legacy to the builders and the history they represent. Our bridge has had numerous repairs over the years to both the wooden structure and the abutments, in some cases at the cost of hundreds of thousands of dollars. Note the new supports in the Lincoln Gap Bridge.
Lincoln Gap Bridge had the honor of being listed on the National Register of Historic Places in 1974.
As you travel through covered bridge country, please be kind to the bridgesTake note of the posted bridge restrictions. Many are limited to one car at a time and all bridges have height restrictions! Every year, despite these posted height restrictions, some goofball tries to drive a delivery truck or RV through the bridge resulting in damage to the bridge – sometimes significant damage.
So why are bridges covered? The primary reason was to keep the horses and other animals from seeing the river below and being spooked. The sides and roof also provided protection to the structure and roadway from harsh weather thus making crossing safer and the bridge surface last longer. It also makes an excellent place to walk or drive through with your sweetie and sneak a kiss!
You may enjoy our self-guided Covered Bridge and Culinary Tour while you are staying with us. You will get to see eight of our nearby historic bridges.
---