August 23, 2013 by Corey A. Edwards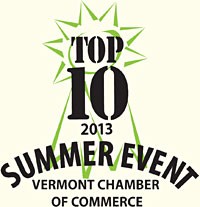 It's August and, in Warren, Vermont, that can only mean one thing: The Vermont Festival of the Arts is in full swing!
Every August since 1997, the towns of the Mad River Valley host one of the most diverse arts festivals in New England. Regularly honored as a "Top 10 Vermont Summer Event" and featuring over a hundred multi-dimensional, multi-media, multi-age events, The Vermont Festival of the Arts has something for everyone, young or old.
Activities include: sculpture, pottery, fiber, painting, photography, culinary, literary, music, dance, theatre arts, and more. Local artists open their studios to the public, allowing the opportunity to see and understand their process.
Read the rest of this page »