West Hill House is a member of Select Registry, Distinguished Inns of North America, the premier innkeeping association in the United States and Canada. We are one of about 400 other exceptional properties who all meet the high standards set, and verified by anonymous inspection, by this leading association of quality inns.
Read what other guests have said about us in reviews posted onBedandBreakfast.com and TripAdvisor.com.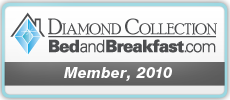 West Hill House is one of the only four current members in all of Vermont of the BedandBreakfast.com Diamond Collection, an exclusive group of professionally inspected and guest-reviewed luxury inns. Each Diamond Collection property participates in a comprehensive annual inspection program, maintains top consumer reviews on BedandBreakfast.com, and offers the amenities and services required for a top-quality guest experience. We were also once again voted one of the top B&Bs in New England for 2010-11 by BedandBreakfast.com for the 3rd year out of 4.
West Hill House is usually rated #1 or #2 in Warren byTripAdvisor.com with the highest percentage of 5 star reviews in the Mad River Valley!
West Hill House is focussed on protecting the beautiful Vermont environment, and it was designated in November 2008 as Green Hotel by the Vermont Environmental & Regulatory Assistance Program. Peter & Susan were presentedwith a plaque recognizing this status by Governor Jim Douglas in April 2009.
For travellers planning a more extensive trip, we can personally recommend the following B&Bs in other areas:
If you are visting Stratford, Ontario – perhaps for the annual theater season – we recommend The Duggan Place run by Laura and Tony. We had a very enjoyable time in their renovated Victorian home.
Visitors to the Lake Winnipesaukee region of NH will enjoy a stay with Pat and  Mike at the Lighthouse Inn B&B  on the north west shore near Meredith and Weirs Beach. We had a delightful stay there in 2005.
A Place In Time B&B owners Jon and Mary Kaye offer friendly hospitality in a Historical Landmark B&B in the heart of Texas Hill Country. It offers convenient access to numerous activities including antiquing, wine tours and much more. Susan enjoyed Texas hospitality while enjoying a girlfriends' weekend there.
Lookout Point Lakeside Inn is located in Hot Springs, Arkansas overlooking a tranquil bay of beautiful Lake Hamilton. We were guests there following a busy conference and greatly appreciated the quiet beauty of the gardens. Hosts Kristie and Ray offer warm hospitality and excellent breakfasts.
Riverbend Inn is one of New Hampshire's most romantic Bed and Breakfasts. It is located in Chocorua, about 17 miles south of North Conway. It combines the hospitality and charm of a country inn with a gorgeous location among the trees on the banks of a river. We really enjoyed staying with Jerry and Craig and we are sure you will too.
If you plan to be the Boston or Cambridge MA area the Wellesley Bed & Breakfaston the outskirts is in the delightful town of the same name, with a train connection to town. The B&B promotes earth and cultural conscientiousness, is an allergen-free home and they are very accommodating of your dietary, life-style and medical needs.
And for the many of our guests who have asked us for more information about Scotland, here is a good place to start. Also we recently came across this beautiful slideshow of Scottish Castles. The slide show is accompanied by two songs by Scottish singer Moira Kerr.