West Hill House is a member of Select Registry, Distinguished Inns of North America, the premier innkeeping association in the United States and Canada. We are one of about 400 other exceptional properties who all meet the high standards set, and verified by anonymous inspection, by this leading association of quality inns.
Read what other guests have said about us in reviews posted onBedandBreakfast.com and TripAdvisor.com.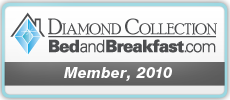 West Hill House is one of the only four current members in all of Vermont of the BedandBreakfast.com Diamond Collection, an exclusive group of professionally inspected and guest-reviewed luxury inns. Each Diamond Collection property participates in a comprehensive annual inspection program, maintains top consumer reviews on BedandBreakfast.com, and offers the amenities and services required for a top-quality guest experience. We were also once again voted one of the top B&Bs in New England for 2010-11 by BedandBreakfast.com for the 3rd year out of 4.
West Hill House is usually rated #1 or #2 in Warren byTripAdvisor.com with the highest percentage of 5 star reviews in the Mad River Valley!
West Hill House is focussed on protecting the beautiful Vermont environment, and it was designated in November 2008 as Green Hotel by the Vermont Environmental & Regulatory Assistance Program. Peter & Susan were presentedwith a plaque recognizing this status by Governor Jim Douglas in April 2009.
For travellers planning a more extensive trip, we can personally recommend the following B&Bs in other areas: