FOR IMMEDIATE RELEASE – 3rd October 2008
Contact: Peter MacLaren, 802-496-7162
WEST HILL HOUSE B&B CHOSEN FOR 2nd CONSECUTIVE YEAR AS ONE OF THE BEST OF NEW ENGLAND IN THE BEST OF BEDANDBREAKFAST.COM AWARDS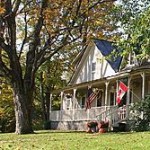 Warren, Vermont — The West Hill House B&B of Warren, Vermont was selected as one of the Best of New England in the annual Best of BedandBreakfast.com Awards, 2008-2009. The Best of BedandBreakfast.com Awards are based upon a qualitative and quantitative review of the nearly 50,000 independent reviews submitted to BedandBreakfast.com, the leading online B&B directory and reservation network worldwide. This is the 2nd consecutive year that West Hill House was selected in this category, and it was the only B&B in Vermont to receive this award each year.
"We know how important independent reviews are. We're delighted that inngoers concurred that West Hill House is a favorite among those seeking the B&B experience," explained BedandBreakfast.com's Sandy Soule, one of the most highly recognized authors and a spokeswoman for the B&B industry. "It's clear that the West Hill House earned high marks from inngoers for their fine accommodations, breakfasts, amenities, and wonderful hospitality and service," commented Soule.
"We are pleased that we were chosen for a Best of BedandBreakfast.com Award for the 2nd consecutive year and are proud that our guests posted reviews that resulted in this award," stated Susan and Peter MacLaren. "It is gratifying that our attention to the details that make a difference to guests were recognized by inngoers who took the time to write reviews of West Hill House," commented the MacLarens. "Here's an excerpt from one of our reviews: West Hill House brings the best of British and Canadian hospitality to one of the most charming US states."
West Hill House is a great choice as a quiet, comfortable central location for a multi-day visit to all the scenery, attractions and activities of central Vermont.  It is located just one mile from Sugarbush skiing and golf and seven miles from Mad River Glen. The B&B is in the midst of the Vermont countryside, yet just minutes from the shops, artisans and marvelous restaurants in the Mad River Valley, Vermont.
Contact:
Peter MacLaren
802-496-7162
innkeepers@westhillbb.com
https://westhillbb.com
Photos available on request
More information on West Hill House and on the Best of BedandBreakfast.com Award winners …