Bring on the leaves!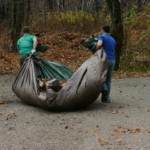 What better way to celebrate autumn than to frolic in fall foliage! With huge maple trees surrounding the B&B we get our fair share of leaves on the ground. Many thanks to the couples who took us up on our "Leak Raving" special and joined us in getting our lawns and gardens ready for winter. All our autumn leaves were raked and deposited in the compost and none too soon!
Yesterday morning we awoke to just enough snow on the ground to remind us that the wonderful winter days are just around the corner. It's not to early to start thinking about reserving a room with us for your winter vacation. Relaxation starts at West Hill House in the Mad River Valley in the Green Mountains of Vermont.