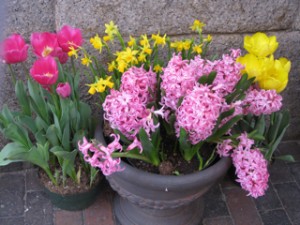 Last week we were in Boston. Having only one full day to discover the wonders of this great city was, of course, not nearly long enough however we set off early to do as much exploring as we could in the time available.  We passed shops and homes decked with window boxes of bright flowers and tubs of spring blossoms keeping watch at doorways.
We had a lovely walk in Boston Common which we learned is one of the oldest city parks in the United States, dating from 1634. The ponds and fountains were being cleaned up ready for fresh water and the park was looking resplendent in its garb of spring colors.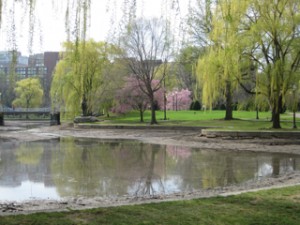 Only early April but the temperature reached nearly 90° and after this winter, the people in Boston were more than ready be in the park enjoying the sun! Despite the high temperature we had fun exploring the city, walking the Freedom Trail and learning some American history as we went along. A cool drink and a lovely French pastry at a sidewalk café concluded our day of adventuring.
While we look forward to another visit to Boston, we are happy to be back at  our quiet mountainside B&B welcoming guests and enjoying our own garden's signs of spring… our first daffodils popped into full bloom yesterday! West Hill House B&B, a perfect place to come and relax.