Stirring it up! A Chocolaty Afternoon Snack. Sometimes our cookie jar is in reality a cookie plate – especially when I've baked a Chocolate Chip Oatmeal Sheet Cake. I found this recipe on The Old Farmer's Almanac web site.  From the original recipe I have cut down the sugars and chocolate chips a bit with no complaints from chocoholics! Great for an afternoon snack or a dinner dessert with a scoop of ice cream – Ben & Jerry's of course!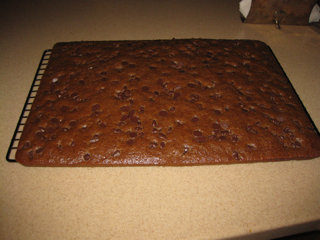 Chocolate Chip Oatmeal Sheet Cake
350'F              20-25 minutes baking time              Makes about 35 servings
1 3/4c. boiling water
1 c. rolled oats (not instant)
1/2 c.  (1 stick) butter or margarine
3/4 c. light brown sugar, packed
3/4 c. white sugar
2 large eggs
1 3/4 c. sifted all-purpose white flour
1 t.  baking soda
1/2 t. salt
1 T. unsweetened cocoa powder
3/4 c.  semi-sweet chocolate chips
3/4 c. chopped nuts (optional)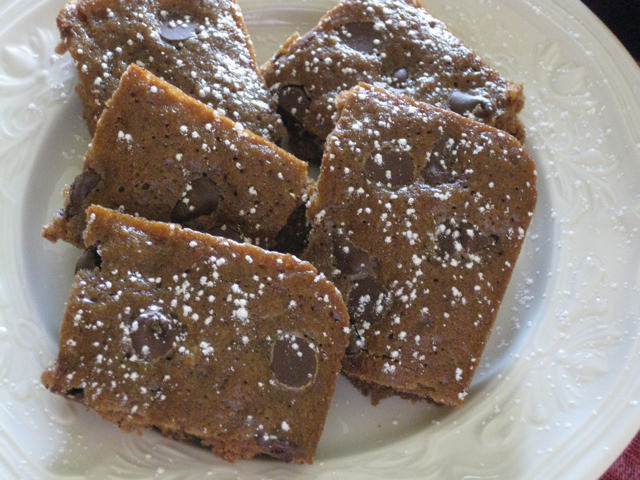 Preheat the oven to 350'F.
Lightly grease a 15″ x 10″ baking pan. I line my pan with parchment paper so it is easy to transfer to the cooling rack.
Pour boiling water over the oats and let stand for 10 minutes. Be careful as the hot water may bubble up when it hits the oats.
Add the butter/marg and stir until melted.
Add the Sugars and stir until dissolved.
Add the eggs and mix well.
Sift together the flour, soda, salt and cocoa.
Add to the oat mixture and mix well.
Pour into the baking pan.
Sprinkle chips and nuts on top.
Bake for 20 – 25 minutes.
Cool completely before serving.
My preference is to cut the cake into squares about 2″ x2″ dust them with powdered sugar and serve them like brownies. Cut into larger pieces with a scoop of Ben and Jerry's ice cream on top makes a wonderful dessert!
Dishing it out! I have on my bedside table, a stack of books all of which I am reading depending upon the mood I am in…  historical fiction, biography, Vermont history, classics and of course a couple of cookbooks. Many of the cookbooks I have are gifts from friends. Just now I am perusing "Fare for Friends" a delightful gift from a friend of more than 30 years. The book is filled with recipes which are simple to make and with ingredients which are likely to be on your panty shelf. While chances are I'll never make all the recipes in this or any other of my cookbooks, I love to read recipes, get inspiration, think about the combination of tastes and what I would serve along with it. Above all, it's nice to remember the friends who have given me these books and their contribution to my life;  a good serving of care, a heaping helping of laughter, and a cup full of love. What better gifts to give a friend.