The Vermont Festival of the Arts is a month long celebration of the arts, including demonstrations and workshops in fields such as painting, cooking (& eating!), photography, poetry, meditation, gardening and many  more.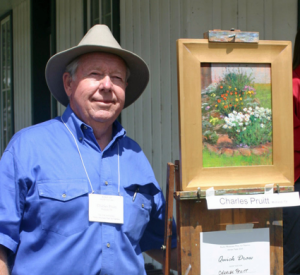 Here at West Hill House we are delighted to be hosting artist Charles N. Pruitt, a West Texas native, born in 1941 near the small farming and ranching community of Colorado City, Texas. An award winning artist, Charles enjoys painting primarily landscapes of the Southwest however from  August 24-26, 2010 he will once again be turning his brush and oil paints to the wonderful Vermont scenery in the Green Mountains.
As our Artist-in-Residence Charles will be conducting plein air workshops and demonstrations as well as providing individual guidance to both novice and experienced oil painters. The location will be the beautiful gardens of West Hill House.
We are fortunate to have several of his paintings currently on loan and gracing the walls of the B&B giving guests a glimpse of  the special treat we have in store this August. Even if you are not staying with us you are welcome to come and view his paintings – please call to confirm a time.
Workshop Dates: August 24, 25 & 26, 2010
Prices:
$60 per day (including lunch)
$150 for all 3 days (including lunch)Special: $50 for all 3 days with a 3-night stay
Please call to book: 802-496-7162.          Spaces are limited.
Participants should bring your own easel, canvas, paints, brushes etc. and a stool.