Stirring it up! This recipe for Vanishing Oatmeal Cookies is a guest favorite here at West Hill House B&B and should be familiar to those of you who get your oatmeal from those lovely tubular containers of Quaker Oats. I like the recipe because it requires no fancy ingredients, is quick to make,  numerous items can be substituted for the raisins and the cookies taste great!
Vanishing Oatmeal Cookies
350'F      10-12 minutes baking time      Makes about 4 dozen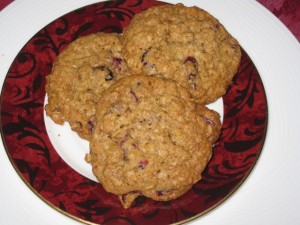 1 c. butter, softened
1 c. firmly packed brown sugar
1/2 c. white sugar
2 eggs
1 t. vanilla
1 1/2 c. all-purpose flour
1 t. baking soda
1 t. cinnamon
1/2 t salt (optional)
3 c. Quaker Oats (quick or old fashioned, uncooked)
1 c. raisins
Beat the butter and sugars until creamy.
Add eggs and vanilla and beat well.
Add combined flour, baking soda, cinnamon and salt and mix well.
Stir in oats and raisins and mix well.
Drop by rounded tablespoons onto ungreased cookie sheet.
Bake 10-12 minutes or until golden brown.
Cool for about 1 minute then remove to cooling rack.
Can be frozen -if you can get them into the freezer before they are all eaten!
To make bar cookies: Put dough into a 9×13 inch metal baking pan and bake for 30-35 minutes.
Dishing it out! It's hard to say exactly when my interest in cooking began – likely as a baby when I started to eat solid food!!  Really though, the first time I  remember buying something which was food prep related was one summer when we were camping – I must have been about 8 years old.  I wanted to be able to cut my own apples and sandwiches so with my parents' permission I purchased a very small pocket knife with one blade and a picture of the Grand Canyon on the case.  While the knife served me well and my mom let me help with meal prep,  a younger sister decided to give the knife a try and ended up cutting her finger. The knife went into the care of my dad for the remainder of the trip. Hummm, I think I still have that knife packed away somewhere…