Wedding planning means attending to a myriad details: choosing invitations, the perfect dress, bridesmaids dresses, rings, honeymoon location, guest list, venue, caterer, menu … the list is long and may seem overwhelming. TV programs feature big budget destination weddings with all the trimmings- beautiful beaches, glitzy hotel ball rooms, lavish country clubs.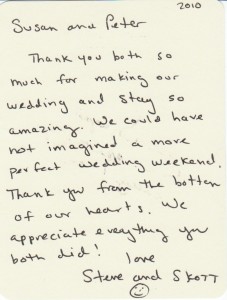 With the tight economic times many couples are planning weddings ranging from elopements with Just-the-Two-of-Us to small wedding with often no more than 30 family members and friends. Small intimate destination weddings planned on a carefully managed budget and can be just a beautiful and just as memorable. Whether you invite 5, 50 or 250, chances are you can find a B&B that is just right for you.
You may be surprised to learn that many smaller towns have a good number of highly skilled wedding professionals who will help you plan your perfect day. In the Mad River Valley for example we have internationally renowned photographers, award winning florists, amazing chefs and caterers using local ingredients with exceeding flair, skilled hairdressers and make up artists, excellent musicians, and numerous B&Bs whose owners offer a range of wedding package.
Like many B&B owners, here at West Hill House we are happy to help you plan and co-ordinate all your local wedding needs. Our wedding couples appreciate the fact that we take a personal interest in their wedding plans, no cookie cutter weddings here! We were delighted to help Steve and Skott plan their October wedding which took place under our beautiful maple trees and was attended by 20 family and friends.
Whatever your budget, what ever your venue, what every your guest count,  your wedding is one of the most important days of your life and requires a good deal of planning. At West Hill House we love to host small intimate, budget friendly weddings with up to 80 guests. We know our local wedding professionals as friends and neighbors and would be delighted to help plan your wedding so you may have memories to last a life time.