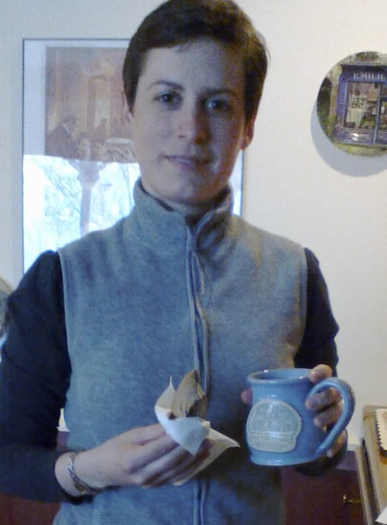 Our beautiful hand-thrown, signature stoneware mugs are from Deneen Pottery of St. Paul, Minnesota. Deneen Pottery is a family owned and operated company and their products are handmade in the USA.
Each mug is individually hand-thrown and touched by over 24 pairs of hands. Peter and Mary Deneen started Deneen Pottery in Saint Paul, Minnesota in 1972 in their two-car garage. Today, their team of over 50 skilled craftspeople handcraft each mug so no two are exactly alike.
A unique part of their design and process is embedding a fine line drawing or logo on the front of each mug – in fact they created the beautiful line drawing on our mugs for when we first ordered Deneen mugs.
We are delighted to offer these marvelous mugs to our guests for their hot beverages as well as to purchase as a reminder of a wonderful time at West Hill House B&B.
Liz and Joe from Fairbanks, AK were B&B guests the day a box of new mugs arrived and Liz was the first to hansel our new mugs (handsel: to use something for the first time). They loved the mugs so much they bought two to take home with them. Many other guests do the same thing, often adding additional mugs on subsequent stays to build a collection of all four colors.
We have four gorgeous colors: Navy Blue, Hunter Green, Burgundy and Dijon.