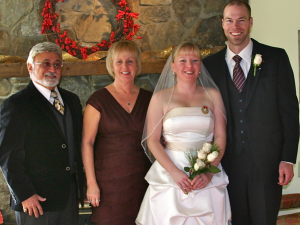 Your wedding should be a very special day which expresses your style and personality, even if you are working with a small wedding budget. Small weddings are the trend these days as couples are opting for a more personal occasion with just family and close friends. Small and intimate weddings provide an opportunity for the couple to visit with each guest, to relax and enjoy the occasion, to really put their personal touches on the celebration, and for the families to get to know each other in a comfortable setting. To say nothing of saving money to put towards a wonderful honeymoon, a house down-payment or even towards paying off student loans.
If you have an intimate wedding in mind why not consider a B&B venue? Such a location can provide a dramatic backdrop for your own special touches. Whether an elegant country estate, an urban city-scape, or like ours, a mountain setting with meadows, gazebo, handsome red barn, ponds and gardens, there is a B&B sure to suit your taste.
You can have the memorable, intimate wedding of your dreams with memories to last a life time, without breaking the bank. Small is beautiful!
At West Hill House B&B we work with highly qualified, local wedding professionals to help you plan a stress free occasion. We have facilities for weddings from 2 to 80 people and we still have a few June and July 2011 dates available for wedding bookings. We pride ourselves in providing you and your guests with personal attention and excellent service, all in a restful country setting near Sugarbush in the beautiful Green Mountains of Vermont.