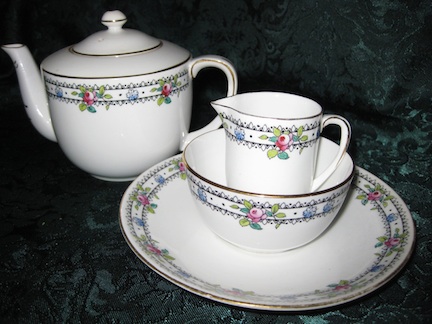 When we moved to Texas from Canada, two new friends, knowing of our Canadian & Scottish backgrounds, offered us tea – cups with water heated (not to boiling) in the microwave and presented with a tea bag on the side. YIKES! My mission from then on was to teach them to make a good cup of tea, properly made! Both new friends, who have since become near and dear, were excellent students and can now make a great cuppa'.
Here are a few basic terms that are useful to know when reading about and making tea.
Tea pot -The vessel from which hot tea is poured. Buy a tea pot if you haven't one. Whether from a simple Brown Betty tea pot or an ornate fine china tea pot, pouring tea from a tea pot makes the experience of having a cuppa' all the more enjoyable. (don't use aluminum though it reacts badly with tea).
This small 2-cup tea pot along with its wee cream and sugar was used for many years by Peter's Granny who lived to be one week short of 100 years old. In the latter years of her life Granny was confined to bed and Peter's mum brought her tea in this little set each morning. Looking as good as new, sadly its tea cup is missing.
Tea kettle – the vessel in which you bring fresh water to a boil. Can be electric or stove top.
Tea cup – A china tea cup or mug are my favourites – but then, I've also drunk tea from a birch bark cup so I'll take tea no matter!
Infuse or Steep – the process of extracting the flavour of the tea from the leaves to the water.
Loose  leaf or Tea bag – Use good quality loose, leaf is best. Most commonly used are tea bags which contain tea dust which is known for it quick extraction. With a myriad kinds of tea, make a visit your local tea shop for advice on what to purchase. (If you are in the Mad River Valley checkout the tea shop and restaurant called MINT- they have about 50 different teas and tisanes.)
Tisane–Though prepared in the same manner as tea, tisane is a combination of dried flowers, herbs and fruit and does not contain tea leaves.
One-for-the-pot – This refers to how much loose leaf or how many teabags to use. My guideline is 1 bag or one slightly rounded teaspoon of loose leaf per 10 oz of water. You preferences may vary for weaker or stronger tea.
Tea Ball or Tea Infuser  or Tea Egg – A tea ball is not a fancy dress dance, it 's a device into which loose tea leave are put for steeping. Once in the tea pot, the hot water poured over it  can seep through the mesh of a tea ball to the leaves.
Ready to make some tea? Stay tuned!